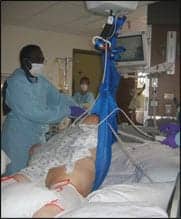 Barry Nichols, lift team tech, uses a repositioning sling to turn this 525-pound patient in bed with the ceiling lift.
Can proper lifting technique save your back when it comes to bariatric patients? Has it ever saved a therapist's back? In the opinion of Michael Dionne, PT, founder of Choice Physical Therapy Inc, Gainesville, Ga, reliance on technique is ultimately an exercise in futility. "Some researchers will say that body mechanics never reduced back injury rates in the history that they have been taught," says Dionne, creator of www.bariatricrehab.com. "My take on that is that they are right."
For years, therapists have relied on body mechanics. But how effective is proper technique when you must help a 700-pound patient out of bed? According to Dionne, technique has a place, but only when used within proper parameters. For tasks that require exertion, he favors equipment. "I think body mechanics should be restricted to nonexertion activity," Dionne explains. "Exertion-rated activity is activity that reaches functional independence measures of moderate and maximum assist. For reasons of liability as well as injury, therapists performing tasks at moderate and maximum assist should incorporate devices—whether it be a mechanical lift or manual techniques with devices such as transfer sheets."
For physical therapy veterans such as Manon Short, PT, lifting protocols in PT school focused almost exclusively on manual lifting. "It was what I call the drag and drop," says Short, injury prevention coordinator at Tampa General Hospital, Tampa, Fla. "You would just drag patients out using a slide, a transfer board, or a draw sheet with six people, and do whatever you could to get them out of bed, and that was just the accepted practice. But now the APTA is doing a great job trying to change school curriculums and implement safe patient handling."
Short agrees with Dionne that no amount of supposedly proper lifting will save a therapist's back. "Body mechanics do not help to reduce injuries, especially when you are working with bariatric patients," Short says. "If the patient can't help, we are resorting more to lifting equipment. We are experiencing a cultural shift and trying to get the therapist on board by using more lifting equipment to move patients."
At Tampa General, a 1,000-bed level I trauma center, about one third of all beds have a ceiling lift—either portable or permanently mounted. Maximum weights for the lifts run 600 to 800 pounds. Short puts a turning sling underneath patients and uses the overhead ceiling lift for turning or to boost individuals up in bed. When no ceiling lift is available, she uses a floor lift or a Hoyer-type lift with a repositioning sling. "Ceiling lifts are simpler, more available, and some people are more likely to comply and actually use it," Short says. "I think the wave of the future is really ceiling lifts with a walking sling. And we finally have a lot of buy-in from our outpatient therapists. They use the walking sling all the time, not just for their bariatric patients, but for SCIs and CVAs."
In addition to lifts, Short ensures that staff members have access to an array of the latest bariatric goods. "We order the specialty beds that will expand out to 50 inches, and we have bariatric wheelchairs, commodes, and motorized stretchers," Short adds. "We use air-inflated [patient transfer products]. We have one sit-to-stand for bariatric patients. It's an active lift, and if legs buckle, patients are supported by the sling."
For institutions that have the resources to buy new equipment, Dionne advises managers to first take a close look at utilization. Facilities that get only 500-pound patients do not need 1,000-pound maximum lifts. In some cases, he says it may be more cost-effective to get one lift that can be shared between rooms, with different slings for infection control.
Ultimately, Dionne says the setup should at least include what he calls the bariatric triad—a bed, a lift, and a target surface such as a wheelchair. "The bariatric triad is portable," Dionne says. "It can follow a patient through the continuum of health care from the ICU, to acute care, to subacute, transitional care, and outside the physical building to the nursing home. And if the nursing home refuses, the triad can follow the patient to home care. It is irresponsible to discharge someone to his home without these three things."
Experts agree that the best equipment is designed with patients and caregivers in mind. Kevin D. Huffman, DO, president of American Bariatric Consultants, Vermilion, Ohio, points out that bariatric wheelchairs often have handles that are almost 3 feet across, making it virtually impossible for small caregivers to push the chair. "Responsive manufacturers have now devised wheelchairs with narrower bars that you can push," Huffman says. "More bariatric wheelchairs are being motorized. Transport beds are being motorized, so a lot of attention is being focused on the health care provider and that was not always the case."
While acknowledging the need for cost savings, Huffman believes therapists should consider quality first and price second. "When you buy cheap, you get cheap. My personal preference is American-made equipment," confesses Huffman. "[Some] manufacturers have designed equipment to the standards that we in the bariatric community desire. Smaller American companies are more responsive. We often see that the lead is taken by some companies, and then we see knock-off items built for less cost."
Despite a heavier reliance on lifting technology, there is still a considerable amount of physical effort involved, but now it's often a team effort. At Tampa General, 26 people have undergone specialized training to move and handle patients. They help patients in and out of bed and with turning, and they are particularly active when it comes to mobilizing bariatric patients. "During the day, we have three teams of two, and at night we have two teams of two," Short explains. "They are involved with these bariatric patients the moment they come in, and getting them out of the ambulance—that's a challenge even if you have equipment. The ER will call the lift team and say this big patient is coming in so they can get him onto the bariatric stretcher. With the lift team now, PTs feel more secure in dealing with bariatric patients. As PTs get ready to get them out of bed, the team can help facilitate that."
According to Huffman, how heavily you rely on teams or equipment usually comes down to economics. "Everyone looks at their budgets and they have to decide, 'Can we afford a piece of equipment?' " Huffman says. "Everyone understands that they can't afford an injury because that is so costly. If you are in a small facility, such as an outpatient rehabilitation center, and there are only two therapists, you are going to need equipment. A large institution can easily gather a team."
Dionne says that facilities may soon not have a choice when it comes to equipment. "There are 13 states with legislation pending regarding going to a no-lift environment or a lift-free zone," Dionne says. "And in 2 to 3 years, there will likely be a federal mandate requiring facilities to have documentation that supports a lift-free zone. It is going to become mandatory because of the high injury rates incurred by health care professionals—probably in about 5 years."
SENSITIVE SUBJECT
If you have been around health care long enough, you have likely heard cruel words leveled at patients, laments Dionne. For therapists who deal with large individuals, an inability to effectively do the job can generate toxic frustration and distrust between patient and caregiver. "Degrading language usually happens when health care workers feel they are inadequate," Dionne says. "And where are therapists inadequate? Strength. How do you do your job without a lift or side-glide device? You can't. You get frustrated and the degrading language follows—and the patients perceive that."
Sensitivity training is a good remedy, but it's also likely to garner a considerable amount of eye rolling among busy therapists. "Sensitivity training is one of those things that everyone acknowledges needs to be out there, but who's got time for it?" Dionne says. "However, the consequences of not having sensitivity training are increased costs to the facility, decreased patient care, and prolonged length of stay. Communication breaks down."
Dignity and safety are the two main elements that bariatric patients are looking for, Huffman adds. "Patients want to know that they are safe," he says. "When they have fallen, they get scared. They want to be confident that whether it's equipment or manpower, the lift is going to be done in a safe and dignified manner."
---
Greg Thompson is a contributing writer for Rehab Management. For more information, please contact .