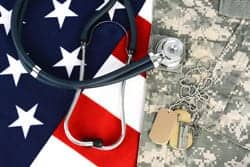 A report appearing the journal Spine indicates that spinal cord injuries are present in one out of nine US military personnel sustaining combat injuries in Iraq or Afghanistan. This rate is much higher in modern warfare than reported rates in previous conflicts, according to the report.
The increase in spinal injuries, researchers say, may reflect "enhanced personnel protection and medical advancements" that have served to improve survival from combat injuries that would previously have been lethal. A news release from Wolters Sluwer Health: Lippincott Williams & Wilkins states that as part of the study, researchers investigated casualty records from the Department of Defense Trauma Registry for the years 2005 to 2009.
Detailed information was also included, encompassing combat-related spine trauma among soldiers deployed in Iraq and Afghanistan. Accord to the results, spinal juries existed in 872 out of 7,877 casualties analyzed, or a rate of 11%. Fractures accounted for more than 80% of spinal injuries, researchers say. Additionally, three-fourths of spinal injuries were caused by explosions and about 15% by gunshot wounds. A total of 3% of personnel died after receiving medical care.
The researchers state that ultimately, the results suggest spinal trauma occurred at a rate of 4.4 injuries per 10,000 service members deployed to Iraq or Afghanistan, including a 4.0 per 10,000 rate of spinal fractures. The release notes that spinal injuries were more likely to occur in Afghanistan than Iraq, and in Army personnel than in members of other service branches. Researchers add that the highest rate of spinal trauma occurred in the Iraq War in 2007.
By comparison, spinal injuries caused by gunshot wounds were more frequent in Iraq than Afghanistan. Andrew J. Schoenfeld, MD, study leader, William Beaumont Army Medical Center, El Paso, Texas, and colleagues reportedly classified the 11.1% rate of spinal injuries as, "the highest published statistic for Iraq, Afghanistan, or any other American conflict." The release also reports that the rate of spinal injuries may be 10 times higher than the Vietnam War.
Yet the authors add that, "[A]dvances in military medicine are now enabling soldiers to reach medical facilities where their spinal wounds can be identified." In the release, the study authors acknowledge the existing limitations of their data source, yet emphasize that their findings, "likely represent some of the best available data as well as the most generalizable information."
[Source: Wolters Sluwer Health: Lippincott Williams & Wilkins]