Among the steadily swelling ranks of people with some form of mobility impairment are those who refuse to sit in front of a television or computer screen all day. They yearn instead to be out and about. They are active lifestylers. And for them, a medical mobility scooter is the perfect tonic.
However, many mobility-impaired individuals pride themselves on being not just active lifestylers but gonzo lifestylers with a craving to push the envelope whenever and wherever possible.
Mobility scooter features that manufacturers know appeal to these individuals include bigger batteries for extended run times and—thanks to oversized electric motors—faster speeds.
Question: are mobility scooters becoming too fast? Some fret that they might be. For example, Canada's Centre for Education and Research on Aging (CERA) earlier this year released the results of a study in which riders and local officials were surveyed to gauge how each views the impact scooters are having on their communities.1 To start, CERA noted that some scooters can now hit top speeds a shade past 12 mph. Many survey respondents expressed concern about that. "Operating at higher speeds than … normal walking speed was perceived to be incongruent with the intended use of a mobility scooter—ie, to assist with an individual's ability to walk," CERA reported.
Even so, a majority of users surveyed admitted to owning a scooter capable of reaching nearly 5 mph, about double normal walking speed. Most said they felt that particular speed was "just about right."
USAGE ON THE RISE
CERA also said that it expects mobility scooter ownership will increase over time, characterizing that growth as the "mobility scooter phenomenon." Indeed, the world over—and especially in the United States—sales of mobility scooters are burgeoning.2
A factor fueling the rise of purchases (and rentals) is the aging of the population. Significantly, the vanguard of the massive Baby Boom generation is now little more than 2 years shy of officially attaining "sunset years" status—a point at which their prospects for needing a mobility aid can be expected to gain real momentum. For many a narcissistic Boomer unwilling to face up to his ambulatory deficits, a mobility scooter with its less medically involved appearance will be viewed as preferable to a wheelchair, which to Boomer eyes will seem too big, bulky, cumbersome, and inhibiting. Not only that, but a scooter will strike value-minded Boomers as making better economic sense—$1,000 to $2,500 versus a powered wheelchair's $5,000 (or higher) price tag.
The broad, nontechnical definition of a mobility scooter is a wheeled platform with a seat at the rear and a steering tiller in the front. The wheeled platform supports the rider's feet along with the power source—one or two 12-volt batteries (or a single 24-volt battery)—and the drive system.
Mobility scooters fall into three broad categories. First is the foldable or travel type. These easily pack away for transport in the trunk of a car or aboard an airliner (sealed batteries pass muster with Federal Aviation Administration safety regulations). Next are three-wheeled scooters, ideal for indoor use because of their turn-on-a-dime maneuverability. Lastly are four-wheeled scooters. Highly stable, they are most suited for outdoor use (usually they have rear-wheel drive; some models feature knobby tires with high ground clearance for use over difficult terrain). Regardless of type, a scooter should remain upright and not threaten to fall over when the rider executes a hairpin turn or tackles a curb cut (many makes and models now come standard with antitip wheels or casters).
Increasingly, consumers find themselves in the happy position of having more choices and options in scooters. CERA reports that one in five surveyed users had modified their scooter with the addition of a canopy, windshield, cane holder, or other useful accessory. Among the accessories favored by scooter owners in the United States (if manufacturer offerings are any indicator): cup holders, cell phone docks, CD or MP3 players, onboard power receptacles (into which a laptop computer, for instance, could be plugged), leather or suede seats, admiral chairs, carrying racks, saddle bags, headlights, and rear-view mirrors.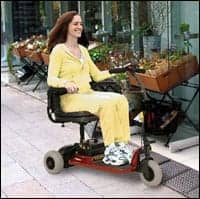 The broad, nontechnical definition of a mobility scooter is a wheeled platform with a seat at the rear and a steering tiller in the front.
RIDING HIGH
Of course, mobility scooters are not for everyone. Would-be riders must demonstrate sufficient physical capability to get on and off without tripping. They must be capable of safely operating the tiller and other controls. For those reasons, dealers often put prospective customers through a test in the parking lot to see whether they are appropriate candidates for a scooter.
According to the CERA survey, most officials and regulators think a formal course of scooter driver training is a good idea. Such a course would, of necessity, include "knowledge and skills on safe operation of the scooter, regulations and rules of the road for scooters, insurance, operation in different pedestrian environments, scooter maintenance and storage, medication use, and the safe operation of a scooter. Training should also include a 'Code of Courtesy' that will capture the nature of 'good scooter driving behavior and scooter driving etiquette.'"
Many CERA survey respondents agreed with the idea that local governments should be required to ensure that the community is "scooter friendly." The organization reached the conclusion that city planners and engineering departments will need to anticipate higher scooter use and plan accordingly. "Communities will need to have zoning bylaws that will promote appropriate scooter routes in the communities—especially in areas where there are a higher concentration of scooter users," said CERA.
In short, governments need to plan for an increase in scooter traffic—a wise move, given the unstoppable popularity of mobility scooters.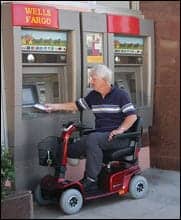 Many mobility-impaired individuals pride themselves on being not just active lifestylers but gonzo lifestylers with a craving to push the envelope whenever and wherever possible.
MANUFACTURING MOBILITY
Improved mobility scooter offerings keep rolling right along. That is perfectly understandable: consumer interest in these powered mobility devices is surging and manufacturers are eager to please. Here is a look at some of what is new or intriguing.
Bridgeport, Mich-based Amigo Mobility's (myamigo.com) newest product (announced this past January) is the SmartMover. It was created for use in hospitals, museums, convention centers, or exposition halls. Its purpose is to increase patient and visitor satisfaction and safety while reducing labor costs. It features a 500-pound rider weight capacity, a 4-inch-longer platform option (SmartMover XL) for maximum leg positioning/comfort, programmable speed, and a 40-mile battery capacity. Safety features include rear bumper, automatic parking brake, front and rear stability devices, protected throttle operation, and battery overcharge protection. Meanwhile, late last year, Amigo unveiled the newest members of its Active Lifestyle product line: the TravelMate™, TravelMate RD, and Classic FD scooters. Each offers 360-degree seat rotation (for easier transferring and comfortable seating at the dinner table), automatic magnetic brake (for safety on inclines), infinitely adjustable handle (to maximize individual steering comfort), and 24-volt electronics (resulting in greater efficiency and longer performance).
CTM Homecare Product Inc of Chino, Calif (www.ctmhomecare.com), offers three new models of mobility scooters. They are the HS-125, HS-235, and HS-250. The HS-250 is 40.9 inches long, 18.5 inches wide, and 33 inches top to bottom. With batteries onboard, it packs a total weight of 70.3 pounds. The HS-250 can tackle a climb up an 8-degree grade thanks to its 24-volt, 250-watt motor, which is capable of generating 4,600 RPM of power. It has a top speed of 5 mph and can keep it up for a distance of 6 miles before the battery needs recharging. The big advance in this model is a stronger reinforced chassis to reduce flex and roll, even under the load of a maximum carrying weight of 250 pounds. Other features: highly reliable electronic controls, an easy-disassembly one-piece battery pack module, a luxury padded foldaway seat, expandable leg room, flip-up armrests, an adjustable-angle tiller, and a seat that rotates to make getting on and off easier.
Taiwan-based Heartway Medical Products Co Ltd (www.imc-heartway.com) offers nine different ways to captivate the hearts of scooter users. One of them is the company's PF5 Mystere scooter, an attractive machine boasting a four-wheel independent suspension system, a delta-type handlebar, a novel tiller ram mechanism, and abundant comfort and stability. The Mystere weighs 235 pounds with the twin 12-volt batteries in place and zips along at an impressive 7.5 mph for 25 miles before needing a recharge. It has an antitipping rear caster. The Mystere measures 56 inches long, 24.8 inches wide, and 46.5 inches tall. Carrying capacity is 400 pounds.
Hoveround, Sarasota, Fla (www.hoveround.com), offers a pair of scooters to meet the needs of those wanting convenient outdoor mobility. The Bolero™ is a heavy-duty electric scooter that can accommodate up to 350 pounds, and offers a 12-inch, four-wheel base (with a 4-inch clearance) for a smoother ride, as well as greater stability and maneuverability. The Bolero is 53 inches long and 24 inches wide, and glides along at 6 mph. Standard features include a swivel deluxe captain's seat with headrest, flip-up armrests, a front headlight, and a large shopping basket. In addition to the Bolero, Hoveround offers its Transporter™ GL Mobility Scooter; a sporty body design measures 45 inches in length and 24 inches wide. The Transporter, which clips along at 4 mph, features a 360-degree sliding swivel captain's seat with an adjustable back angle, headrest, and adjustable tiller. Cane, walker, and oxygen holders are optional purchases with this scooter. Both scooters travel for up to 25 miles before recharging, and come with lightweight portable chargers that enable easy charging anywhere.
Through Invacare of Elyria, Ohio (www.invacare.com), seekers of reliable power-operated vehicles can put their hands on the tiller of various models of the Lynx scooter family. The compact Lynx L-3X is one of them. It pulls together in a smaller package the sleek, streamlined styling of the larger three-wheeled Lynx L-3 and four-wheeled Lynx L-4 and blends them together with the travel range, foot space, and comfort of a mid-size scooter. The L-3X can travel 16.5 miles at a speed of 5 mph. A generously proportioned and supple 18-inch-wide seat ensures rider comfort (the L-3X can carry a maximum load of 300 pounds). Equipped with a Dynamics DR-90 electronics controller (an optional programmable version is available), the scooter measures 44 inches long by 21.5 inches wide and features a sliding seat for adjusting the knee-to-tiller-depth.
Reliability and value come together in the sleek, sporty Victory 10 high-performance econo-luxury scooter from the Pride Scooters division of Pride Mobility Products Corp, Exeter, Pa (www.pridemobility.com). A number of new features have been added, such as an easy disassembly capability for swiftly readying the scooter for transport, special low-profile tires designed to leave no marks on floors, backlit battery gauge, wraparound delta tiller with an easy-grip adjustment knob, long-lasting, high-intensity LED headlight for optimal pathway illumination, lightweight seat with viscoelastic foam inserts for increased comfort, pinch-less hinges, and eight-position seat rotation. Top speed is 5.25 mph over a distance of up to 25 miles, whether in the three- or four-wheel version. However, the three-wheeler has a tighter turn radius: 43.25 inches versus the four-wheeler's 54 inches. The Pride Scooters family also includes the Go-Go Ultra X, Elite Traveller, and Elite Traveller Plus, along with the Revo, Rally, Maxima, Sundancer, Hurricane, Wrangler, Legend, Legend XL, Celebrity X, and Celebrity XL.
Looking a lot like the automobile of the future rather than a mere scooter is the Flagship from Shoprider Mobility Products (www.shoprider.com) of Carson, Calif. In fact, the canopy-enclosed luxury get-around has genuine automotive components, such as a windshield, wipers, rear-view mirrors, and locking doors. The Flagship is a four-wheeler, with both front and rear suspension. It can handle a driver and cargo of up to 350 pounds. The 2 hp electric motor allows the Flagship to reach a speed of 7 mph. Range is a maximum of 75 miles. The scooter's dimensions are 63 inches long, 29 inches wide, and 64 inches high. Shoprider offers a number of other tri- and quad-wheeled scooter lines.
Bariatric patients who need to climb a 9-degree grade a distance of 140 yards 14 times in a row will appreciate the Fusion 450 from PaceSaver by Leisure-Lift Inc, Kansas City, Kan (pacesaver.com). This three-wheeled, transaxle-drive scooter is designed specifically for big and tall riders. As its model number implies, the Fusion can carry an individual weighing up to 450 pounds. It has a very comfortable 21-inch seat and 3 extra inches of legroom. Top speed is 4.5 mph, and range is 16 miles under full load. The Fusion 450 offers a turning radius of 33.75 inches and measures 48 inches long by 24 or 26 inches wide, depending on the seating configuration. Options for this power mobility device include an onboard charging system, controls for left-handed riders, tires that never go flat, saddle bag, oxygen holder, cup holder, lap belt, rear-view mirror, and reclining admiral seat with adjustable headrest.
---
Rich Smith is a contributing writer for Rehab Management. For more information, contact .
REFERENCES
Steyn P, Chan A. Mobility Scooter Research Project. Centre for Education and Research on Aging. March 2008. www.accessabbotsford.ca/docs/Mobility-Scooter-Research-Project.pdf. Accessed July 1, 2008.
The wheelchair & scooter market is expected to grow to $5.3 billion by 2012. December 14, 2006. All Business, a Dun & Bradstreet company. [removed]www.allbusiness.com/services/business-services/3990267-1.html[/removed]. Accessed July 1, 2008.