The workshop, "Connected Health and IoT: Impact of Smart Home Solutions," hosted by research firm Parks Associates, will take place October 17 in Boston prior to the start of the Connected Health Conference.
The workshop will discuss the role of connected consumer technologies in the home to aid in remote care, wellness, and independent living. Representatives from Verizon, Alarm.com, MobileHelp Healthcare, Orbita Inc, and Reemo Health will present multiple sessions focused on solutions to address the complete healthy living needs of consumers and households
It will also include insights from the firm's new research, 360 View: Health and Independent Living, which includes survey data revealing that 34% of caregivers willing to pay for an independent living solution are interested in purchasing this offering from a company that specializes in independent living solutions. In addition, 17% would prefer a home security service provider, and 15% would prefer a health insurer, according to a media release from Parks Associates.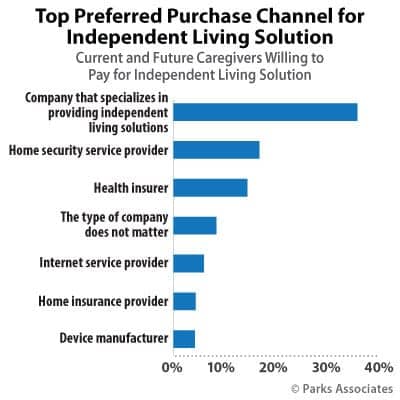 "More than 30% of US broadband households are either current or future caregivers for a loved one, and more than one-half are willing to pay for an independent living solution for that person," says Jennifer Kent, director, research quality & product development, Parks Associates, in the release.
"Cared-for loved ones want to stay in their home as long as possible, and smart home monitoring solutions can help accomplish this goal, particularly in their ability to alert first responders in an event of emergency, and to detect fire, water leak and other safety issues, like whether seniors leave a stove on," she adds.
The Connected Health Conference will be hosted by the Personal Connected Health Alliance (PCHAlliance).
"We are pleased to continue our collaboration again this year with Parks Associates," states Richard Scarfo, vice president, PCHAlliance, in the release. "Together, we provide attendees with knowledge and guidance at the intersection of the connected health and home, and highlight the role of connected consumer technologies in the home to aid in remote care, wellness, and independent living."
[Source(s): Parks Associates, PR Newswire]