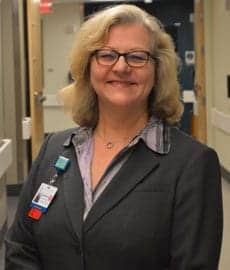 The Boston, Mass-based Spaulding Rehabilitation Network (SRN) reports that Adrienne Sarnecki, (pictured right) RN, MSN, CRRN, has joined the organization as its chief nurse executive (CNE). Sarnecki has spent much of her career at the Rehabilitation Institute of Chicago (RIC), serving in a variety of roles including director of Nursing.
A recent SRN news release notes that Sarnecki also served in a range of different programs and locations across RIC's continuum and earned numerous recognitions for her work leading interdisciplinary teams to address patient safety, electronic medical record (EMR) conversion, and redesignation of Magnet status for nursing excellence. Sarnecki joins SRN immediately after serving as assistant vice president of Nursing, Medical Surgical Services and Oncology Program at Palos Community Hospital in Illinois.
David Storto, president, SRN, notes that Sarnecki's experience across a wide continuum of care serves as a key resource for the organization's nursing staff and communities it serves, "We look forward to leveraging her track record of creating impactful quality and safety programs as well as designing recognized centers of nursing excellence as she takes on this critical role for Spaulding."
"With oversight of nursing programs throughout Spaulding's four inpatient hospitals and, three skilled nursing facilities, Adrienne will lead over 700 professional nursing staff stretching from Cape Ann to Cape Cod," says Maureen Banks, RN, MS, MBA, FACHE, COO of the Spaulding Network.
The release adds that Sarnecki will lead a variety of quality and patient safety initiatives in an effort to enhance Spaulding's clinical results in those areas. Sarnecki will also investigate expanded opportunities in research and education for Spaulding nurses.
Banks emphasizes that the organization is confident that Sarnecki will provide talent to further establish a nursing division recognized, "by our peers nationally as a leader in rehabilitative and all post acute nursing practice."
Source: Spaulding Rehabilitation Network