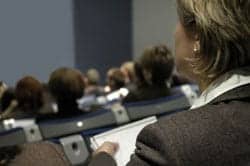 The 2014 State of the Science Meeting, "Promoting Activity and Participation among Persons with Arthritis" is slated for April 7.
The event will be hosted by the Center for Enhancing Activity and Participation among Persons with Arthritis (ENACT) at Boston University College of Health and Rehabilitation Sciences. ENACT is reportedly designated as the National Arthritis Rehabilitation Research and Training Center and funded by the National Institute on Disability and Rehabilitation Research (NIDRR).
Boston University College of Arts and Sciences notes that the State of the Science meeting is held every 5 years and is intended to provide a venue for leaders in the fields of rheumatology and rehabilitation science to discuss arthritis activity and participation research.
Julie Keysor, PT, PhD, ENACT director, designates arthritis and rheumatic conditions as leading causes of disability, impacting the quality of life of nearly a quarter of the US population, and as such, "There is a critical need to shift the arthritis research paradigm from a focus on limitation and pain to a focus on active living with full participation in the community."
A university news release notes that conference presentations and discussion will target recent and emerging innovations for promoting activity and participation in three settings that include community, rehabilitation, and employment.
Presenters at the conference are scheduled to include representatives from national organizations such as the Centers for Disease Control (CDC), Arthritis Foundation, Association of Rheumatology Health Professionals (ARHP), Arthritis Society of Canada, and multiple prestigious academic institutions.
For more information, click here
Source: Boston University College of Arts and Sciences