by Michele M. Knutson, PT
In the quest to help patients achieve early mobility, technology can be one of a therapist's greatest allies—but from a cost, complexity, and obsolescence perspective, it can sometimes be a nemesis. A strong understanding of the right level of technology for a particular setting or group of patients becomes key to keeping that technology firmly in the ally category.
There are a wide range of products and clinical solutions to get a patient up and moving early, back into walking therapy quickly, guard them against falls, and help them overcome the fear of falling. With a variety of factors such as therapy settings, budgets, and patients in different stages of mobility, it's important to explore all of the options and find the most innovative, impactful solutions.
Early-Loss Activities of Daily Living (ADLs)
Clinicians treating patients and residents with early-loss ADLs, dressing, and bathing have the opportunity to make an immediate, effective impact on a patient's or resident's length of stay and overall recovery time. The opportunity to explore new technologies that will get the patient up and moving again is key in this stage of rehabilitation.
Body weight support training (BWST). This type of training is a widely known method of facilitating standing and early motor control in a safe setting, eliminating the fear of falling. BWST products have progressed in recent years, allowing for increased range of motion, which also means a range in price. Technologies designed to allow patients to help patients practice walking while providing support to protect against falls include ceiling-mounted overhead track systems equipped with a trolley and harness. The harness is suspended from the trolley and designed for the patient to wear comfortably while being supported through task training. While on the higher end of the price spectrum, this method of treatment is well-established, well-known and, while studies are still being done to prove the lasting mobility improvement, this is a valid solution to help a patient regain some of the basic self care tasks and progress along the treatment spectrum.
Other body weight support systems include those designed with a harness suspended over a treadmill. Such designs likewise provide fall protection for a patient recovering the ability to walk, and utilize the functions of treadmills that may include split belts, reversible direction, or uneven surfaces. Still another variation on this technology are body weight support systems that are mobile and allow a patient to walk freely over ground while providing the fall protection of a supporting harness attached to a stable frame. Some of these technologies are designed to provide functions that help transfer a user from a wheelchair into the body weight support system.
Sit-to-stand trainers. These devices represent a new, innovative solution on the market developed by clinicians, for clinicians. The technology provides graduated support of the standing and sitting motion using a counter-weight mechanism and can treat those who may not have stood or walked in years. This technology makes it possible for one therapist to lift or mobilize a patient while other systems require two to three therapists. In patients with higher levels of functionality, advance balance challenges and ability to reach outside base of support can be achieved with increased safety for the patient and the therapist instilling confidence and helping overcome the fear of falling. Additionally, the equipment is mobile and clinicians can bring the trainer to the patient or resident's room, making the transfer at the bedside and allowing for maximum treatment minutes.
Mid-Loss ADLs
One of the most transformative stages of rehabilitation is residents regaining independent walking and toileting. Dependence on continence products affects not only a patient's mobility but has a dramatic effect on the patient's mental and emotional state—not to mention the cost of continence products and pharmacy cost of medication for dependent patients. One of the biggest barriers to achieving independent walking and toileting is the fear of falling, making the products used for treatment in this stage of recovery of the utmost importance.
Exoskeleton-assistance locomotor training (EALT). This technology has revolutionized exoskeleton training for therapists. It provides a safe setting for the patient and clinician, allowing for early mobility across a range of traumatic injuries. The products also offer the opportunity for home therapy, as the equipment is mobile. Case studies have shown the dramatic positive effect having a patient on their feet and moving has on the length of treatment.
Bungee mobility trainers. This is a technology category that recently has entered the market as a way to assist patients to regain the ability to walk and help improve the dynamic balance skills necessary for fall prevention. Fear of falling is one of the toughest obstacles for patients and clinicians to overcome. One of the benefits of bungee trainers is that they can help minimize this fear by providing the patient a stable and safe device to regain the motor skills to take a protective step when losing their balance. This technology also provides clinicians the ability to safely advance the challenges to improve muscle memory, which otherwise would be difficult to simulate.
Late-Loss ADLs
Patients and residents who are dependent on a clinician for continence and eating require repetitive and effective practice of fine motor skills. At this stage, one of the biggest hurdles to overcome is boredom, opening the door for clinicians to explore creative solutions to keeping a patient or resident engaged in their therapy program. Refining fine motor skills can lead to better balance and faster reflexes, which aids residents and patients in regaining stability and overcoming the fear of falling.
Console-based therapy is an effective way to enhance 1:1 therapy with a clinician by facilitating motor skill rehabilitation through repetition of the same movement hundreds or even thousands of times. Without the assistance of high-tech computer games, practicing fine motor skills is time-consuming and demanding on a clinician. And in an age when every minute counts, the ability to pack challenging, engaging, and fun therapy solutions into one product is invaluable.
Camera capture technology and interactive gaming. Products that integrate these technologies to improve motor control and coordination are some of the most effective ways to create an engaging and motivational environment for relearning motor abilities. Whether a patient or resident lost their motor skills due to injury or disuse, intense practice is key. There are products on the market that integrate sensors and activities that train movements in the head, hands, trunk, upper and lower extremities, including balance skills and training of the core trunk muscles all in one. With the ability to adjust the range, speed, and complexity of the games, clinicians have the opportunity to improve the intensity of training, effectively train a wide variety of movements, and enhance rehabilitation outcomes with a low-cost solution.
Postsurgery
Patients and residents who undergo knee or hip surgery will have the fastest recovery if they begin physical therapy and rehabilitation before undergoing the procedure. Pre-therapy includes mobility and strength training, and while some of the training methods and products previously mentioned may be effective, depending on the ability of the patient, postsurgery is just as important. Postsurgery, a difficult hurdle to overcome is the fear of reinjury, which is intertwined with the fear of falling. Intentional strength and mobility training is integral to a successful, safe and speedy recovery. The quicker a resident or patient can get up and moving again, the more effective their recovery will be overall.
Elliptical trainers. Therapists can use elliptical trainers as a common and versatile solution across a range of ages, abilities, and injury or illness types. There are new makes and models on the market constantly with improvements to the functionality of the product to widen the range of patient ability they can support. Products are high-tech in every way: mimicking a natural stride, computer-adjusted speed and resistance, electric brakes, the features go on and on. Installation of a high-tech elliptical trainer in a rehabilitation center or gym would likely cater to the majority of the patient and resident population.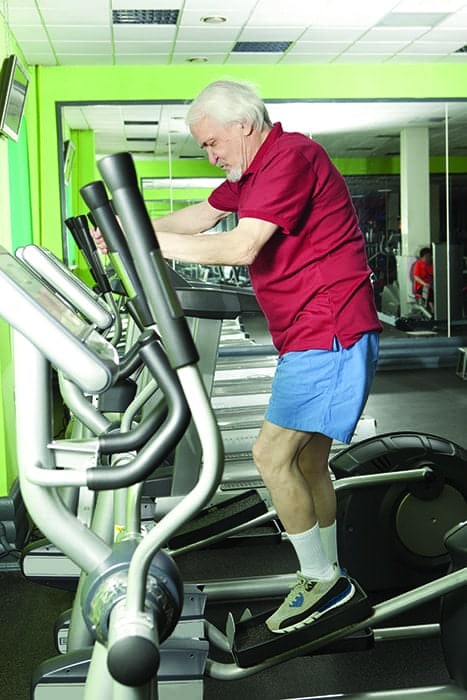 Self-assisted trainers of reciprocal stepping trains lower extremity strength, endurance, and range of motion, and offers clinicians the ability to be mobile with their training. These products are lightweight and can be easily wheeled from room to room. Designed by physical therapists for physical therapists, reciprocal stepping trainers improve strength and endurance of the stepping motion in a simple, effective, and convenient product. The exercise mimics the stepping motion used in walking and allows for active assist from the user's arms through use of arm extensions. Resistance may be added gradually to increase the level of difficulty, and the product can be used from either a chair or wheelchair and from a supine position if the resident or patient is unable to sit up. This versatility can help drive success in patients with both musculoskeletal and neurological impairments. Finally, the product takes up very little floor space, reserving that space for other active therapy methods.
Finding the Right Level of Technology
It may seem as if a number of products are steadily being introduced to the market with new bells and whistles, and while it would be great to test one of everything, the cost of new equipment is often one of the biggest barriers. When budget is available, it's worth the time and research to consider the higher-cost solutions that will become a permanent fixture in the gym. When budget is tight, there are still cost-effective solutions on the market that provide extremely effective clinical results. Working with a strategic business partner can help departments navigate all the different possibilities when it comes to products like versatility, quantitative results, mobility of the product, and the patient population. Due to the cost of equipment and complexity of options, facilities should consider asking for a product demonstration to better understand whether these items are right for them, and will help the team drive improved outcomes. RM
Michele M. Knutson, PT, is a graduate of the University of Minnesota's physical therapy program and has a BA in sports medicine and biology from St Olaf college. A physical therapist for more than 24 years, Knutson is the vice president of support services for Welcov Healthcare, where she manages operations for rehabilitation services. She has an extensive background in orthopedics, geriatric rehabilitation, home health, and acute care. Knutson is also a national trainer for a wide variety of rehabilitation topics, including complex medical conditions and exercise training. For more information, contact [email protected].