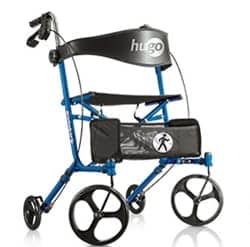 A new side-folding rolling walker with a seat, intended to ease maneuverability in small spaces, is available through Alpharetta, Ga-based Hugo. The Hugo Sidekick is a 17-pound rollator designed to stand even when folded. The company notes that the Sidekick features a low-profile design and heavy-duty, yet ultra-light steel frame construction.
The product offers users a built-in seat and large contoured backrest. Users may also benefit from the Sidekick's utility basket, designed to provide portability for belongings. The Sidekick also features height adjustable handle bars to ensure correct posture and ergonomic hand grips to allow the user to comfortably position their hands at a natural angle.
The company adds that the product supports adults up to 250 pounds and would benefit individuals with decreased endurance, compromised balance, severe arthritis, or those rehabilitating an injury.
For more information, visit www.hugoanywhere.com
[Source: Hugo]