Whether a patient is an infant, an octogenarian, or somewhere in between, addressing their bathing and toileting needs requires an ever-evolving knowledge of the aids for daily living (ADLs) available for those needs. It also requires patience, compassion, and even a little creativity from the physical therapists and occupational therapists who work with them.
Bathing and toileting needs are a very personal and, for some patients, very embarrassing topic of discussion. Therapists want to alleviate that embarrassment by focusing on the fact that bathing and toileting ADLs will assist their patients in carrying out their basic, everyday hygienic needs in a safe manner and can, to varying degrees, provide them with independence.
"Depending on the person, toileting and bathing can evoke many emotions. That is why many therapists work very hard to approach these tasks with concern and sensitivity about cultural differences," says Ruth L. Schemm, EdD, OTR/L, FAOTA, professor of health policy at Mayes College, University of the Sciences, Philadelphia.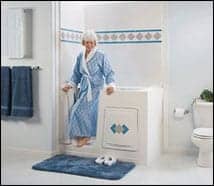 A walk-in tub enables seniors and those with limited mobility the opportunity to bathe more safely.
Schemm worked with Laura Gitlin, PhD, to study why elders do or do not use adaptive equipment. "We found that elders use adaptive equipment if they find it useful," Schemm says. "This depends on personal perceptions that are shaped by values, interests, and culture. For example, some elders proudly use a cane as an aid to walking and even purchase decorated canes to match different outfits. On the other hand, some people would rather not walk if they have to use a device that signals 'illness' or some other negative image in their own mind."
"For the most part, from day one, foremost in people's minds is bowel and bladder function," says Kirsten Heitz Benavidez, MA, OTR, at Craig Hospital, Denver—a private, nonprofit rehabilitation hospital that specializes exclusively in treatment and research for patients with spinal cord injury (SCI) and traumatic brain injury (TBI). "Therefore we start education as soon as the patient is ready. We collaborate daily with physical therapy and nursing. Our main goals in rehab are for patients to be as independent and as knowledgeable as possible about any care related to their spinal cord injury. Independence can have a different meaning for different people."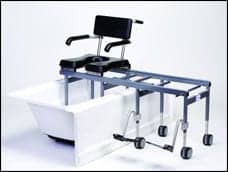 A combination shower/bath/commode chair with transfer capacity is shown.
ADDRESSING NEEDS
The first step to finding the right bathing and/or toileting ADLs for patients is to assess their individual needs.
"Interviewing and discussing options with patients and families is the best strategy," Schemm says. "If they seem interested, good. Try it. If not, just show where they might look into the item later, if they change their perspective or if needs change."
Ginny Paleg, MS, PT, who works with children from birth to age 3 in the Early Intervention Program in the Montgomery County Public School Infant and Toddler Program in Rockville, Md, often has her patients' families go straight to the source to see how bathing and toileting items can be used in their homes. "I have them visit other families that have the products," she says. "Very few vendors let you demo bathing and toileting stuff."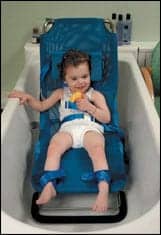 A reclining bath chair provides both comfort and full-length trunk support, as well as additional belted security, if necessary.
The bathing and toileting equipment at Craig Hospital allows the staff and patients to try them out to determine what works best for each person. "We have a bladder box and a bowel resource book with samples of most of the adaptive equipment, photos of positioning, pros and cons, and ordering information. We have some items stocked in our central supply if the patient thinks the equipment will work for them," Heitz Benavidez says.
When it is time for SCI patients to go home, the hospital's therapists usually prescribe either a shower commode chair, which acts as a commode chair and shower chair in one, or a tub bench, as well as an elevated toilet seat. "A person with spinal cord injury can transfer or be transferred into the shower chair from their bed in the morning and be rolled over the toilet for completion of a bowel program. When finished with bowel hygiene, the chair can be rolled directly into a roll-in shower," says Laura Wehrli, DPT, ATP, assistant PT supervisor for SCI at Craig Hospital.
Besides the convenience factor, a shower commode chair can ease the potential wear and tear on the body—the patient's and/or the caregiver's—and provide a safer bathing experience. "A shower commode chair decreases the number of transfers that must be completed during the patient's morning routine by as much as 65%," Wehrli says.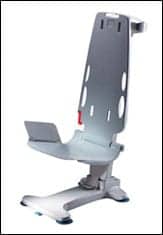 Bath and shower chairs are available in a variety of contours, heights, and materials to suit individual needs.
The use of a shower commode chair does require modification of a bathroom to include a roll-in shower, which can be expensive. "A tub bench and an elevated toilet seat allow a patient with adequate balance and transfer skills to use a standard bathroom with a tub/shower, providing the patient's wheelchair can enter and maneuver within the bathroom," Wehrli says. While this equipment combination is less expensive and can be portable, Wehrli says a patient must perform as many as six transfers per morning routine, which can be exhausting and increase shoulder wear and tear.
For her patients, Heitz Benavidez often recommends leg spreaders that come with a mirror and clip-on flashlight for better access to the urethra for women, especially for self-cathing in their wheelchair; a catheter holder clamp on a cuff to allow someone without finger function to insert a cathether into their urethra; and a "dil stick" on a cuff for stimulating bowel sphincter muscles for someone who has limited finger abilities. "It is important to keep in mind a person's sensation around their rectum and to educate them on how to reduce the risk of injury," she says. "When possible, we prefer using items that are commercially available—instead of custom fabricated—so that patients can easily obtain replacements."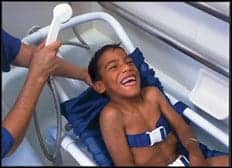 A youngster who is comfortably secure in his or her bath chair can find greater enjoyment in the grooming experience.
When it comes to toileting needs for children, Paleg says early intervention will make things easier as a patient ages. "What will your patient's mom do when she is at the mall and her 15-year-old son has a soiled diaper? Lay him on the floor of the women's restroom? If we start early, almost anyone can be trained to lean over the counter and be cleaned and changed in the standing position," says Paleg, who favors the standing diaper change advocated by Mobility Opportunities Via Education (MOVE), a nonprofit organization dedicated to helping individuals with disabilities.
For such a toileting task, Paleg recommends using a special support system that allows users to grab the equipment and stand, helping them be actively involved in their hygiene. "The whole system can rotate and help the person get over the toilet or stand at the sink and brush their teeth," Paleg says.
Paleg also advocates more focus on toileting aids that assist with wiping needs to facilitate more independence for patients. "More folks should buy the toilets that come with bidets so they can clean up on their own," she stresses.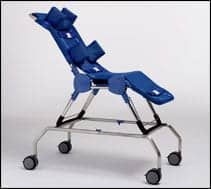 Many bath and shower chairs offer adjustable frames, seats, and legrests to accommodate a child's specific positioning and comfort needs.
BE SAFE
Beyond figuring out which ADLs are needed, there are also safety concerns to consider when using them.
"Use really sturdy equipment and try it out," Schemm advises. "Sometimes equipment can be faulty and someone could get hurt."
When it comes to bathing, there is always a concern with slipping when transferring in and out of a bathtub or shower. "Transfers to and from the bath equipment can be precarious and dangerous," Wehrli says. "Frequent training while staying in our facility can address any safety concerns with the specific equipment prior to discharge. However, often the setup of this equipment in the patient's home can be quite different and potentially more dangerous due to tight spaces and orientation of the bathroom. A home modification meeting helps us to identify possible safety concerns and to educate and practice with the patient prior to going home."
Safety is a concern not just for patients, but for their caregivers as well. Paleg warns parents to "save your back" when lifting their children and prefers roll-in tubs so that the safety concerns related to a "wet" lift are minimized. Among the other safety items she recommends for her patients and their caregivers are antislip mats, grab bars, and even caps to prevent shampoo from getting into children's eyes.
There are also certain items Paleg recommends so that bath time can also still be fun time for her young patients. "I love the in-bath lift so my patients can get in the water and splash," she says. "It's a power lift that goes up and down. You transfer by sliding into it and then lowering into the water, then come up when you are done."
GET CREATIVE
Even with all of the ADLs available to address bathing and toileting needs, certain circumstances still require some creativity to be solved.
"Travel is a bear," says Paleg, who helped a family make a potty that could be used in a trailer for a camping vacation.
At Craig Hospital, Wehrli says the staff often order custom padding or add padding to standard padded bath equipment to protect the delicate state of patients' skin after spinal cord injury. "If the patient is very thin, their buttocks can slip through a standard size hole, resulting in pressure sores. Adding custom padding can result in a smaller-diameter hole," Wehrli says.
"We often have to be creative in how a patient can access a very small bathroom, especially if they are unable to modify the home. For some patients with incomplete injuries, we have taught them to transfer onto a padded rolling stool outside their bathroom to roll through a very narrow door. They can then transfer safely from the stool to their tub bench and elevated toilet seat. However, this is safe only for those patients with good balance and adequate trunk and leg control."
Heitz Benavidez and her coworkers have also had to tap into their creative abilities at times when they couldn't find an existing piece of equipment to meet their patients' needs. "We have fabricated labia spreaders out of splinting materials to assist in better access to the urethra for women. We have also suggested what we called a 'thing sling' to help keep the penis from getting tucked under the legs while sitting in the wheelchair."
IT'S ALL ABOUT THE FOLLOW-THROUGH
Regardless of which ADLs are chosen to assist with bathing and/or toileting needs, they won't be much use if patients do not follow through with their PT's or OT's instructions once they are home.
Follow-through is always a big concern, which is why Craig Hospital's patients are scheduled for a follow-up appointment with a physiatrist or family physician within 2 weeks after discharge, either at the facility or closer to the patient's home. Patients are also strongly encouraged to return for a re-evaluation 6 months post discharge. "We attempt to comprehensively educate our patients on the benefits and possible hazards of not continuing to use the equipment we have prescribed," Wehrli says.
A therapist's approach throughout the process of selecting bathing and toileting equipment and training patients on how to use them can make all the difference in how patients perceive the new additions to their daily lives and whether they will continue to follow their therapist's instructions.
Schemm advises PTs and OTs to use good adult teaching methods, including "positive learning and small incremental steps to learning with repetition and active engagement of learning."
"Start with what the patient knows and build on that," she advises.
"[The equipment] is not a benign addition to someone's life," Schemm says. "Like all complex things, adaptive equipment can be a blessing or viewed as a curse. It all depends on the individual and their culture and environment."
---
Danielle Cohen is a contributing writer for Rehab Management. For more information, contact .