The goals of seating and positioning in spinal cord injury (SCI) and traumatic brain injury (TBI) rehabilitation are to maximize independent function so patients can experience the highest quality of life and to prevent costly complications. The methods to achieve these goals include providing patients with the equipment they need that balances mobility and function, with posture and skin protection.
COMPREHENSIVE INTERDISCIPLINARY EVALUATION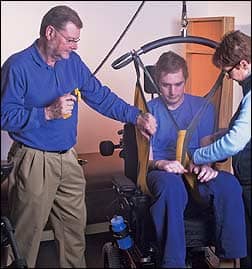 From left: Authors Pat Cody, ATP, and Cindy Smith, PT, ATP, position patient Bryce Rafferty in a chair, using a lift. All photography for this article by Jeff Urlaub
The process of seating and positioning begins with a comprehensive interdisciplinary evaluation of the patient's physical, cognitive, and visual perceptual skills. Because newly injured patients may experience changes in function over time, the evaluation during initial rehabilitation should include contingencies for anticipated changes in function in the future. Communication and collaboration among the interdisciplinary team members are critical in the evaluation process.
Physical:

degree of paralysis or disability,
sensation and motor function,
height,
weight,
recent weight change,
body build,
muscle strength,
range of motion,
joint mobility,
proprioception, and
spasticity

Cognition:

arousal,
attention,
speed of information processing,
memory,
capacity for new learning,
reaction time, and
judgement

Visual perceptual:

acuity,
peripheral,
hemianopsias, etc.
SEATING AND POSITIONING TEAM
Seating and positioning is best accomplished by an experienced team that includes the patient's "primary" physical and occupational therapists, as well as expert consultants who work closely and collaboratively with the primary therapists. The primary therapists know the patient well, know the environments in which the patient functions, and observe how the patient performs over time with their trial equipment. The primary therapists are ultimately accountable for the patient's equipment and for justifying its medical necessity or appropriateness; in addition, their names are on the prescriptions. The specialized consultants are well versed on the equipment available in the marketplace, and all the many and sophisticated implications and nuances of equipment. This combination of primary staff and consultants yields the best patient outcomes; our experience is that primary therapists should not give sole responsibility for seating and positioning to the consultants.
TRIAL EQUIPMENT
Soon after admission to an inpatient SCI rehabilitation hospital, it is recommended that the patient be fitted in a trial wheelchair that reasonably approximates the type of chair the patient will likely need at home after discharge. At Craig Hospital, we have approximately 335 power, power seating, and manual wheelchairs in "the loaner fleet" inventory that therapists can choose from for their patients. The inventory also includes dozens of wheelchair cushions of various types. Typically within 48 hours after admission, the therapists evaluate the patient and in-house staff technicians assemble a customized trial chair for each patient. These "trial" chairs are important in the continuum of the evaluation process, because the therapists can evaluate equipment, while at the same time mobilizing the patient, and helping the patient to be as functionally independent as soon as possible. The extensive fleet of equipment also allows the patient to try various wheelchairs and components over time during the initial rehabilitation period.
| | |
| --- | --- |
| | |
| Customized seating enables patients to take part in such activities as attending a baseball game. | Customized equipment offers greater independence. |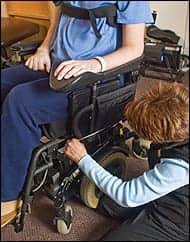 Author Cindy Smith, PT, ATP, takes measurements.
Major components of wheelchairs that are in themselves very complex include:
Frames
Cushions
Headrests
Laterals
Drive controls
Power seating controls
Armrests and supports
Cushions
Footrests
When it comes time for the patient and therapists to order the equipment that will be purchased, they are confident in their decisions.
According to Gail Gilinsky, OT, ATP, a seating and positioning specialist, "When we order equipment, we are not guessing. We have had the advantage of working with patients in multiple pieces of equipment in a variety of hospital and community settings."
SEATING AND POSITIONING CLINIC
The seating and positioning clinic is not only a physical space—a designated spacious room with the necessary evaluation tools and equipment—but also a description of the interdisciplinary staff team. The clinic consists of the patient, family, primary OT and PT, and the seating and positioning specialists. At Craig Hospital, the primary therapists average 13 years of service, and the seating and positioning specialists average 28 years of experience with SCI and TBI equipment.
The seating and positioning staff are often used early on in the patient's rehab process, at the therapist's request, to help patients and therapists problem-solve issues with demo equipment, etc. The seating and positioning staff are available at any time throughout the inpatient rehabilitation, as well as the outpatient, and to follow-up therapists.
When it is time for the therapists to order the equipment to be purchased for the inpatients, the patient, family, primary therapists, and seating and positioning specialists meet in the clinic and discuss all the preferences for equipment, options, recommendations, and justifications for recommendations. Before the equipment is scripted, the patient and team have considered virtually everything relevant to their final decisions, including home and work environments, transportation, function, posture, skin, pain, and mobility. The patient and family are fully involved and in agreement with the final decisions. This team will take as much time as necessary to make the final decisions, but because of all the prior trials and discussions, this meeting typically takes 60 minutes.
Once the newly purchased wheelchair has been scripted, authorized, manufactured, delivered, and fully assembled, the seating and positioning specialists also assist the patient, family, and primary therapists in the fitting and trialing of the new chair. It is important that newly injured patients and families in inpatient rehab have the opportunity to trial their purchased wheelchairs before they go home, so the various sophisticated settings can be adjusted, and they can learn the basic functions, upkeep, and maintenance requirements of the equipment.
PRESSURE MAPPING PROGRAMS
Pressure mapping is an important component of a comprehensive seating and positioning program, and is an adjunct tool in the decision-making processes of equipment procurement, modifications, and postural adjustments. Pressure mapping is also a valuable patient education tool, providing patients with information about the value of weight shift effectiveness, risks of habitual postures, and importance of wheelchair cushion selection, positioning, and maintenance. Pressure mapping is best accomplished by therapists who are experienced in reading and interpreting pressure maps, and integrating pressure map data with other clinical data.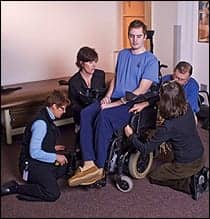 Counterclockwise, from left: authors Cindy Smith, PT, ATP; Gail Gilinsky, OT, ATP; patient Bryce Rafferty; author Pat Cody, ATP, and Donna Rainford, OT.
SPECIALIZED AND PREFERRED VENDORS
SCI and TBI specialty rehabilitation hospitals are encouraged to work with vendors who are specialized and experienced in equipment for these patients. Custom power and manual wheelchairs for this population are very complex and sophisticated, and many providers do not have the required expertise. Rehabilitation hospitals and equipment vendors are encouraged to collaboratively develop guidelines, protocols, and quality control systems to promote the efficiency and accuracy of the timing of ordering, prescription submittals, identifying the persons responsible for financial authorization, manufacturing time frames, and tracking the entire process. With shortened inpatient lengths of stay in rehabilitation, the efficiency of this process is challenging, but critical. Currently, 95% of Craig patients are discharged to home with their own customized equipment.
According to seating and positioning specialist Cindy Smith, PT, ATP, "Working with preferred providers and establishing quality control systems is the only way we can achieve these extraordinary results."
It is also encouraged that the rehabilitation hospital and preferred provider equipment vendor staff have a system of monthly meetings to review performance data, debrief and problem-solve individual cases, and continually develop methods to improve processes and outcomes.
SUMMARY
In summary, the positioning and seating requirements for patients with SCI and TBI are a highly specialized and complex process. In order for patients to achieve the goals of maximizing independent function, experiencing the highest quality of life possible, and preventing costly complications, they need customized and durable equipment for their individualized bodies and function, and home and community environments. The process of helping patients procure the equipment they need requires a well-coordinated and experienced team of interdisciplinary staff, a comprehensive evaluation over time with various pieces of trial equipment in community settings, clear accountabilities and systems for obtaining the equipment, and the timely procurement and trialing of equipment prior to inpatient discharge to home.
---
Kenneth R. Hosack, MA, is director of provider relations, Craig Hospital, Englewood, Colo; Gail Gilinsky, OT, ATP, and Cindy Smith, PT, ATP, are seating and positioning specialists at Craig Hospital; and Pat Cody, ATP, is an equipment specialist at ATG, Englewood, Colo. For more information, contact www.craighospital.org.