Those who are not quite sure whether a client should receive an ultralight (code K0005), a custom ultralight (code K0009), or a lightweight wheelchair (code K0003) are not alone. The definition of an ultralight wheelchair is that it must weigh less than 30 pounds without foot or arm supports. For those who have wondered if titanium is better than aluminum, or how to get an ultralight funded by Medicare, read on.
SCENARIO ONE
Mistake: Not prescribing an ultralight wheelchair for a totally independent client who can do just as well with a lightweight chair.
The client pushes less than 15 minutes per burst and less than a mile per day. You, the therapist, are not only concerned about wear and tear on the client's shoulders, you also want a very lightweight chair that is easy for the caretaker to lift in and out of the car. This thought stream is right on track, but more documentation about the client's lifestyle is needed to get Medicare funding. (The approximate allowable Medicare funding for a K0005 is $1,848; for K0009, it is 80% of retail value.)
Better Approach: Every situation is different, but this may be the perfect situation where one can get just as much benefit from a lightweight (less expensive) chair. Or maybe an ultralight chair is needed, and more documentation should be provided on the high activity level of the client and the effect of an ultralight chair on shoulder pain, safety, and aids of daily living (ADLs).
Subjects with tetraplegia, especially at the C6 level, are limited in their ability to propel a wheelchair. Does using an ultralight improve the client's ability to propel the chair? Definitely. Beekman, Miller, Porter, and Schoneberger,1 of the physical therapy department at Rancho Los Amigos Medical Center, Downey, Calif, published a study demonstrating that the speed and distances traveled were greater for subjects with paraplegia and tetraplegia when they used ultralight wheelchairs. (Subjects with paraplegia propelled faster and farther than did subjects with tetraplegia.) This study concluded that the ultralight wheelchair improved the efficiency of propulsion in both groups of tested subjects. Remember, citing clinical research in a letter of medical necessity ALWAYS improves success rate. Keying in search terms to find relevant articles is, also, helpful. (I used "ultralight" and "wheelchair" to find this article.) In addition, a comprehensive summary of available research on the subject of lightweight wheelchairs can be found at: www.tilite.com/pdf
Be certain to choose a fully adjustable chair if the client's physical condition is expected to change over time. If the client is stable, then get a less adjustable chair— such as a custom ultralight—and save the weight that adjustability adds. Over time, even a pound or two will make a difference in fatigue, shoulder pain, and ability to transfer in and out of a car.
SCENARIO TWO
Mistake: Choosing a lightweight (instead of an ultralight) chair for an independent client who can lift their own chair in and out of the car. A lightweight chair is chosen with the idea it will last longer, thinking ultralightweight chairs are more fragile.
Better Approach: If the client uses ramps, navigates uneven surfaces, or lifts the chair in and out of a car themselves, an ultralight wheelchair might be the right choice. Just watch someone who unloads a chair from the car by whipping it around from behind the driver's seat and allowing it to go "splat" on the sidewalk, taking all the impact on the footrests—six times per day, every day. Mercer et al2 showed that shoulder, elbow, and hand wear and tear result from propelling traditional wheelchairs. Decreasing overall wheelchair weight may lessen the impact of overuse and repetitive strain. Just remember not to cancel out weight loss by adding heavy cushions, backs, footrests, and other heavy options.
Mark Schmitt, director of sales and marketing at a Morton, Minn-based manufacturer, uses an ultralight wheelchair with a multidensity foam cushion made by a Toronto-based company that develops and manufactures specialty seating. He travels all over the world and recommends other ultralight wheelchair users to consider a rigid frame.
"Rigid frames are lightweight and durable," Schmitt says, and he has a story to prove it. Schmitt recently was traveling when his chair fell out of the luggage truck and onto the tarmac, where it was run over by another vehicle. Mark had a bent axel that, because it was made from titanium, he could fix. His custom wheels were also constructed of titanium and had fiberglass spokes that were very tight and kept the wheel from shattering or bending. The chair survived and was usable. Because he travels so much, Schmitt likes fold-away side guards, no camber (to get in and out of the tiny Asian restrooms), and says seat squeeze is not for the more mature client. As the client's lap increases, the amount of squeeze needs to decrease. He still uses increased squeeze for sports.
SCENARIO THREE
Mistake: Assuming an ultralight wheelchair has to be made from titanium to be the best quality.
Better Approach: While it is true that titanium rocks, regardless of whether the chair is titanium or aluminum, different brands have different benefits and weaknesses. Cooper, Boninger, and Rentschler3 compared four brands of ultralight wheelchairs and found differences in the fatigue life and value, indicating that ultralight manual wheelchairs are not all of equal quality. Cooper has also compared ultralights to lightweights and standard chairs, indicating "the fatigue life and value of the ultralight manual wheelchairs were significantly higher than those previously reported for lightweight manual wheelchairs." They also found that none of the titanium chairs in the study experienced a catastrophic failure.
What is titanium? Titanium is a chemical element; in the periodic table it has the symbol Ti and the atomic number 22. It is a light, strong, lustrous, corrosion-resistant (including resistance to seawater and chlorine) transition metal with a white-silvery-metallic color. Titanium can be alloyed with other such elements as iron, aluminum, vanadium, molybdenum, and others, to produce strong, lightweight alloys. In addition, working with titanium requires special skills—including welding in an oxygen-free environment, and it is very resistant to scratches, rust, and corrosion. Always purchase a titanium chair from a reliable manufacturer that values quality workmanship.
SCENARIO FOUR
Mistake: Buying heavy add-on options and putting them on an ultralight wheelchair.
Solution: Carefully consider the necessity of each option. Is it available in a lightweight material, such as carbon fiber, composite, or titanium? Select lightweight wheels with thin-wall, high-pressure pneumatic tires (treaded tires can add more than a pound of weight); titanium hand rims; and an air or cell cushion. With high-pressure tires combined with titanium push rims, a client will whiz around with minimum effort.
SCENARIO FIVE
Mistake: Not using the correct language in your letter of medical necessity (LMN).
Better Approach: Go to the CMS Web site (www.cms.hhs.gov) and read what is needed to qualify for an ultralight wheelchair. According to CMS, an ultralight lightweight wheelchair is covered when the client can self-propel his or her wheelchair while engaging in activities in the home that cannot be performed in a standard or lightweight wheelchair; and the client requires a seat width, depth, or height that cannot be accommodated in a standard, lightweight, or hemi-wheelchair; and spends at least 2 hours per day in the wheelchair.
Coverage of an ultralightweight wheelchair (K0005) is determined on an individual-consideration basis. Ultralights cannot be rented (if the client has Medicare). What counts as a valid justification? Documented upper-extremity repetitive strain injury indicates that the client is involved in frequent activities that cannot be performed in any other manual wheelchair, proving that a lightweight chair does not work.
Kim Chandler, rehabilitation director, Med Emporium in Charlotte, NC, has been instrumental in getting ultralight wheelchairs funded in North Carolina. Chandler says the most important piece to getting an ultralight wheelchair funded is to adequately justify the adjustable axel plate, as it allows for vertical and horizontal changes, as well as camber options, so the wheelchair can be fitted exactly to the client's needs and abilities; minimizes the energy expenditure that the client needs to propel the chair; allows the axel to come forward to prevent and minimize shoulder injuries; and enables wheels to be adjusted for the client's shoulder range of motion, so that shoulder strain and pain is minimized during propulsion for an active client
Manual wheelchairs described by codes E1161, E1231-E1234, K0005, and K0009 are eligible for advance determination of medicare coverage (see ADMC below). Chandler used to go through this system and has glowing things to say about the folks who run it; but in reality, the ADMC process was just too slow, taking from 6 to 8 weeks. She also is not convinced that going through the process improves the likelihood of success.
If the DMERC requests documentation of the medical necessity for a K0009 (custom ultralight wheelchair) or K0005 wheelchair, the documentation must include a description of the patient's routine activities. This may include what types of activities the patient frequently encounters and whether the patient is fully independent in the use of the wheelchair. Describe the features of the custom ultralight (K0009) or ultralight (K0005) base, which are needed compared to the K0004 base.
What counts as valid justification for the Veterans Administration? Be sure to include descriptions of transportation of the wheelchair, mobility outside the home (eg, school, work, and community), as well as involvement in sports.
Another way to get funding is to use the K0009 (miscellaneous) code. Many ultralight wheelchairs weigh less than 20 pounds and do not fit into the K0005 code— but cost about the same. Clients and therapists can work with their rehab and home health care providers to get the chair funded in the best way possible. Also, all the major manufacturers have sections of their Web sites dedicated to providing information about coding and funding, including LMNs—and they have staff to field your questions on these matters. So, do not hesitate to research their Web sites, or call them directly to ask for assistance and guidance.
SCENARIO SIX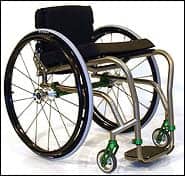 The decision to purchase a custom ultralight or a lightweight wheelchair depends on personal need.
Mistake: Thinking that manufactures are reducing their research and development commitment to ultralight chairs because of decreased Medicare funding.
Better Approach: While it is true that Medicare funding for various equipment has decreased (eg, power chairs), the funding for manual wheelchairs has not decreased. And, while there have been changes in coverage criteria (such as the elimination of the "bed or chair confined" requirement), and increased emphasis on the "in home" requirement, this just means that health care providers must be extremely careful in making a case for why the client needs a certain chair to complete their ADL requirements in the home. Medicare will not fund a chair based on the client's benefits at work or in the community. For all other third-party payors, include information about work, transportation, and community mobility.
I recently spoke with a rehab professional who used to be my local manufacturer's representative and is now head of the pediatrics division of a Pennsylvania-based wheelchair company primarily known for its scooters. He gave me this hot scoop: His company continues to be committed to offering a K0005 ultralight chair, and expects to have it ready before summer. (Look out at Medtrade for another contender!) And, of course, there are companies out there that make only ultralight and custom chairs, that are constantly developing new ultralight and custom ultralight products. So this category of product is here to stay.
Thanks to ongoing advances in rehab technology and a generation of consumers pursuing active lifestyles, wheelchair users have more choices than ever before (see options table below). Custom and ultralightweight manual chairs lead the market, as consumers seek more performance and greater clinical outcomes.
"Today's consumers want chairs that are lighter, stronger, and faster to help them maintain their active lifestyles," says Marilyn Hamilton, developer of the original lightweight wheelchair and vice president of a Colorado-based equipment manufacturer. "The good news is that the technology now exists to not only improve users' lifestyles, but their health as well."
Understandably, as chairs increase in quality and performance, they also increase in cost. Providers are challenged with matching each user with appropriate technology while also managing the funding. The industry is working with government officials to ensure that reimbursement levels will match code segmentations. Therapists and providers are challenged with keeping up with the latest and greatest technologies. "Current funding policies have an 'in the home' emphasis. We need to continue to expand the definition to include active lifestyles outside of the home," Hamilton says.
Ginny Paleg, MS, PT, is a pediatric physical therapist who practices in Rockville, Md. A reimbursement representative for the pediatric section of the APTA, Paleg teaches continuing education courses and is a member of Rehab Management's editorial advisory board. She can be reached at .
References
Beekman CE, Miller-Porter L, Schoneberger M. Energy cost of propulsion in standard and ultralight wheelchairs in people with spinal cord injuries. Phys Ther. 1999; 79:146-58.
Mercer JL, Boninger M, Koontz A, Ren D, Dyson-Hudson T, Cooper R. Shoulder joint kinetics and pathology in manual wheelchair users. Clin Biomech (Bristol, Avon). 2006; 21:781-9.
Cooper RA, Boninger ML, Rentschler A. Evaluation of selected ultralight manual wheelchairs using ANSI/RESNA standards. Arch Phys Med Rehabil. 1999;80:462-7.
Advance Determination of Medicare Coverage (ADMC)
Advance Determination of Medicare Coverage (ADMC) is a process by which the DMERC provides the supplier and beneficiary with a coverage decision prior to delivery of an item.
All ADMC requests must be accompanied by a copy of the appropriate Certificate(s) of Medical Necessity (CMN) – CMS Form 844 for manual wheelchairs or CMS Form 843 for power wheelchairs. CMS plans to eliminate the use of CMNs for manual and power wheelchairs and related options and accessories. Until system changes are implemented, suppliers requesting ADMC must continue to submit the appropriate CMN form with their request for ADMC, and may follow these instructions:
The physician does not need to review, complete, or sign any part of the CMN.
Complete only section A. All other sections of the CMN should be left blank.
All requests must also include a complete listing of all items for which ADMC is requested, including the wheelchair base, related options and accessories, and wheelchair seating devices, and their corresponding HCPCS codes.
Manual Wheelchairs
The ADMC request must be accompanied by copies of:
the order which specifies the wheelchair base and all options and accessories to be provided that is signed and dated by the treating physician, and
information from the patient's medical record that documents that the coverage criteria defined in the DMERC medical policy on Manual Wheelchairs has been met.
Information about whether the patient's home can accommodate the wheelchair may be documented by the supplier.
If the patient currently has a wheelchair, the ADMC request must indicate the reason why it is being replaced.
If the ADMC request includes a seat or back cushion, an ICD-9 diagnosis code(s) must be provided.
Refer to the DMERC policies on Manual Wheelchairs, Wheelchair Options and Accessories, and Wheelchair Seating for more information on coverage criteria, coding guidelines, and documentation requirements.
If the patient currently has a manual or power wheelchair or a power operated vehicle (POV), the ADMC request must indicate the reason why it is being replaced.
If the ADMC request includes a seat or back cushion, an ICD-9 diagnosis code(s) must be provided.
Option

Definition

Pointers
Info from authors experience and http://www.wheelchairjunkie.com/ultralightordering.html

Chair Length

Measured from backrest tube, to the front tube (different manufacturers measure this differently – so ask!)

A short frame pulls legs in, and a long frame stretches legs out.  This is a personal preference and should be addressed at the assessment.

Chair Frame

Fixed,swing-away, and tapered

Fixed and swing-away refer top the legrest types.  Tapered permits a more compact front end, and offers a sleek look.

Chair frame angle

Steepness of the front of the chair

60- to 85-degrees is the normal range

Chair width

Measured from one side tube to the other side tube on the frame

Always confirm from which points the manufacturer measures seat width, as this (I know you don't believe me) can (and does) vary!

Seat Depth

Measured from the rear edge to the front edge of the seat fabric.

An additional ½" of seat depth usually exists between the rear edge of the upholstery to the backrest, which is accounted for with a cushion – make sure you allow for this or your seat length will end up too short!

Seat Height

Measured from the seat to the floor

Remember to account the thickness of your seat cushion when considering seat height

Footplate and Leg Rests

Flip-up, rigid/platform, and flip-up platform.

A flip-up platform provides strength and rigidity of a footplate, but flips out to the side and can get in the way during transfers.  A flip up platform usually gives more clearance during transfers but may be harder to operate for clients with limited hand function/

Back Height

This measurement is from the  seat  tube to the backrest upholstery (again ck how your manufacturer measures)

Here again, it's important consider the height of your seat cushion

Backrest

Fixed, angle-adjustable, and folding.

Angle-adjustable backrests allow you to open or close the seat angle a bit.  Folding models allow for easier collapsing of the wheelchair frame

Camber

"angle" of the rear wheels

The top of the wheel is closer to the client's body.  Camber increases stability and turns quicker. Camber beyond 8-degreesmakes the chair really wide and difficult to get through doorways.

Axle

Allows for vertical and horizontal adjustment of the chair's center-of-gravity

Quad-release axles use a flip lever to release the wheel. Titanium axles are lighter and stronger.

Rear wheels

Come in varied sizes

Rear wheel size dictates roll rate, push stroke, and seat to floor height

Push rims

Tubular metal or composite, with aluminum being the most common Anodized finishes create a smooth, durable finish.  A vinyl coat provides a friction surface, but can chip over time

Projection handrims come in "vertical," extending straight up from the pushrim, or "oblique," which positions them at approximately 45- degrees to the side.

Wheel Locks (also referred to as brakes)

Push and pull-to-lock, and scissor lock.

Scissor lock brakes retract out of the way when not in use, but may not be as easily operated as conventional brakes.
A grade aide is a cam device that prevents the chair from rolling backwards when the user goes up a steep incline

Casters

Low-profile polyurethane are hard, solid tired.
Semi-pneumatic are rubber tires with a foam or rubber insert.
Pneumatic tires are a tube, prone to puncture

Caster pins preventing the casters from turning side to side during transfers or when propelling on uneven surfaces like woodchips.

Armrests

Tubular armrests are single, formed tubes stick out from the back canes.
Removable armrests are height adjustable and provide hip guidance.

Redundant Tissue (fat) and Clothing Guards

Fabric or solid panels that keep hips, clothes, and the cushion from protruding beyond the sides of the seat.

This is for clients who don't need armrests, and want a sleek look.

Other cool stuff

Anti-tippers prevent the chair from flipping backwards. 
They also prevent wheelies and make popping a curb impossible.
Travel aides are small wheels that replace the rear wheels, allowing the chair to fit in confined spaces like the airplane aisle – although airlines are required to provide thin aisle chairs, sometimes the client can wait for an hour for one to show up.

Impact guard protect the front frame from getting smashed up when the chair is flung or crashes during transfers
Spoke guards are plastic overlays that cover the rear wheel spokes.  They prevent small children and pets from getting caught in the spokes.  They also prevent damage during sport impact and rides through brush.