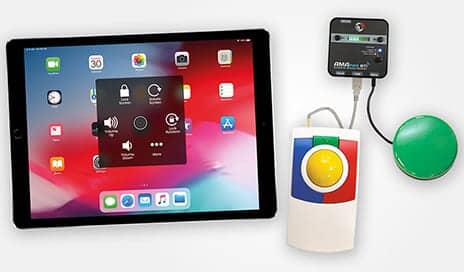 Inclusive Technology releases the AMAneo BTi, an adapter designed to enable people with disabilities to operate an iPad or iPhone directly with any mouse or assistive mouse, including track ball, joystick, head mouse, thumb mouse, and more.
Previously, the most common iPad or iPhone operation method was using Switch Control of the iOS.
However, to use this adapter, simply plug in the mouse and connect it to the iPhone, iPad, or iPad Mini using Bluetooth. A touch pointer then automatically appears on the device's screen enabling full control over the iPad. There are no additional apps to install, according to a media release from UK-based Inclusive Technology. Its US distributor is located in Waxhaw, NC.
Other interaction options include click and drag, auto click and click delay. Two switch ports are also provided, enabling the option of controlling the left and right mouse button with two external switches.
Additional features include instant access to Apple's AssistiveTouch Menu, which gives users access to several iPad controls such as volume control and the Home button, as well as an innovative anti-tremor function to filter out any shaking of the hand or head and ensure that the on-screen cursor moves smoothly, according to a media release.
The AMAneo BTi charges using a Micro USB and lasts for up to 20 hours of operation.
[Source: Inclusive Technology]