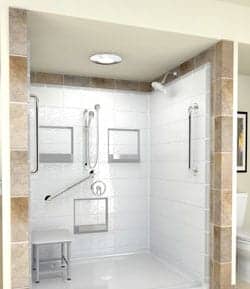 Aging Safely Baths now markets bathroom packages that include specialty safety grab bars preinstalled on a range of its older adult bathtubs. The Louisville, Colo-based supplier specializes in hydroptherapy walk-in tubs, handicap shower stalls, hydroptherapy, bathtub lifts, and safety grab bars.
The comapny reports that its transfer bathtubs, wheelchair-accessible bathtubs,and handicap showers feature a preinstalled internal grab bar and its bathroom safety products may be used in hospitals, physical therapy centers, nursing homes, assisted living facilities, and in the home.
The preinstallation of the internal grab bar is intended to potentially save users time and money in the installation process while providing increased assistance when entering or exiting a walk-in tub.
For more information, visit www.agingsafelybaths.com.
[Source: Aging Safely Baths]