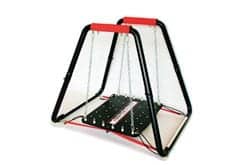 A balance tool that can be used in a variety of ways, including rehabilitation of stroke, ACL/Total Knee perturbation treatment, and therapy for vestibular and vertigo patients, is available through Patterson Medical, Bolingbrook, Ill. The Shuttle Balance is designed to provide a safe platform for a recovering patient or athlete to re-establish dynamic stability in the lower extremity.
The product features a suspended platform which supports up to 500 pounds of patient weight and is intended to produce an unstable surface and in turn, encouraging use of stabilizers throughout the body. The company notes that physicians can also fully adjust platform height, degree of stability, and tilt sensitivity.
For more information, visit www.pattersonmedical.com.
[Source: Patterson Medical]