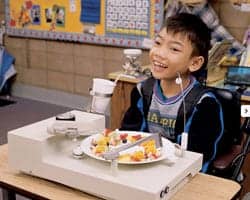 A device engineered to encourage independence by enabling patients to feed themselves at their own pace is available through North Coast Medical. The Winsford Feeder can be operated by a slight move of the head, knee, hip, or foot.
The product can also be controlled by either the chin switch or plug-in rocker switch. The automated spoon and plate are operated by a 6-volt rechargeable battery. The company adds that the feeder can be used freestanding when using the battery, or it can be plugged into a standard wall outlet using the included charger unit.
The height-adjustable Winsford Feeder's plate and bowl rotate for accessibility. The product is marketed with a carrying case, battery, charger, Corelle dinner plate, bowl, spoon, pusher, chin switch rod, stationary glass holder, turntable, shelf, and drip pan.
For more information visit www.ncmedical.com
[Source: North Coast Medical]