Goal: Therapists can help clients increase independence by making the home smarter.
THE TRANSISTION APARTMENT MODEL: A TWO-TIER APPROACH
Rehabilitation ho,spitals train patients prior to their discharge about home and food management skills. Trial activities such as cooking, laundry, making beds, and bathroom transfers all traditionally have been performed in a standard apartment. These activities still are incorporated into a patient's occupational therapy and physical therapy regimens, and maximal independence and safety are often target milestones for inpatients who are discharged from the Helen Hayes spinal cord, stroke, and brain injury units.
Performance of such activities, however, requires a significant degree of independent mobility, balance, and trunk stability, at least fair reach and grasp, and functional vision and cognition. Acquisition and training on the use of durable medical equipment such as walkers and hospital beds are part of the discharge plan.
Such tried-and-true technologies have proven to be great assets to these consumers. People exploring home modifications will certainly consider the available entry and egress solutions. Ramps can be an essential home modification that provides access to the home interior from points outside the home or garage. Once inside the home, elevators and stair lifts can be an important part of the home modification plan to facilitate transport of mobility device users between floors. Nosing ramps, too, can help provide access throughout a home where there are variations among floor surfaces.
Another technology that has provided good utility for mobility device users to enter the home and facilitate movement even inside the home is automated door opening systems. Many of these types of systems are controlled remotely and/or by wall-mounted push buttons, and can be installed easily by manufacturer's technicians; they offer a convenient and secure means of entry and exit to individuals who rely on mobility devices.
Evolutions in bathroom and transfer technologies also have helped promote independence among individuals affected by mobility impairments. Some of the well-developed available bathroom adaptations include extended faucet handles, grab bars, tub transfer benches, wheelchair-accessible sinks, and commode/shower chairs. Ongoing development of these products makes them more lightweight, durable, and affordable for many consumers.
These mature technologies for service inside and outside the home are critical, and now considered basic in public and residential environments.
EXPANDING THE POTENTIAL FOR INDEPENDENCE WITH ADVANCES IN TECHNOLOGY
Patients with more severe disability (eg, those who are unable to flip a light switch, use a standard remote control, or dial a phone) have had limited potential for mechanical access to home appliances and activities. Such patients were often excluded from the traditional model of transition training and referred to the specialty technology clinics where available. Since the 1980s, patients who could benefit from electronic access might have found their way to an electronic control unit (ECU) evaluation, but there were many hurdles. Patients could expect little beyond basic television and X10 on/off modules. Since the ECUs were targeted for specific home use each with idiosyncratic circuitry and appliances, it was difficult to evaluate for them in the clinical setting.1 The actual setup and installation at a patient's home frequently occurred without direct input from the evaluating therapist. Recommendations and planning for the creation of an accessible environment were left for the patient and their family to discuss mainly with equipment vendors and building contractors. Third party funding for home ECUs was scant.4
Recent mainstream technological advances, however, have reinvigorated the old "ECU" so people with more severe disabilities can perform more electronic activities of daily living (EADLs) with more independence. The Smart Apartment at Helen Hayes Hospital is an example of a modified home that includes some of these expanded EADL options. The apartment was designed to provide exposure, experience, and education about the increased independence that a blend of current assistive technology and home automation technology can offer. The apartment began like most consumers' residences—with a standard living space, with more well-known assistive technology adaptations introduced in the kitchen, living room, bathroom, and bedroom appliances and furnishings. These include such items as a power door opener, tub transfer benches, and a bed with hospital-type functions.
The apartment built on those mature home modifications with technologies that have more recently emerged, such as Wi-Fi technologies. Wi-Fi can enable devices such as smart dead bolts, bulbs, thermostats, and televisions to be controlled by laptop software and tablet/phone apps. Most importantly, all these devices can be operated with virtually all current commercial access methods, including touch screen input, computer mouse, voice recognition, head/eye tracking, switch scanning, wheelchair input, and even brain wave signals.
In addition, the apartment is designed to have the flexibility for evaluation of individuals of all levels of ability who wish to increase independence across any activities of daily living. The model puts physical access and electronic access on a single continuum. Washing dishes and changing television channels, bathtub transfers, and control of the bed position are all parts of one inclusive group of ADL skills. All patients are now considered eligible for exploration and training of equipment and techniques that move a patient toward increased independence at home.
 NEW TRENDS AND TECHNOLOGIES
According to Strategy Analytics (as reported in businesswire.com on April 4, 2012), 61% of US homes had Wi-Fi connectivity in 2011. The explosion of tablets and smart cell phones, with their programmable durable touch displays and innumerable apps, have interlaced nicely with widely available Wi-Fi and cellular Internet access. More recently, usage of the wireless signal stream of residential LANs has been harnessed for data transmission to and from household devices. There are hundreds of tablet computer applications designed to control locks, cameras, intercoms, outlets, music, thermostats, lights, environmental sensors, and more. There are also Wi-Fi light bulbs with corresponding tablet computer apps to directly control them.
Paralleling this burgeoning growth, during the last 15 years, clinicians interested in assistive technology have attained a standardized credential of Assistive Technology Professional (ATP). The terminology "ECU" has largely been retired, and environmental control equipment was relabeled with the more consumer-centric "EADL." Overall, newer technologies have broadened the options for all consumers including those with disabilities.
 COST AND COMPLEXITY CONSIDERATIONS 
Although most individuals needing assistive technology solutions for EADL are those with pervasive or progressive disabilities, such as spinal cord injury or ALS, individuals with milder limitations such as joint replacements and hemiparesis also can benefit from some simple modifications. Many clients are under the mistaken impression that home automation must be expensive and complex. Numerous solutions available in the apartment can be implemented for less than $500.
The Smart Apartment technology frequently builds on the nearly ubiquitous new access methods of touch screen and voice recognition that are now so common on laptops, tablets, and cell phones. Together with increasingly mainstream automation technologies, systems can be assembled from existing consumer electronics rather than building an entire system "from scratch." In most cases, this has resulted in more choice and affordability, although the resulting "smart" home automation systems can be multilayered and quite complex.
 TECHNOLOGY SELECTION
Technology for automation was chosen to be as universal as possible in order to be a model for incremental and budget-conscious modifications. In the apartment, the primary wireless transmission methods that tie any user's access to all electronic devices are infrared (IR) and Wi-Fi signals. Infrared remote technology is certainly not a new technology, but it is inexpensive and its signals are easily replicable. Moreover, consumers with disabilities who are users of power wheelchair and/or speech generating devices are often already equipped with universal learning remotes within their electronic equipment. Universal learning remotes (sometimes called all-in-one remotes) are thus among the most powerful access devices in the apartment.
Universal powerline bus (UPB) was chosen to control lighting and outlets. Direct relay connections were used for the automatic door opener and the electric bed. Each item to be controlled was therefore selected only if it could be controlled by at least one of the IR, UPB, or direct relay methods. For example, the window blinds and the air conditioner were available commercially with IR. Thermostats are UPB-controlled. Items specially designed for individuals with disabilities, such as the motorized wardrobe and the automated toilet, could be special-ordered with an IR remote. Devices that did not include infrared remote controls were fitted with aftermarket infrared sensors and provided with IR signals with a kit. The bed and fan each presented unique challenges and required custom adaptations for their sets of movement and speed controls. The different ways that devices are controlled by infrared signals, or the ways they were adapted to do so, are outlined in Table 1 (click on the image below to zoom in).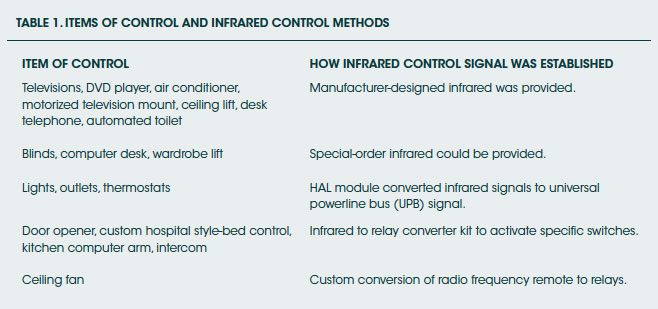 Infrared transmission's weakest characteristic is its necessity for line-of-sight orientation. An apartment-wide infrared receiver and transmitter system greatly alleviated this problem. This system allowed for a universal remote control in any apartment location to operate all devices, giving the appearance that IR signals can travel through walls.
SYSTEM INTEGRATION
Receipt and transmission, management, and coordination of these IR and Wi-Fi signals were processed through equipment from two different sources. These systems both allow local intranet access, and remote access via the Internet as well as through streamlined apps for popular mobile computing device platforms.
CHALLENGES AHEAD
A general lack of education about these new environmental control technologies contributes to a community of disabled individuals who do not realize their potential to live a more independent life. The Smart Apartment's unified approach has exposed a divide in therapists' clinical expertise. Therapists who are knowledgeable about adaptive equipment for the bathroom (eg, shower chairs and wall-mounted railings) need to become familiar with e-access options as well (eg, hands-free motion-controlled faucets and remote-controlled toilets).
Funding for modifications of the home environment is still relatively difficult to find. The unified approach we have taken to promote increased access across all ADLs and EADLs should influence public policy and medical insurers to expand the definitions of durable medical equipment to include coverage for equipment to increase independence at home.
Eddy Ehrlich, BEME, MAOT/L, ATP, has worked in the field of technology and disability for the past 25 years, and has been an AT evaluator of students with learning disabilities in a number of school districts. Ehrlich primarily worked as a clinician identifying and solving computer and environmental access limitations by the use of commercially available products. Ehrlich works with consumers of all ages, and has been at the Center for Rehabilitation Therapy at Helen Hayes Hospital for the past 7 years. For more information, contact [email protected]
REFERENCES
1. Little R. Electronic aids for daily living. Phys Med Rehabil Clin N Am. 2010;21:33-42.
2. Aiello M, Aloise F, Baldoni R, et al. Smart homes to improve the quality of life for all. Conf Proc IEEE Eng Med Biol Sci. 2011;2011:  1777-80.
3. Rigby P, Ryan S, Joos S, Cooper B, Jutai JW, Steggles I. Impact of electronic aids to daily living on the lives of persons with cervical spinal cord injuries. Assist Technol. 2005;17(2):89-97.
4. Shone SM, Ryan S, Rigby PJ, Jutai JW. Toward a comprehensive evaluation of the impact of electronic aids to daily living: evaluation of consumer satisfaction. Disabil Rehabil. 2002;24:115-125.