by Gregg Frank, OTR/L, CAPS, and Marnie Renda, MEd OTR/L, CAPS, ECHM
Mobility restrictions due to environmental barriers at home can have a profound impact on a client's physical as well as mental health. For example, poor access in and out of the home, due to stairs, can make going to medical appointments difficult or impossible, leading to missed or delayed appointments. These delays can potentially have a negative impact on their health. Likewise, if it is difficult for a client to get in and out of the home, they will be less likely to participate in social activities, which can lead to social isolation and depression.
Unfortunately, the majority of homes in the United States are older and have stairs, narrow hallways, narrow doorways, and poor lighting. These environmental features can create barriers for older adults and persons with disabilities who wish to continue to engage in the community. Identifying the right solution to meet a client's current and future needs is essential in reducing the negative impact of these barriers and creating positive outcomes.
The current trend is to allow older adults and those with disabilities to continue to live in their home of choice for as long as it is safe and comfortable for them to do so. This is often referred to as "aging in place." For people to live at home, they often need the following:
1) Assistive technology (eg, walker, cane, shower chair);
2) Support Services (meals delivered, paid caregivers, or home-delivered medications); or
3) Environmental or Home Modifications (eg, ramps, grab bars, stairlifts, and bathroom renovations).
Therapists can help clients returning home after an injury or illness to age in place by evaluating for and recommending home modifications. Home modifications are defined as "adaptations to living environments intended to increase usage, safety, security, and independence for the user."1 The goal of home modification on activities of daily living can be one or more of the following:
Increase independence;
Increase performance;
Increase participation;
Increase safety;
Prevent injury;
Increase ease of use of the home for both/either the client or caregiver by decreasing the environmental demands; or
Plan for anticipated decline due to age-related changes or a specific medical condition.
The process of selecting and implementing effective home modifications includes:
1) A comprehensive evaluation of the person, environment, and occupations;
2) Identification and selection of recommended modifications;
3) Facilitation and acquisition of products, materials, and service providers to implement recommended home modifications; or
4) Training client and caregivers to use modifications and make adjustments as needed.
To complete a comprehensive home evaluation, it is essential that practitioners have and utilize a strong theoretical foundation to ensure effective recommendations are selected. One theory commonly used is the Person Occupation Environment Theory (PEO).2 This theory states that performance is the outcome of the transaction between the person, occupation, and environment. The person is the individual, with their specific performance skills, experiences, preferences, and attitudes. The occupation is the "self directed meaningful tasks and activities engaged in throughout a lifespan,"2 which includes purposeful activities and the life role they are engaged in. The environment is the physical, social, and cultural context within which they live.
One of the primary assumptions of this theory is that the environment is easier to change than the person. Therefore, there is a focus of interventions and changes to the environment to support the individual instead of asking the individual to change how they do things. A simple example is to replace a toilet paper holder a client is using for support when getting on and off the toilet with a grab bar/toilet paper holder. In this instance, the environment is changed to support the client's routine of holding the toilet paper holder, verses asking them to change behavior.
Evidence
Interventions must be client-centered and begin with a comprehensive evaluation to determine the solutions that meet their specific needs. The strongest evidence for effective home modifications begins with an occupational therapy home evaluation. Home modification interventions provided by an occupational therapist to reduce functional challenges in performing daily activities,3 reduce falls,4,5,6,7 decrease caregiver burden,8 delay institutionalization,9 and improve a client's self-reported ability to complete daily activities.10,11
A reduction in home environmental hazards can reduce the risk of falls and recurrent falls. It is important to note that completing a "checklist" of potential hazards does not reduce falls.12 To reduce risks in the environment, the client's interaction with the environment must be evaluated. Not every throw rug is a hazard. It is in assessing the client's interaction with the environment that risks can be identified and solutions acceptable to the client can be implemented.
Mobility-Related Home Modifications
Properly identified, mobility-related home modification products and renovations can improve performance and safety of clients living at home. To select the best environmental modifications, it is crucial that transfer status, sitting balance, cognition, vision, and prognosis are all considered.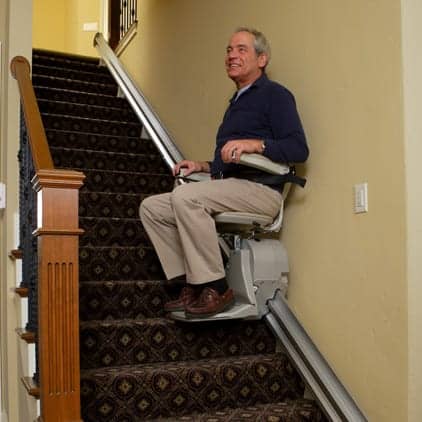 Stairlifts: Appropriate Population
Stairlifts are a common home modification solution to allow people to get from one level of the home to another when they are unable to safely climb and descend the stairs. A stairlift is composed of a track attached to the steps and a seat that glides along the track to move a person safely between different floors in the home.
Stairlifts are best used for individuals who are cognitively intact, have good trunk stability, and safety awareness. Stairlifts are best used by individuals who are ambulatory with or without an assistive device, but have difficulty managing stairs safely. A stairlift can be used by an individual using a wheelchair, but is best if they are independent or require minimal assistance to transfer. If they do use an assistive device, they will need a second one on all levels of the home accessed by the lift. Stairlifts are generally contraindicated for persons with dementia, impulse control issues, and those unable to control the lift safely themselves. There are three main types of stairlifts: straight, custom, and custom modular. Each type of lift is used for specific patient populations in different home environments.
Straight Stairlifts: The most basic application of a stairlift consists of a single straight run of stairs. A straight piece of track can be cut to fit the stairs, and installation can be completed within a few hours. A straight lift can be removed at any time and often can be moved to another location. For this reason, straight stairlifts can be rented to address acute disability or limited time living in a home.
In homes with multiple sets of stairs in a series with landings in-between, multiple straight lifts can be installed. This application is best used when a client can safely ambulate and transfer, despite the inability to safely navigate stairs. Individuals who have cognitive challenges, require assistance with transfers, or present with sitting balance deficits will need an alternative solution. Cost varies regionally. However, an average price to purchase a new straight stairlift is $3,000.
Custom Curved Stairlifts: Custom curved stairlifts are used in the homes of individuals with multiple sets of stairs in a series or those with a curved set of stairs. This type of stairlift is selected for clients who are unable to transfer or ambulate on a landing between one stairlift and another. These stairlifts are built to specifically fit the set of stairs in the client's home. Therefore, renting, purchasing used, or relocating the lift to another residence is not usually an option. There are components that can be reused but not an entire lift. Most brands of curved lifts require an advanced measuring process by a trained technician followed by a 1-month to 3-month wait for delivery. A unique benefit of a curved lift is the ability to accommodate an overrun at top and or bottom of the stairs that allows transfers to be completed several feet away from the edge of the stairs. Cost varies depending on manufacturer and stairway configuration. However, it generally ranges from $10,000 to $12,000.
Modular Curved Stairlifts: When straight stairlifts are not a safe or desirable solution and a 1-month to 3-month wait time is not an option, a curved stairlift can be built at the client's home using a series of modular parts that all come together to form one continuous lift. Often, this can be done within 1 week of ordering the product. Sources for this type of lift are very limited, and installation typically must be done by manufacturer's technicians.
Stairlift Brands: The specific brand of lift recommend is far less important than the skills and availability of qualified technicians who will provide installation and support services for the lift. Furthermore, 24/7 telephone support and service is crucial to keeping a client safe in the home. Consider recommending a brand that is used by several local installers in your area. This will ensure that in the event one installer becomes unavailable, your client will have access to other qualified technicians to maintain the unit.
Powering the Lift: Modern stairlifts are powered by two 12-volt batteries that are continuously charged while the unit is at rest. In the event of a power outage, the stairlift will remain functional. This is a significant improvement over the previous generation of lifts that required a continuous supply of electricity and therefore could stop in the middle of the staircase when there was a power failure.
The number of trips the unit can go up and down the stairs without charging varies based on the size and age of the batteries, the length of the flight of stairs, the weight of the individuals using the unit, and the power consumption of the particular brand of lift. Often, a lift can be used dozens of times between charges, if necessary. Batteries should routinely be changed every 5 years. Although infrequent, they can fail before the 5 years.
Maintenance: Usually, the only required maintenance is to clean and lubricate the track. Installation and repairs should be carried out by individuals who have been certified by the manufacturer to do so.
Ramps
Ramps are still the most basic means of providing ingress and egress for those unable to negotiate stairs. The ADA guidelines recommend that the minimum slope for a ramp be 1:12, meaning that for every 1 inch of rise, the ramp should be 12 inches long. For individuals who are walking up a ramp or those who are using a manual wheelchair, a 1:16 or 1:20 ratio is recommended to decrease the slope.
As clinicians, it is our responsibility to assess the abilities of the users to determine the best slope. Will an elderly spouse be pushing her overweight husband up the ramp? Or, will a person be driving a power chair up and down the ramp?
Material: Ramps can be made of several different materials, including wood, steel, aluminum, composite, and concrete. There are pros and cons to each type of ramp material. Aluminum and steel, for example, are the most widely used materials because of their minimal maintenance, ease of installation, durability, built-in slip resistance, portability, and availability. Most manufacturers offer units that meet the ADA requirements—such as a 36-inch-wide ramp—and have bilateral handrails. Most can accommodate the heaviest of power chairs.
Many vendors offer short-term rentals of these ramps for acute cases or uncertainty of how long the person will be residing in the home. Installation prices will vary based on the amount of modification the property needs.
Wooden or composite ramps provide the most amount of customization of the ramp design. Wooden ramps need annual maintenance to inspect the wood and apply new a new coat of stain or paint to seal the wood and prevent rotting. Composite ramps will not require maintenance, but some brands may become slippery when wet. It is best to select a composite that meets or exceeds the ADA friction co-efficient recommendations.
Concrete Ramps: Like wood, concrete provides a high degree of customization to meet the client needs and aesthetic consideration of the home. Concrete is more expensive than wood or aluminum, but is the most permanent.
Threshold Ramps: There are small ramps designed to help clients manage doorway thresholds that are generally between one-half inch and 3 inches. These ramps are made of wood, aluminum, plastic, and rubber. The plastic and rubber threshold ramps can be easily trimmed to match the exact height of the threshold. These ramps often are designed to look more like doormats than ramps, so they fit seamlessly into the decor of the home.
Portable Ramps: These can manage one step to two steps at the entrance of a home. Portable ramps range from 2 feet to 12 feet, are designed to lay on a step to create a ramp, but can be folded up and moved when not in use. Another option is a portable aluminum ramp that rolls up rather than folds, which can make it easier for users to move when needed.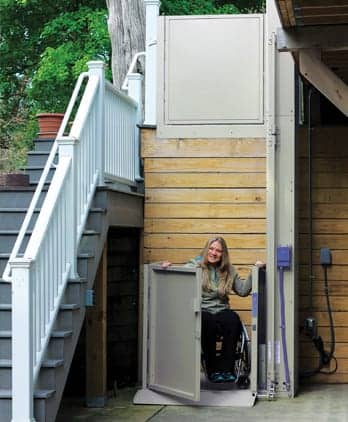 Vertical Platform Lift
Vertical platform lifts (VPLs) are an excellent solution for clients who have difficulty transferring or require a high level of assistance, require the continuous use of mobility devices such as manual and power wheelchairs, have limited space for a ramp, and those who plan to live in their home for several years.
Often, a VPL will be used instead of a stairlift when the stairlift will only be useful for a few months or years due to a degenerative condition. A VPL is most valuable when a home has limited space for the length of ramp required to establish a safe slope. A VPL can be placed in a garage or hidden with landscaping to maintain the exterior aesthetics of a home.
Cost variables for VPLs include brand, geographic region, vertical rise, and—most importantly—the degree of preparation to the home and property required to install it. A garage installation will be less expensive than an outdoor installation that requires a concrete pad, dedicated electrical outlet, and carpentry work.
Much like stairlifts, it is more important that your client purchases a brand that several local dealers have the ability to repair. Lift maintenance and repair should only be performed by qualified technicians trained by the manufacturer. Depending on the municipality where it is installed in, a building permit and certificate of occupancy may be required. Where possible, it is recommended that a non-mechanical means of egress be provided, such as a ramp in the event of an emergency.
Door Opening Systems
Another technology that can help enhance movement throughout the home for mobility device users are door opening systems that can be operated remotely. Systems on the market offer several useful benefits in enhancing home accessibility, including keyless entry pads, wall-mounted push pads, and wheelchair-mounted remote controls that can accommodate a wide range of physical function. Some of these systems operate by unlatching a locked door, opening the door, pausing, and then closing the door. Battery back-ups are available for certain systems so that operation can continue for several hours in the event of a power outage.
Summary
Finding the best solution begins with a comprehensive evaluation. Clinicians must consider the client's current and future needs, time for installation, cost, resale, maintenance requirements, and preferences of the occupants of the home.
Unfortunately, there are limited funding sources for home modifications. Potential funding sources include: waiver programs, VA, state assistive technology programs, and state vocational rehabilitation programs. Occupational therapists working as home modification specialists can be helpful when selecting and coordinating the installation of these home modifications. They are instrumental in helping clients experience optimum quality of life in an environment they prefer. RM
Gregg Frank, OTR/L, CAPS, has worked in hospital acute care settings, sub acute rehab centers, nursing homes, assisted living facilities, and outpatient rehabilitation centers. He has dedicated the last 10 years of his practice to modifying peoples homes for safety and accessibility. Frank is Home & Community Health Home Modification Network Manager in the American Occupational Therapy Association (AOTA), and an owner at Back Home Safely, Randolph, NJ.
Marnie Renda, OTR/L, CAPS, ECHM, is founder of Destination Home LLC, Cincinnati, which provides OT home assessments, product and home modification consultations, and care coordination services for elders and persons with disabilities living at home. Renda is Chair of the Home and Community Health Special Interest Section of the AOTA. For more information, contact [email protected].
References
Siebert C. Occupational Therapy Practice Guidelines for Home Modifications. Bethesda, MD: AOTA Press; 2015.
Law M. Participation in the occupations of everyday life. Am J Occup Ther. 2002;56:640–649. http://dx.doi.org/10.5014/ajot.56.6.640
Szanton SL, Thrope RJ, Boyd C, et al. Community aging in place, advancing better living for elders: A bio–behavioral–environmental intervention to improve function and health-related quality of life in disabled older adults. J Am Geriatr Soc. 2011;59:2314–2320. http://dx.doi.org/10.1111/j.1532-5415.2011.03698.x
Campbell AJ, Robertson MC, La Grow SJ, et al. Randomized controlled trial of prevention of falls in people 75+ with severe visual impairment: The VIP trial. BMJ. 2005;331(7520):679-701. http://dx.doi.org/10.1136/bmj.38601.447731.55
Clemson L, Cummings RG, Kendig H, Swann M, Heard R, Taylor K. The effectiveness of a community-based program for reducing the incidence of falls in the elderly: A randomized trial. J Am Geriatr Soc. 2004;52:1487–1494. http://dx.doi.org/10.1111/j.1532-5415.2004.52411.x
Davison J, Bond J, Dawson P, Steen IN, Kenny RA. Patients with recurrent falls attending accident and emergency benefit from multifactorial intervention- A randomized controlled trial. Age Ageing. 2005;34,162–168. http://dx.doi.org/10.1093/ageing/afi053
Nikolaus T, Bach M. Preventing falls in community-dwelling frail older people using a home intervention team (HIT): results from the randomized Falls-HIT trial. J Am Geriatr Soc. 2003;51(3):300-305.
Dooley NR, Hinojosa J. Improving quality of life for persons with Alzheimer's disease and their family caregivers: Brief occupational therapy intervention. Am J Occup Ther. 2004;58:561–569. http://dx.doi.org/10.5014/ajot.58.5.561
Wilson DJ, Mitchell JM, Kemp BJ, Adkins RH, Mann W. Effects of assistive technology on functional decline in people aging with disability. Assist Technol. 21(4):208-217. http://dx.doi.org/10.1080/10400430903246068
Petersson I, Lija M, Hammel J, Kottorp A. Impact of home modification services on ability in everyday life for people ageing with disabilities. J Rehab Med. 2008;40:253-260. http://dx.doi.org/10.2340/16501977-0160
Stark S, Landsbaum A, Palmer JL, Somerville EK, Morris JC. Client-centred home modifications improve daily activity performance of older adults. Can J Occup Ther. 2009;76:235–245.
Pighills AC, Torgerson DJ, Sheldon TA, Drummond AE, Bland JM. Environmental Assessment and Modification to Prevent Falls in Older People. J Am Geriatr Soc. 2011;59:26–33. doi: 10.1111/j.1532-5415.2010.03221.x
Further Reading
Stark S. Removing environmental barriers in the home of older adults with disabilities improves occupational performance. OTJR. 2004;24:32-40. http://dx.doi.org/10.1177/153944920402400105