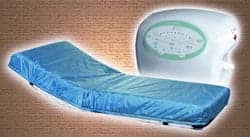 The Port Washington, NY-based company Drive/Mason markets a therapeutic mattress system engineered to prevent and treat pressure sores for patients weighing up to 1,000 pounds.
The Masonair LS9000B features a powerloft pro 900 pump that generates 1,180 liters per minute, providing users with a dry and cool sleeping surface.
The system offers users 10 comfort settings to meet individual patient needs. The product's auto firm feature allows for approximately 1-minute fill rate, according to Drive/Mason. The Masonair LS9000B also features a pulsate mode, designed to reduce airflow every 30 seconds to 50% of the comfort settings. The feature intermittently reduces pressure and increases blood flow.
For more information, visit www.masonmedical.com.
[Source: Drive/Mason]