At this year's Medtrade Fall show, Pride Mobility Products Corporation and Quantum Rehab are slated to showcase a variety of product innovations, placing a primary focus on retail sales and emphasizing an expanded clinical presence in rehab.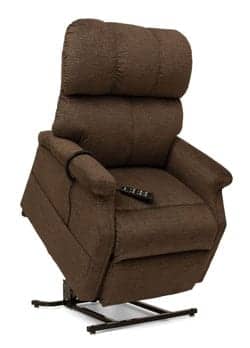 Products that will be highlighted during Medtrade Fall include Pride's latest innovations, beginning with the new Serta Perfect Lift Chair (pictured right). The chair features the new Go-Go LX with CTS Suspension. It also features feather-touch disassembly and standard LED lighting. The new Jazzy Elite ES Elite Series will also be shown during the show and features in-line, front-wheel-drive technology. Next up is the Milford Person Lift, designed to provide users with an adaptable and versatile wheelchair-to-vehicle transfer solution with a 330-pound weight limit. Rounding out the innovations for Pride is the new Olympian Vehicle Lift. The lift is designed to fit most vehicles, can be moved and transferred, and is marketed in 260-pound and 440-pound weight capacity models.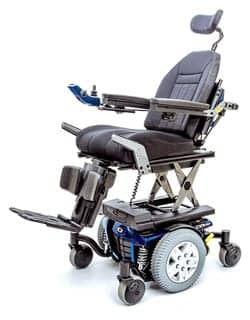 The new TRU-Balance 3 Power Positioning Systems (pictured left) are among the Quantum innovations that are scheduled to be showcased during Medtrade Fall. The product offers users the ability to execute fine adjustments while in the chair and provides a variety of options and accessories such as a 450-pound weight capacity, glove box, X-Grip cell phone holder, and hydration system.
The Q-Logic 2 Drive Control Systems will also be on display, according to Quantum along with the redesigned TRU-Comfort 2 Back Cushion and Seat Cushion. The cushions are engineered to offer adjustable positioning and pressure management. The company notes that they are also compatible with both TRU-Balance 3 Power Positioning Systems and the Static Seat Frame System; as well as the Q6 Edge HD with Mid-Wheel 6 Drive Design, ATX Suspension.
For more information visit www.pridemobility.com and www.quantumrehab.com.
[Source(s): Pride Mobility Corporation Products, Quantum Rehab]