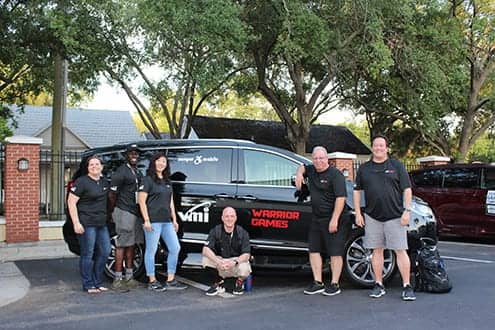 For the third year in a row, Vantage Mobility International (VMI) – a manufacturer of wheelchair accessible vehicles – is providing drivers and accessible transportation for the elite athletes participating in the Department of Defense's Warrior Games in Tampa, Florida, June 21-30.
The 10-day event features more than 300 athletes with physical challenges in more than a dozen sports like wheelchair rugby, sitting volleyball, golf, and more.
During the event, 16 VMI employees are using 7-VMI wheelchair accessible minivans to transport the active-duty service members and veteran athletes between their hotels and competition venues around Tampa, as well as Amalie Arena for the opening and closing ceremonies.
The competition venues include the University of South Florida, Tampa Convention Center, MacDill Air Force Base, Long Aquatic Center, Eagles Golf Course and Yuengling Center.
An additional two dozen VMI employees are working behind the scenes to ship, prepare and maintain vehicles, coordinate logistics, and juggle all the accounting, production and operation needs to keep vehicles running during the games, according to VMI in a media release.
"VMI is honored to give back to these inspiring Warriors who embrace their abilities to compete at the highest level on an international stage," says Mark Shaughnessy, CEO of VMI.
"We are grateful for the experience to meet the men and women who sacrificed for our freedom and provide them support to help them be their best."
The DoD Warrior Games were established in 2010 to enhance the recovery and rehabilitation of wounded, ill and injured service members and expose them to adaptive sports. In 2019, approximately 300 athletes are competing from all branches of the U.S. Military, as well as armed forces from the United Kingdom, Australia, Canada, Denmark and the Netherlands.
Athletes compete in 13 sports including archery, cycling, sitting volleyball, shooting, swimming, track, field, indoor rowing, powerlifting, wheelchair basketball and for the first time in Warrior Games history they will compete in golf, wheelchair tennis and wheelchair rugby, per the release.
[Source: Vantage Mobility International]