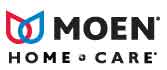 MOEN reports that in response to the upcoming January National Bath Safety Month, it will be promoting a wide range of bath safety products, designed to offer users a blend of style and function. These products include the MOEN Grab Bars with Accessories, intended to provide the safety and serve as a towel bar, paper holder, wall shelf, or corner shelf.
The company notes that it will also be promoting its Fold-Down Shower Seat, which features a wall-mount design that users can fold down for a secure shower seat intended to help prevent slips and falls. The product can be folded up for a thin, compact profile when not in use. Additional products include the SecureMont Grab Bars and Anchors, Designer Hand Grips that can be installed in doorways, stairs, showers, tubs, and toilets. The Handheld Shower with Innovative Palm Feature rounds out the group of bath safety products. The company notes that product converts to a maneuverable and light-weight palm shower and features an ergonomic design.
For more information about MOEN Home Care products, click here.
Source: MOEN