For older adults and adults who have disabilities, falls in the home present a serious risk of injury and loss of function. A 2000 Canadian study1 revealed that more than half of bathroom falls occurred during bath and toilet transfers, and 80% of those falls resulted in injury.
When assisting adults during bath transfers, caregivers must consider their own safety in addition to that of the people who need help. Using adaptive bath equipment is one way to prevent or minimize injuries for all concerned. The skills of physical and occupational therapists are essential in providing appropriate recommendations for bath equipment.
BATH EQUIPMENT ASSESSMENTS: WHAT TO CONSIDER
Therapists must consider several factors when completing a bath equipment evaluation. Be aware of a patient's demographical attributes, medical needs, equipment history, functional skills, and environment.
Demographics—Gather and consider general information—including age, height, weight, and diagnoses—when making equipment decisions. There is no "one size fits all" when it comes to recommending bath equipment. Therapists need to understand the nature of the illness, injury, or disability as well as the expected long-term outcome. Demographical attributes might rule out certain pieces of equipment. For example, a patient's weight might exceed the weight capacity of some equipment.
Medical Needs—Therapists must be able to identify and evaluate the effect that medical needs have on bath equipment choices. Pressure sores, seizures, spasticity, limitations in range of motion, postural control, head control, and spinal deformities all affect the characteristics required in the chosen bath equipment.
Equipment History—If the patient is replacing existing equipment, be sure to evaluate the current equipment, either through direct observation or through an interview. In the evaluation report, document the age and style of the current chair. Ask how the equipment is being used, how often it is used, and why it is no longer suitable.
Functional Skills—One of the most important considerations when assessing new bath equipment involves understanding how the patient will transfer into the bath or shower chair. A patient who transfers with a mechanical lift and assistance from a caregiver will have needs different from those of someone who is independent. The seat-to-floor height of a shower chair is important for anyone who completes a stand pivot transfer. The location of the transfer is also important in determining whether the equipment has to be portable (rolling) or static (remain in the bath space). Other considerations include the patient's level of independence with the bathing task, the patient's continence, and whether the equipment also will be needed to assist with toileting.
Environment—An understanding of the patient's environmental setup is essential. An in-home evaluation is ideal, but not always possible. At a minimum, therapists must have a detailed description of the patient's bathroom to ensure that the recommended equipment will fit in the patient's home. The description should include the size of the bathroom and the size of the tub/shower area. Get measurements of doorway widths if the equipment will be transported in and out of the bathroom.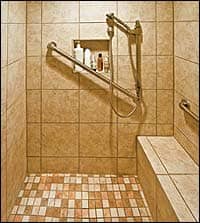 Bars and benches can be added during home modification.
Options for Home Modifications—Home modifications include both low- and high-cost alternatives. Adding grab bars and nonslip surfaces to the bathroom is a low-cost way to make the space safer for bathing. Floor-to-ceiling poles can assist with standing and balance during transfers. Higher-cost options include renovations to add a roll-in shower, a tub with a walk-in door, or a ceiling lift for transfers.
Universal design is a fairly new concept in home design. The idea strives to make environments more "user friendly" for everyone, not just people who have disabilities. The main principles focus on ease of use, easy access, adjustability, safety, and stability. Grab bars, handheld shower heads, built-in seating, and lever handles on faucets are examples of home design that benefit all who use the bathroom, regardless of their functional level.
Options for Equipment—The assessment considerations noted above will assist therapists in determining the most appropriate equipment to meet a patient's bathing needs. It is the therapist's responsibility to know about the various types of bath and shower chairs available. Therapists should assist in matching the patient's needs to the characteristics of the equipment.
Tub Transfer Benches—Transfer benches provide a seating surface above the level of the water. They are generally used with a handheld showerhead. They provide a level transfer surface at the top of the tub, improving patient safety by preventing the need to step over to get into the tub.
Bath Transfer Chairs—Transfer chairs enable users to slide in and out of the tub safely. These sliding transfer bath chairs allow the patient to transfer from wheelchair to seat and comfortably slide into the shower stall or tub.
Bath Chairs—Bath chairs enable patients to sit in the tub at the water level. They provide supported sitting for patients who have decreased trunk control and sitting balance. Users can be partially submerged in the water. The height of the chair legs limits full submersion in some tub styles.
Bath chairs can benefit patients who need to soak in warm water for spasticity and pain management. They assist in providing thorough hygiene for patients who are incontinent. Mechanical lifts are often used to transfer patients in and out of the chairs.
Bath Lifts—Bath lifts allow for the benefits of soaking in warm water while providing transfer assistance. They provide a level transfer surface at the top of the tub. A rechargeable battery or hydraulic water pressure lowers the user into and lifts the user out of the tub. Some bath lifts have a fixed back; others allow for some level of reclining and adjustment.
Static Shower Chairs—Shower chairs without wheels benefit patients who have decreased balance while standing, or limited endurance while sitting. Some chairs have height-adjustable legs to accommodate transfer and positioning needs. The chairs are available with and without back support.
Rolling Shower Chairs—Shower chairs with wheels reduce the need for transfers in the shower area and allow for a stable sitting surface. Many styles can also be used as a commode, or they have a toilet seat opening that can be positioned over the toilet.
Fixed-frame chairs are used for patients with good trunk control. Tilting styles can accommodate patients who need greater head or trunk support. Tilting chairs can also assist caregivers when positioning patients who require a mechanical lift for transfers.
Self-propelling shower chairs have larger wheels, similar to those of a manual wheelchair. They provide independent mobility for patients who are able to complete all other aspects of bathing independently.
Shower Gurneys—Patients who are unable to sit upright for bathing may benefit from a rolling plinth for showering. The patient lies flat and can be assisted in rolling side to side to complete bathing and hygiene. Personal care occurs at the waist height of the caregiver and prevents the need for bending.
CONCLUSION
Durable medical equipment vendors play an important role in equipment evaluations. They have knowledge of the types of bath and shower chairs available for purchase. They also can assist therapists in obtaining insurance authorization, ordering equipment, and obtaining equipment repairs.
Reimbursement for bath and shower chairs varies by the insurance provider. There is currently no Medicare coverage for bath equipment. Many third-party providers are also adopting Medicare guidelines and limiting coverage. Medicaid coverage varies from state to state. To determine coverage, patients should check with their individual plan and ask for assistance from the durable medical equipment vendor if needed. Therapists can assist with insurance approval by completing thorough documentation in a letter of medical necessity.
Physical and occupational therapists possess the education and training necessary to assist patients in making knowledgeable decisions when choosing bath equipment. A thorough evaluation is essential to ensure that the equipment provides improved patient safety and independence.
---
Cathy McMillin, OTR/L, ATP, is an occupational therapist at Gillette Lifetime Specialty Healthcare, a not-for-profit hospital in St Paul, Minn. She can be reached at .
REFERENCE
Aminzadeh F, Edwards N, Lockett D, Nair R. Utilization of bathroom safety devices, patterns of bathing and toileting and bathroom falls in a sample of community living older adults. Technology and Disability. 2000;13:95-103.