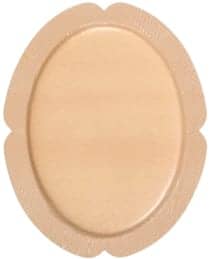 A new dressing engineered to accommodate challenging contours of the body is available through Mölnlycke Health Care US. The Mepilex Border Flex is intended to help prevent pressure ulcers and treat wounds in difficult-to-dress areas of the body.
The company notes that the dressing features Flex technology, an oval shape, and newly engineered borders. The product also retains a 5-layer construction comprised of Safetec technology, Mepilez foam, a non-woven spreading layer, a superabsorbent layer, and breathable backing film.
The Mepilex Border Flex can accommodate acute and chronic wounds on all areas of the body, the company adds. Its Flex technology is intended to allow the dressing to conform to the shape of the body and adapt as the patients moves.
For more information, visit molnlyckeusa.com
[Source: Mölnlycke Health Care US]