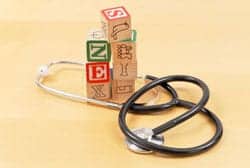 According to a study, hospitals may vary in the monitoring and treatment of children with traumatic brain injury (TBI). This is particularly evident in the area of monitoring and preventing increased intracranial pressure (ICP), researchers say. The study appears in the journal Neurosurgery published by Lippincott Williams & Wilkins, part of Wolters Kluwer Health.
During the study William Van Cleve, MD, MPH, University of Washington, Seattle, and colleagues reportedly assessed data encompassing more than 7,000 children with moderate to severe brain injury treated at 156 US hospitals during a span of 7 years.
The study, researchers note, placed a primary focus on ICP monitoring and craniectomy. The results suggest that 27% of children had ICP monitoring and 12% underwent craniectomy.
The study also states that the rates of both interventions exhibited significant variations between hospitals. The researchers add that children treated at combined pediatric adult/trauma centers were one-fifth less likely to undergo ICP monitoring when compared to adult-only centers. A news release from Wolters Kluwer Health: Lippincott Williams & Wilkins reports that this variation remained significant following adjustment for other factors.
To address the variations, the researchers recommend further studies in order to determine the institutional and regional factors linked to variability in the use of "these invasive but potentially outcome-modifying technologies."
Source: Wolters Kluwer Health: Lippincott Williams & Wilkins