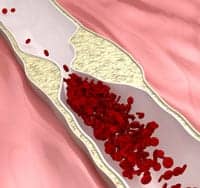 Research appearing in the American Heart Association journal Stroke indicates that coronary atherosclerosis is tightly linked to stroke risk. The findings demonstrate the closely related nature of cardiovascular and cerebrovascular disease, according to Dirk M. Hermann, MD, lead study investigator, professor of vascular neurology and dementia at the University Hospital Essen, Germany.
During the study, researchers note they used the non-invasive electron beam-computed tomography to determine how much plaque had built up in the coronary arteries of 4,180 patients who had no previous strokes or heart attacks. Study participants were reportedly followed for 8 years and throughout the study's duration, 92 strokes occurred.
The results suggest that blockages caused by coronary artery calcification (CAC), were significantly higher in participants who had sustained a stroke than in those who did not. Individuals who exhibited CAC levels of more than 400 Housefield units (HU) were also three times more likely to have a stroke than those with CAC levels below 399 HU, researchers say. The results also indicate CAC measurements were more efficient in predicting stroke in patients younger than aged 65 years old and those at low risk for cardiovascular disease.
Hermann adds that the study's results dictate the need for not only atrial fibrillation but also CAC to be taken into account as a marker of risk for stroke events.
Source: American Heart Association