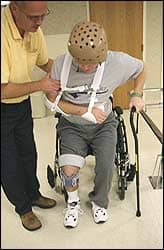 Physical therapy assistant Glenn Tamminga works with Ben (right), a patient at Mary Free Bed Stroke Program.
Stroke rehabilitation has experienced tremendous progress in recent years. The cause of a cerebral vascular accident is better understood, along with advancements in the treatment and prevention of stroke. In addition, risk factors and symptoms are better recognized, as is the importance of responding quickly to minimize brain damage. In recent years, stroke has sometimes been referred to as a "brain attack" to help the public correlate the urgency of a brain attack with a heart attack.
Despite the trend toward greater public awareness, stroke is the third-leading cause of death in the United States and a leading cause of disability. This year, more than 700,000 Americans will suffer a stroke, with 28% of them under the age of 65.1 These sobering trends emphasize the continuing need for education and prevention, as well as the importance of staying up to date with stroke treatment.
STROKE TREATMENT—PAST, PRESENT, AND FUTURE
Throughout much of history, patients were discouraged from being active after a stroke. Around the 1950s, this attitude began to change and physicians started to prescribe therapeutic exercises. Even so, expectations were low and a good outcome was considered to be one in which a patient could transfer from a bed to a wheelchair without assistance.2
Since then, therapeutic models for stroke treatment have changed along with theories of motor control. The prevalent motor control theory throughout the 1960s and 1970s was that of a central nervous system organized along a hierarchy. This theory implied that lower reflexive centers of the spinal cord and brain stem were controlled by higher subcortical and voluntary cortical areas. The neurophysiological approaches based on this theory advocated therapist-guided manipulation of sensory input to facilitate desired motor output of "normal" movement patterns from the patient. The patient's role in rehabilitation was that of a recipient of treatment and was certainly more passive compared to today's standards.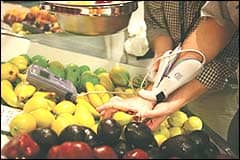 With new research, new theories of motor control began to emerge in the 1970s based on a systems and dynamic theory of movement. These theories view movement as a blend of reflexive and voluntary control, which depends on the environmental demands and the task involved. Movement results from self-organization of the individual and coordination of multiple systems. Models of therapeutic intervention based on these theories involve highly repetitive training that is task specific and goal directed. There is less guidance from the therapist and more emphasis on the patient solving movement strategies through practice in different environmental contexts. Consideration of what is meaningful to the patient is essential in development of interventions and goals.
Research concerning the neuroplasticity of damaged nervous systems has also significantly driven therapeutic interventions. Neuroplasticity refers to the brain's ability to reprogram itself around damaged areas and figure out new ways to send signals to the body.3 Neuroplasticity challenges the previous belief that brain functions are fixed and unrecoverable following a central nervous system injury. Skilled movement training produces neuroplastic changes in both the normal and injured brain, including dendritic arborization, increased dendritic spine density, collateral axon sprouting, increased number of synapses between neurons with improved efficiency of existing synapses, and motor map reorganization (expansion of territory) within the primary motor cortex.4 Research demonstrates that to produce neuroplastic changes, several therapeutic elements must be included: skilled training, extensive practice, a challenging task with focused attention, and motivation/reward.5
The American Stroke Association warns you might be having a stroke if you experience:
Sudden numbness or weakness of the face, arm, or leg, especially on one side of the body
Sudden confusion, trouble speaking, and/or understanding
Sudden trouble seeing in one or both eyes
Sudden trouble walking, dizziness, and/or loss of balance or coordination
Sudden, severe headache with no known cause
The American Stroke Association strongly suggests learning to recognize these symptoms—doing so can save a life. If you believe that you, or a companion, are experiencing any of these symptoms, call 911 immediately. To learn more about stroke prevention, treatment, and recovery, go to www.strokeassociation.org.
The Mary Free Bed Rehabilitation Hospital Stroke Program designs its interventions around an evidence-based model of care. Stroke research articles are routinely reviewed and discussed in staff meetings. Meanwhile, opportunities for improvement are identified and implemented based on examination of the evidence and evaluation of clinical outcomes. A recent addition to the facility's programming is use of the Ness H200 hand function system and L300 foot drop system. These functional electrical stimulation (FES) devices allow for the skilled movement practice needed to promote neuroplastic changes reported in research.
A TEAM APPROACH TO REHABILITATION
Stroke survivors often face a long recovery period and an uncertain prognosis that depends on several factors: the speed of diagnosis and treatment, the severity of the stroke, and the quality of the rehabilitation received. At Mary Free Bed, stroke treatment is delivered by core teams consisting of a physiatrist, social worker, occupational therapist, physical therapist, speech therapist, and recreation therapist. These professionals routinely work together with the same patients, an approach that fosters improved communication among team members and facilitates comprehensive rehabilitative care.
This team offers an holistic, or "whole person," treatment approach. Understanding that multiple complex systems interact together, the therapists recognize the importance of meeting the physical and emotional needs of patients. If necessary, a psychologist is available to assist patients and families with stress management, education, and coping strategies. Anxiety, feelings of dependency, frustration, and low self-esteem can be overwhelming and interfere with the success of the rehabilitative process. Patients and family members are encouraged to attend the facility's monthly stroke support group, as well as to take advantage of the stroke mentor program, which pairs them with a former stroke patient and spouse or caregiver.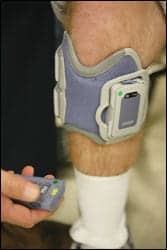 Within the last 5 years, technology-based tools have aided in the stroke patient's recovery at Mary Free Bed.
As evidence indicates that the more intensive the therapy, the more complete the recovery (especially within the first 6 months following a stroke),6 part of Mary Free Bed's admission criteria is that patients have the ability and willingness to participate in an intensive rehab program.
TECHNOLOGY AND TREATMENT
The understanding of neurological deficit/disease following a stroke continues to evolve. Therapists who work with neurologic patients have begun to implement the use of technology in stroke rehabilitation. Though the body of research examining the role of technology in stroke rehabilitation is still emerging, a small number of studies have demonstrated promising results. Within the last 5 years, technology-based tools have aided in the stroke patient's recovery at Mary Free Bed. Examples of these technologies are biofeedback, partial body-weight-supported treadmill training, mechanical splinting, and upper and lower extremities FES systems. In addition, robot-assisted therapy designed to provide neuromuscular reeducation of the upper extremity through repetitive movement training is being looked at. Following is a brief description of some of the technology currently used in the Mary Free Bed Stroke Program.
Biofeedback involves computerized measuring devices to monitor biologic activity ordinarily beneath a patient's conscious awareness. When patients are made aware of moment-to-moment fluctuations in this activity, they may learn to exert some degree of conscious control over it. For example, given appropriate feedback, patients can learn to voluntarily alter movement of the upper or lower limb.
Partial body-weight-supported treadmill training allows therapists to facilitate more normal movement patterns with better postural control. This device provides patients the opportunity to practice gait training before they are ready to train with minimal support.
The Saebo-Flex is a mechanical device worn on the upper forearm and hand that allows stroke patients to incorporate their affected hand through a volitional grasp and release of objects.
The FES systems that help patients with upper-extremity paresis regain hand control to perform functional tasks, as well as assist stroke patients with drop foot. Both the hand and foot systems are based on the concept of cortical reorganization through sensory input. Research indicates that the stimulation and repetition of movements with FES allow the healthy parts of the brain to relearn lost function in the upper extremity by creating new pathways.7 In addition, both devices have been found to prevent muscle atrophy from nonuse, improve blood flow, and reduce spasticity.8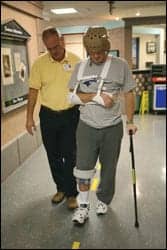 Mary Free Bed Rehabilitation Hospital physical therapist assistant, Glenn Tamminga, helps stroke patient Ben walk using an FES foot drop unit.
Another promising advance is an instrument called functional magnetic resonance imaging (fMRI). As opposed to traditional MRI, which places a patient in a relatively static position, an fMRI images brain activity during a specific task or sensory process.9 "Functional MRI studies give us valuable insight into the effects of stroke on the brain," says Benjamin Bruinsma, MD, medical director of the stroke and amputee programs at Mary Free Bed Rehabilitation Hospital. "Information from these studies in conjunction with Mary Free Bed's best practices helps us unmask brain pathways and improve plasticity for our patients."
BEN'S JOURNEY: A CASE STUDY
The following case study explores how therapists at Mary Free Bed used evidence-based practices and emerging technology to facilitate a successful outcome for one patient.
Ben, age 26, was admitted to Mary Free Bed Rehabilitation Hospital with cognitive deficits and paresis in the upper and lower extremities on his right side. After only 4 days of hand FES therapy in conjunction with other therapies, Ben began to notice that he could close the fingers of his right hand without assistance. Upon discharge from his inpatient rehabilitation stay, Ben was able to lift and use his right arm during dressing and bathing, as well as grasp a toothbrush and other self-care items. Additionally, Ben was able to confidently hold his 7-month-old daughter with his right arm. During and after use of the FES device, Ben described a perception of increased feeling and movement in his right arm.
For more information on stroke, stroke prevention, and stroke care and recovery, go to www.stroke.org.
Says Ken Smith, an occupational therapist on Mary Free Bed's stroke team: "The [FES hand system] lets me consistently trigger the neuron pathways of patients with electrical stimulation, while enabling me to assist patients on the correct motion for a given task. Coupled with traditional therapies, the [FES] device seems to help the neurological system reboot, making it easier for patients to reacquire the correct movement patterns."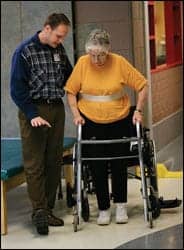 Nick Helmkam, PT, works with patient, Donna, on walking and foot drop issues.
The FES foot drop system played a role in the recovery of Ben's lower limb, as well. As Pam Munster, a physical therapist who worked with Ben, describes, "Although an ankle foot orthosis or Ace wrap with the foot in dorsiflexion can assist in foot clearance during ambulation, they are passive compensatory strategies. The [FES foot drop system] provides a more active approach to recovery. The muscles that control the movement are actually stimulated during the task, which research suggests leads to improved reorganization of the pathways."
Though Ben plans to continue with outpatient therapy, he is encouraged by the progress he has already made. "When I got to the hospital, I wasn't able to do much on my own," he says. "As a new dad, I had one goal: to be able to care for my daughter. Now, I have another one—returning to work later this year."
IN CONCLUSION
Though advances in technology are becoming important tools in a stroke patient's recovery, it is the comprehensive rehabilitation approach based on patient-centered care and evidence-based practices that will continue to help patients accomplish the best recovery possible.
---
Jason Bomia, OTR, MS, is an occupational therapist at Mary Free Bed Rehabilitation Hospital, Grand Rapids, Mich. Nick Helmkamp, PT, MS, and Sally Lyons, PT, MA, are physical therapists at Mary Free Bed Rehabilitation Hospital.
REFERENCES
Impact of stroke. [removed]www.strokeassociation.org/presenter.jhtml?identifier=1033[/removed]. Accessed October 29, 2007.
Stroke rehabilitation, Medifocus. www.medifocus.com.
Stein J. Motor recovery strategies after stroke. Top Stroke Rehabilitation. 2004;11:12-22.
Callahan J, Parlman K, Beninato M, Townsend E. Perspective: impact of the IIISTEP conference on clinical practice. J Neurol Phys Ther. 2006;30:157-166.
Teasell R, Foley N, Salter K, Sanjit B, Jutai J, Speechley M. Evidence Based Review of Stroke Rehabilitation. 10th ed. Canadian Stroke Network; 2007.
Tejima E. Neurovascular proteases in brain injury, hemorrhage, and remodeling after stroke. Stroke. 2007;38(2 suppl):748-752.
Popovic DB, Popovic MB, Sinkjaer T, Stefanovic A, Schwirtlich L. Therapy of paretic arm in hemiplegic subjects augmented with a neural prosthesis: a cross-over study. Can J Physiol Pharmacol. 2004;82:749-756.
Ring H, Rosenthal N. Controlled study of neuroprosthetic functional electrical stimulation in sub-acute post-stroke rehabilitation. J Rehabil Med. 2005;37:32-36.
Functional MRI Research Center. www.fmri.org. Accessed October 29, 2007