Compiled by Frank Long, Editorial Director
No two stroke cases are exactly alike. And, since the effects of stroke are many-factored, rehabilitation technologies designed to treat this patient population must move patients toward functional recovery with flexibility and safety. To learn more about the technological DNA behind some of these devices, Rehab Management interviewed representatives from several leading manufacturers. Their insights help explain the specialized applications this equipment provides to therapists and patients working through the process of stroke recovery.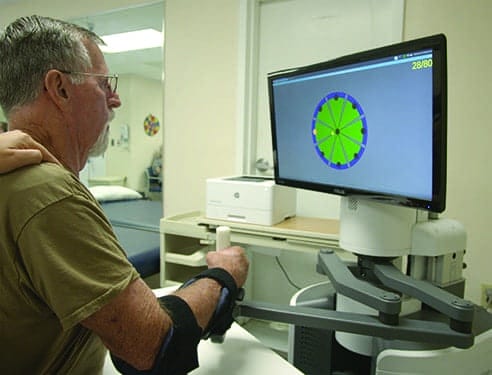 Bionik Inc
Watertown, Mass
www.bioniklabs.com
Renaud Maloberti, Chief Commercial Officer, discusses InMotion Interactive Therapy
Technology overview: InMotion Interactive Therapy is valuable for the evaluation and treatment of stroke and other neurological conditions during the acute, subacute, and chronic phases of recovery across inpatient, outpatient, and research settings. The InMotion Robots allow patients to access greater therapy intensity, prolong the phase of rapid neuro-recovery, and enable the clinician to better focus on functional versus compensatory retraining. InMotion therapy also inspires hope, especially for chronic patients, as motor recovery has often been seen to occur long after an injury or disease onset. Additionally, InMotion Interactive Therapy motivates patients with engaging therapeutic activities as well as timely and objective performance feedback.
How it improves on previous technologies: The InMotion Robots have evolved to provide additional evidence-based protocols for arm, wrist, and hand therapy. With a new graphical user interface and numerous ergonomic improvements, the InMotion Robots are easier to use for clinicians and more comfortable for patients. Appearance, size, and weight have also improved, allowing easier integration of this technology into today's active rehabilitation environments.
Customer feedback: Clinicians comment most about how InMotion Robots enhance therapy and inspire hope in patients. Patients' feedback often reflects how motivating it is to see their performance and progress on a daily basis. Patients also state how their progress in therapy translates into daily activities.
Billing codes and reimbursement tips: Encourage clinicians to use InMotion EVAL to first evaluate and then track their patient's progress and motor performance. InMotion EVAL is a precise, objective, and reproducible evaluation tool that correlates with evidence-based clinical scales. Pre- and post therapy evaluations allow the clinician to accurately document and report on the efficacy of any therapy approach and the progress of motor recovery, justifying the use of robotics and providing supporting data for reimbursement claims.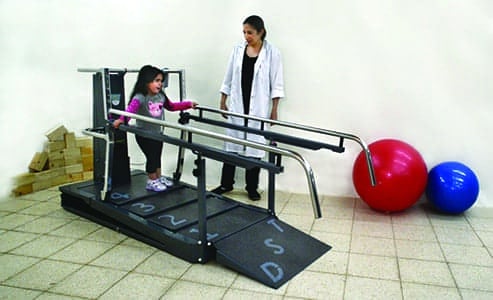 Clarke Health Care Products Inc
Oakdale, Pa
www.clarkehealthcare.com
Jay Everett, Product Manager, discusses the Dynamic Stair Trainer
Technology overview: Using a Dynamic Stair Trainer (DST) for stroke therapy in therapy clinics or assistive care facilities provides multiple benefits. It combines progressive gait training on steps or incline and balance training on a flat surface, or a combination of step training, parallel bar, and incline training for a real world experience. A DST can replace several pieces of equipment, freeing up floor space. An optional on-board computer produces reports to compare sessions or estimate potential improvement. It aims to make the best use of a therapist's time with each client.
How it improves on previous technologies: The electronically elevating steps can be adjusted to each patient's ability in each session, unlike static wooden steps at set heights. Approaching the DST patients can begin with the unit in a flat position and using the rails to walk across the surface. The steps can be raised in 1 cm increments as therapy progresses. A digital display shows progress and encourages improvement and practice, and accessory rails allow use as parallel bars. It is wide enough for wheelchair entry to practice on steps or inclines. Comparing cost per square foot, the DST provides more rehabilitation options to allow clients to return to everyday life activities.
Customer feedback: Clients can start stair training at an earlier stage of the rehabilitation process. Therapists found the hand control was very easy to use and the handrails easy to adjust. Patients were less fearful and had less frustration than normally associated with nonadjustable steps. Patients reported greater sense of success, security, and self-confidence.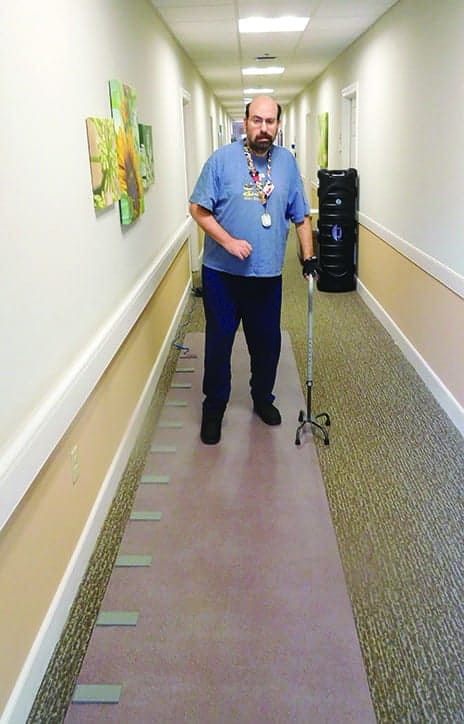 CIR Systems
Franklin, NJ
www.gaitrite.com
Karen Toepper, Vice President, Sales, discusses the GAITRite System
Technology overview: Measurement of stride-to-stride variability has shown to be an invaluable tool in evaluating or monitoring interventions aimed at improving balance and gait with post-stroke patients. GAITRite can collect, record, and measure the essential components of gait and balance quickly and easily. The software's spatio-temporal gait parameters cover the asymmetries and deviations from normal or previous test time and distance values, which allows for quick evaluations of the effectiveness of current interventions. The GAITRite walkway is most often used in outpatient and rehab centers by physical therapists, and has been cited in many peer-reviewed publications worldwide.
How it improves on previous technologies: In recent years, four new models have been added to the GAITRite family of products, with additional overall sizes and sensor densities making GAITRite even a better fit in any existing physical location. One model's new clinical version is now priced at roughly 40% less. We have consistently improved our software technology to offer our clients ease of use and numerous new measurements. We have also added faster video cameras as well as tracking upper body motion options.
Customer feedback: Users of GAITRite Walkways tell us that it is the easiest, fastest, and most practical system to use in a rehab setting. The patient is non-instrumented, and the software is intuitive. The ability to get consistent measurements, independent of the clinician administering the data collection, allows for efficient status sharing between all clinicians involved, ultimately leading to improved efficiency. Our customers say that in the outpatient setting, the ability to demonstrate to the patient the effectiveness of treatment between visits has led to improved and quicker outcomes and sustained compliance.
Billing codes: CPT codes per the AMA: 97110 Therapeutic Exercise; 97112 Neuromuscular Re-Education; 97116 Gait Training; 97164 PT Re-Evaluation; 97750 FCE/Performance Test; 97760 Orthotic(s) management and training (including assessment and fitting when not otherwise reported).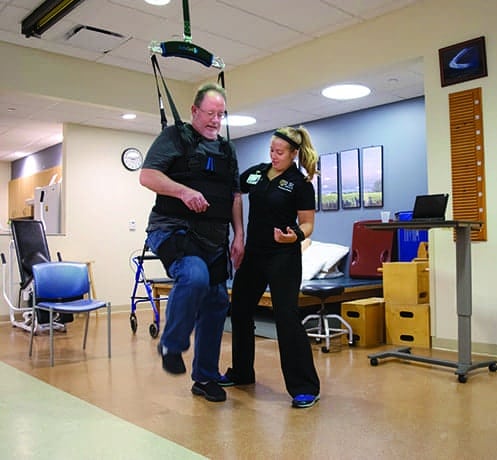 Gorbel Medical
Victor, NY
www.safegait.com
Pooja Sinha, Product Marketing Manager, Gorbel Inc, Rehabilitation Division, discusses the SafeGait 360 Balance & Mobility Trainer
Technology overview: In inpatient, outpatient, and skilled nursing facility settings, SafeGait 360 provides the physical assist and guarding typically performed by the therapist. This allows the therapist's focus to shift to patient gait mechanics, error facilitation, and the practice of self-correction techniques. SafeGait off-weights a patient by up to 50% of their body weight (225 pounds maximum). Proprietary fall protection software protects the patient and therapist as they practice activities of daily living that include floor work, walking, transfers, and stairs. SafeGait enables early mobilization, high intensity and challenging exercises that would otherwise be too risky, all while reducing the number of staff required to work with individual patients.
How it improves on previous technologies: SafeGait enables dynamic and more challenging interventions, including error facilitation, which are not possible with gait belts, parallel bars, and static fall protection systems. Gorbel's velocity-based fall protection and dynamic fall recovery allow therapists to challenge patient's balance and teach self-correction. Working barrier-free and 1:1 with patients, therapists can administer limitless interventions and keep their focus on the patient while SafeGait software captures performance metrics by session and task.
Customer feedback: Customers note how confident patients feel while using SafeGait, leading them to work harder and try activities they would have avoided due to fear of falling. This has led to improved recovery time and reduced readmissions. Therapists tell us they can pursue more challenging activities and safely step back and focus on the patient. Patients tell us the system is comfortable and fun, and they love seeing the progress they make through the real-time metrics captured in the patient management software.
Billing codes and reimbursement tips: Standard billing codes apply using SafeGait, including: TherEx, TherAct, Neuro Re-ed. Tip: Therapeutic Activity has a higher payment, which means you are causing the company you work for to lose out on additional profit by coding everything as TherEx.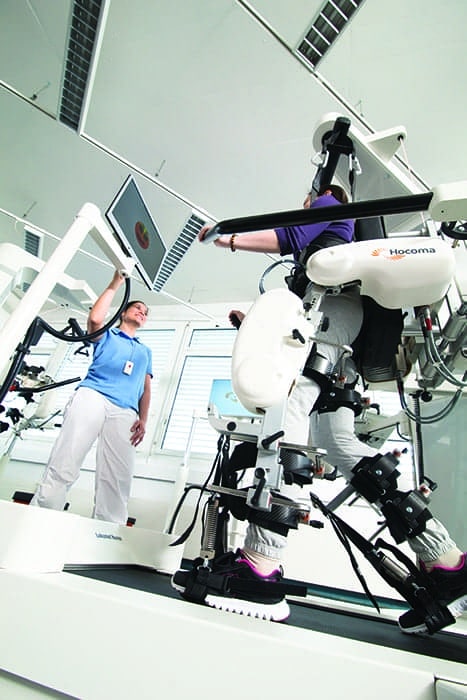 Hocoma Inc
Norwell, Mass
www.hocoma.com
Jose Tovar, Clinical Applications Manager, discusses the Lokomat
Technology overview: The adjustable exoskeleton ensures a physiological gait pattern through the individual adjustment of movement parameters, combined with its dynamic body weight support system. Patients are motivated to reach their goals with game-like exercises that provide real-time feedback and interaction with the game-like interface. Furthermore, it enhances efficiency and safety, leading to higher training intensity, more treatments per therapist, and consistent, superior patient care. The Lokomat is used in settings that include inpatient and outpatient clinics, and research institutes.
How it improves on previous technologies: It offers several advantages, including a software package with a user-friendly interface that integrates many tools to tailor therapy sessions to specific patient needs and goals. Lokomat also allows for pediatric training, manual training, and records training data for reporting and therapy progression purposes. With an intensive gait training that incorporates robotic intervention, the therapist can provide multiple gait therapy sessions not otherwise possible due to human resources needed, time, and physical strain on staff.
Customer feedback: Dale B. Hull, executive director, Neuroworx USA, tells us the Lokomat allows them to provide their patients with more intensive gait therapy. They experience more repetitions and are motivated by the augmented performance feedback to actively contribute with maximum effort to their therapy. Martin Niedermeier from Hochzirl, Austria, tells us that the Lokomat allows the operating clinician to observe the patient's motion sequence more easily and from another perspective, and to intervene whenever necessary.
Billing codes and reimbursement tips: For a patient with gait impairment and physical therapy goal(s) related to gait, the most common CPT code charged when the patient uses the Lokomat during physical therapy is Gait Training (97116). When the Lokomat is used during physical therapy to address goals unrelated to gait, a different CPT code is selected to reflect the purpose of the treatment. Donning equipment is considered pre-therapeutic and can be charged under the same code as the treatment.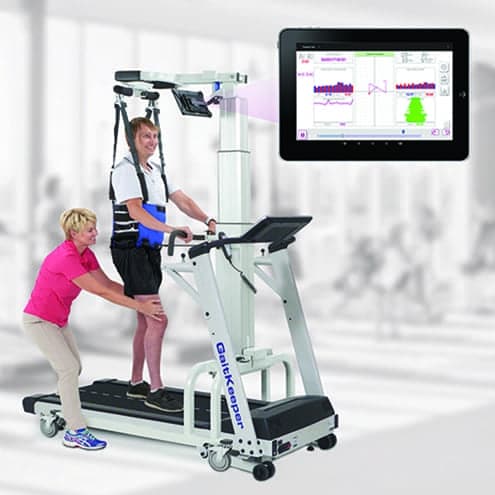 Mobility Research Inc
Tempe, Ariz
www.litegait.com
Nechama Karman, PT, MS, PCS, discusses the LiteGait and GaitSens
Technology overview: The LiteGait supports the user in a fall-free environment with postural correction, aligning the user in a symmetrical, upright posture to normalize the biomechanical forces acting on the joints and promote energy-efficient gait and movement patterns. The GaitSens treadmill performs instrumented spatiotemporal gait analysis in real time, during treatment, providing outcomes data and support for therapy interventions to third-party payors. It is used in settings from acute care/ICU/bedside to inpatient rehabilitation to outpatient to home/community-based.
How it improves on previous technologies: LiteGait is portable, as is the GaitKeeper mini treadmill, and can be taken bedside for early mobilization. One of the LiteGait's notable characteristics is that it is a body weight support system designed for postural correction/control. The seamless data collection and instantaneous analysis of the GaitSens minimizes time to generate documentation/justification and helps the clinician to prioritize treatment. GaitSens provides patient feedback necessary to change specific gait parameters.
Customer feedback: Customers are thrilled that they can use LiteGait without being "tied" to a specific location. They love the postural alignment provided by LiteGait, which makes gait facilitation easier, and the immediate availability of gait analysis results and patient feedback provided by the GaitSens system. They use the system to measure the effectiveness of a client's therapy as well as to select the best intervention technique for the individual client and evaluate programs. They "raise the bar on their outcomes expectations" when using LiteGait and GaitSens.
Billing codes and reimbursement tips: Commonly used codes are gait training, functional training, neuromotor re-education, and therapeutic exercise. The GaitSens can demonstrate improvement not seen with our "usual" outcome measures such as 10-meter and 2, 4 or 6-minute walk tests. Small changes become obvious and measurable, and can be used to justify ongoing care.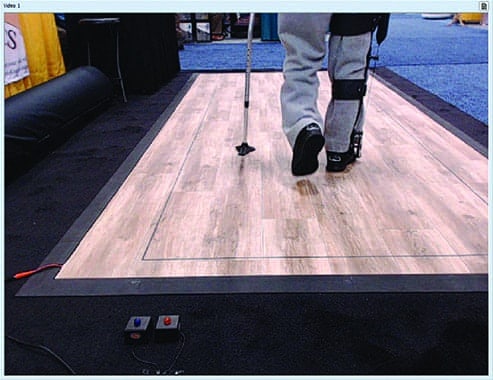 ProtoKinetics
Havertown, Pa
www.protokinetics.com
Patrick Roscher, Chief Technical Support Engineer, discusses the Zeno Walkway and PKMAS software
Technology overview: Data is used to identify functional deficiencies following stroke and track progress following treatment, and our technology is utilized in all categories. The research market was the first area we entered because, without accurate data collection protocols and data interpretation, these data could not be translated into the clinical environment. Currently, the technology is used equally within inpatient and outpatient settings.
How it improves on previous technologies: Our footfall identification is superior to any other walkway software currently available. Capturing and analyzing difficult gaits such as overlapping footfalls, weaving walker tracks, quad canes, and toe drags are often necessary for analyzing gait data post-stroke. Ignoring or removing these data from gait trials isn't representative of the patient's actual abilities. ProtoKinetics has just introduced our Limits of Stability (LOS) balance protocol. Our implementation of this commonly utilized clinical protocol offers clinicians static and dynamic stability measures and calculations that illustrate unilateral contributions to the task.
Customer feedback: At the 2019 APTA Combined Sections Meeting, customers commented about how our product is consistently improving. Our newly improved footfall editor has decreased the amount of processing time necessary for even the most difficult gait patterns. This allows for more efficient results using the system to obtain our descriptive gait data. Customers were excited about the prospects of using our newly automated protocols, the LOS and FSST, to expand their testing procedures and learn more about the balance of their patients.
Billing codes and reimbursement tips: The most commonly utilized billing code for direct reimbursement of a Zeno Walkway test is 97750, a physical performance test. However, the data gathered from our system can be used to aid in securing reimbursement for other therapies and treatments. Quantified outcome measures from gait assessments can be used in order to justify the efficacy and necessity of treatments.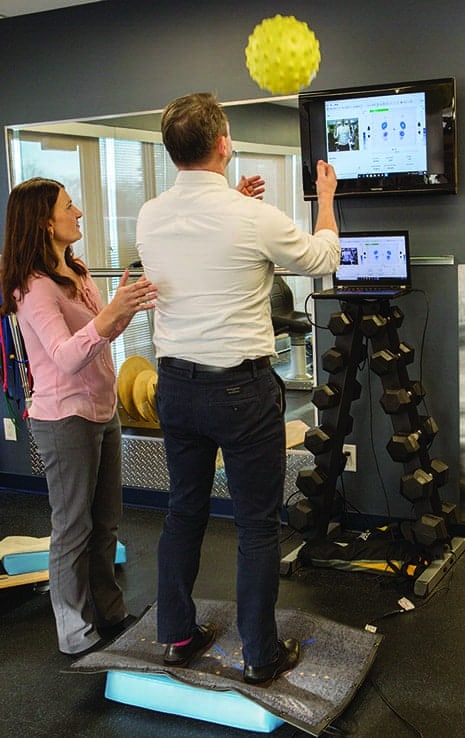 Vista Medical Ltd
Winnipeg, Manitoba, Canada
www.BodiTrak.com
Andrew Frank, Chief Operating Officer, discusses the BodiTrak2 Balance Assessment system and BodiTrak2 Treadmill Gait Assessment system
Overview: Our systems have been used for over two decades in inpatient and outpatient clinics, and in support of rehabilitation research around the world.
How it improves on previous technologies: BodiTrak Balance systems are portable, flexible, easy to use, and cost a fraction of traditional force plate solutions. A clinic can actually have one or more of our systems as front line tools for assessment and training, and provide objective documentation of the patient's challenges and progress in rehabilitation. These devices are built to provide objective information for tests such as mCTSIB and CTSIB that were previously done subjectively; or were performed with equipment that some facilities may have considered too expensive to own as a regular front line modality.
Customer feedback: They love them and consider them comparable to tools they have purchased for 10 times as much money. The sensor is very flexible, so therapists can place it on steps or on top of various densities of foam, creating a progressively perturbed surface during rehabilitation. That is not something that can be done with force plates. Some therapists are using them in very innovative ways, as well. For example, some customers have reported that therapists have taken the system and hung it on the wall for use with upper body physio.
Billing codes and reimbursement tips: While therapist do get paid for time using the tool, there are no direct reimbursement codes for the use of the tool itself. RM