by Sarah Greenemeier, PT, DPT, NCS, and Beth Myers, PT, DPT, NCS
Spinal cord injury is a neurologically complex diagnosis to treat because of the many impairments that exist. Typically, patients will present with diminished or absent sensation, muscle weakness or paralysis, spasticity, impaired functional mobility, impaired balance, dependent edema, orthostatic hypotension, and a host of secondary complications as a result of spinal cord injury. The complexity of impairments requires a multifaceted approach to rehabilitation and often necessitates specialized equipment and treatment environments. The inherent properties of water make it a valuable tool in being able to dynamically treat the spinal cord injury population. Buoyancy, hydrostatic pressure, viscosity, turbulence, and the thermal effects of water are all beneficial tools in creating one environment that can address several impairments from spinal cord injury.
Why Water Works
Buoyancy allows weak muscles to activate more efficiently and through a greater range of motion by providing support without the restrictions of harnesses, mobile arm supports, and other equipment that may be used in the gym setting. It allows for variety of movement in all planes as well as body weight support for gait and standing. Buoyancy also allows a patient with evolving skills for transferring, bed mobility, and ambulating to be more independent. It also allows the therapist the ability to focus on technique and kinematics. This buoyancy enables patients to be more confident in the knowledge that they cannot fall and sustain an injury, while challenging their balance limits.
Pressure, Turbulence, Resistance, Temperature
The aquatic environment supplies hydrostatic pressure which assists in preventing orthostatic hypotension while standing and also works to reduce dependent edema, which often results from prolonged sitting and a lack of muscle pump in the lower extremities. Viscosity provides resistance to movement, especially with higher speed of movement, such as during gait training and swimming, and can contribute to strengthening weakened muscles and building endurance. Turbulence of the water serves as external perturbations for challenging sitting and standing balance. Turbulence can be provided by jets or by creating waves through the water. This turbulence can be used to either assist, or resist, a movement. For example, turbulence can assist in improving passive or active-assisted range motion of the shoulder with a patient positioned in supine and the jets aiming superiorly so as to passively move the upper extremity with the flow of water. When the patient abducts his or her shoulders, the jet stream will help to increase the range into abduction.
Conversely, in this same position, the jet stream will act as resistance to bilateral shoulder adduction. Increasing speed of movement will cause turbulence, therefore creating resistance to a movement, as well. Lastly, the thermal effects of water, which is maintained between 91 and 94 degrees at our facility, assists in muscle relaxation and tone reduction, allowing a therapist to capitalize on decreased spasticity for strengthening and creating more normalized movement patterns. It also allows for deeper stretching of tight muscles. A pool with an underwater treadmill is typically maintained at a lower temperature so that the heat generated by exercises such as walking or jogging is still tolerable. As one can see, with the use of water's dynamic properties, patients are able to achieve greater independence and achieve more diversity of movement.
Accessories Enhance Effectiveness
There are many simple, low-tech ways to enhance aquatic therapy treatments, using standard aquatics equipment. The effect of using flotation or weighting a body part can change a task completely by activating different muscle groups. The key is to know which muscles or motions are to be addressed and understand the properties of water as they relate to using a float or a weight. An example of this is using an extremity float versus an ankle weight around a standing patient's ankle. The float will assist flexion of the lower extremity, while the ankle weight will resist flexion. Noodles are often used to assist flotation in a variety of ways. Supine positioning to perform upper- and lower-extremity stretching, and gravity-eliminated motions of the shoulder and pelvic girdle muscles, is made possible using a neck floats, to improve patient comfort and provide neutral head and neck alignment. Hand dumbbells can provide upper extremity support, when less stability is desired, during sitting, standing, or walking tasks. They provide an excellent adjunct to reaching activities that challenge patients well beyond their limits on land. Aqua joggers can be used in supine, sitting, or standing, depending on the task and each individual patient's presentation. Resistance equipment, such as handheld cages, flippers, and other pieces of equipment that are not buoyant, can increase the demand for certain movements or tasks. While ankle weights can be used to resist movement, as in the example above, they may also be used to provide contact with the floor, for weight-bearing in standing or sitting, when the patient's legs are buoyant.
Versatile Complement
Aquatic therapy can serve as a complement to land-based therapy. Aquatic sessions can be used to work on the same goals as those being addressed in the therapy gym. For example, becoming independent with transfers is a functional goal that a patient may be working on with a therapist, but is a challenging task. This same activity can be performed in the pool where the patient's body weight is more supported, more easily able to achieve clearance, and where the patient is less fearful of leaning forward. Likewise, if a patient is working on improving sitting balance in the aquatic environment, this may carry over to improving sitting posture and balance on land in order to more independently complete functional mobility tasks. For ambulatory patients, walking in the pool can provide an environment to focus on gait kinematics and endurance, with upper extremity support being reduced, to be able to transfer those skills and abilities to land. Aquatic therapy is typically a 1-hour session and occurs either before or after land therapy. In this way, a therapist can use the tone-reducing and relaxation effects of the water to improve performance during land-based therapy or offset fatigue and muscle soreness following land therapy.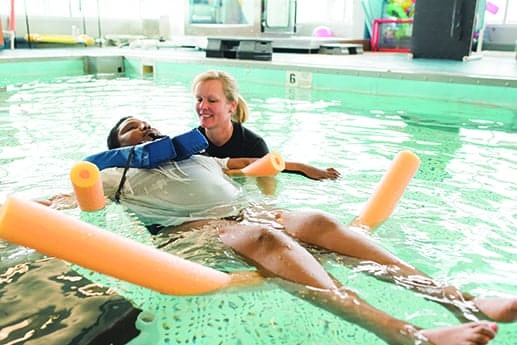 Aquatic Technology Built for Therapy
Kennedy Krieger Institute Mr. and Mrs. Arthur B. Modell Aquatics Center is equipped with pools developed specifically for therapeutic applications. There is one larger, warmer pool, and one smaller, slightly cooler pool with an underwater treadmill. The floors of both of these pools have the ability to raise and lower and allow a patient to roll right onto the pool floor using a specialized water wheelchair that can be submerged into the pool. This allows for a quick transition into and out of the pool. Safe entry and exit to the pool is a concern for any aquatic therapy facility, and several manufacturers offer ADA-approved pool lifts to fulfill this function. At Kennedy Krieger Institute, the aquatics room has barrier-free overhead lifts for patients who are unable to be seated in a water wheelchair. Both pools also have cameras to provide accurate visual feedback for both the patient and the therapist. Looking down into the water proves difficult to see what is happening, due to light refraction. The monitors to these underwater cameras are on the pool deck, which encourages patients to look up while standing and walking, promoting improved gait mechanics. The treadmill has removable parallel bars, to provide one, two, or no upper extremity support, and they may also be repositioned to provide support anteriorly. Another aquatic option is a stand-alone chamber that has a submerged treadmill and can be filled with water, which is used for ambulatory patients who do not necessarily require hands-on support. They must also be able to get in and out of this device independently and safely. This type of stand-alone chamber also has the ability to tailor the water height to the individual patient's needs and challenges. All pools at the Kennedy Krieger Institute have jets. Staffing at the Kennedy Krieger Institute consists of lifeguard-certified aquatic therapy technicians, who assist with operating the pools (during treatments, and in preparation for treatments), keeping a smooth transition between patients, and assisting hands-on with patient treatments.
Escape Gravity and Explore the Possibilities
Because spinal cord injury results in multiple impairments and requires so much gravity-minimized work for activation of available strength, the aquatic environment proves to be a novel and beneficial approach to the treatment of spinal cord injury and other neurological pathologies that cause significant weakness. It can serve as an adjunct to land therapy in priming the body for activity via tone reduction and stretching, and in enabling weak muscles to work better once the nervous system is optimized. The aquatic environment is a key component to the rehabilitation of patients with spinal cord injuries. There are seemingly infinite options to individualize each treatment session to suit each patient's needs, abilities, and challenges: the therapist's imagination is the limit! RM
Sarah Greenemeier, PT, DPT, NCS, has been a physical therapist at the Kennedy Krieger Institute's International Center for Spinal Cord Injury for the past 10 years. Previously, she worked at Magee Rehabilitation Hospital on the spinal cord unit. Greenemeier completed her undergraduate and doctorate program at Northeastern University in Boston in 2008. She specializes in locomotor training and gait dysfunction following spinal cord injury and leads the department's locomotor training clinic. In 2013, she presented on technological advances in spinal cord injury to the Maryland chapter of the APTA. In 2017, she became a neurologic certified specialist.
Beth Myers, PT, DPT, NCS, has been a physical therapist at the International Center for Spinal Cord Injury (ICSCI) at the Kennedy Krieger Institute for the past 14 years. A graduate of Boston University with her Bachelor of Science degree in 1997 and her Master of Science in Physical Therapy in 1999, Myers joined the Institute in 2000, upon returning to her native Baltimore, on the inpatient brain injury team. In 2005, she was able to expand her passion for treating patients with spinal cord injuries, with the arrival of Drs. Sadowsky and McDonald when the Center was formed. Since that time, she has facilitated the expansion of the clinic's services, including aquatics and wellness programs. In 2013, she was awarded Leader in Spinal Cord Injury Care Award at the Spinal Cord Injury Symposium in Baltimore. She has authored a case study on normal pressure hydrocephalus and has co-authored a case series platform presentation on the effect of underwater treadmill training on patients with spinal cord injury. For more information, contact [email protected].