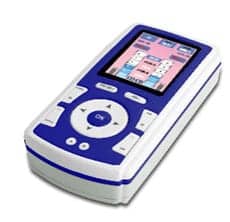 Spectramed Inc has announced the release of its new line of electromyography sEMG and stimulation devices. The Aspire Series sEMG/Stimulation devices are intended to provide one platform to work unilaterally across all modalities of therapy, according to the company.
The Aspire is also specially designed to capture functional data outcomes based on the latest G-Codes and severity modifiers for speech, physical, and occupational therapy.
Spectramed notes that the Aspire Series portable system operates by attaching a series of three electrodes onto the patient's body depending upon the area of treatment. A news release from the company also reports that the two primary functions of the device center on providing biofeedback therapy and neuromuscular electrical stimulation (NMES).
The product's NMES function can be used for a variety of treatments, including stroke rehabilitation by muscle re-education, maintaining or increasing range of motion, and relaxation of muscle spasms. Its second function pairs sEMG and NMES to produce electrical stimulation (ETS).
For more information, contact [email protected]
[Source: Spectramed Inc]