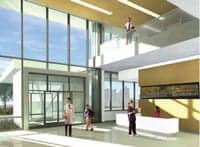 Spaulding Rehabilitation Hospital's main facility, previously located at Boston's West End, is slated to relocate to Charlestown Navy Yard in late spring. According to Spaulding Rehabilitation Hospital, the relocation and partnership with Aceso Interactive will designate the facility as the first post-acute provider in the country to build and design a hospital from the ground up featuring an integrated digital media system with a blend of in-room systems and digital signage throughout the facility.
The release notes that Aceso will be installing its proprietary UpCare/UpTech Interactive Patient Care (IPC) platform throughout the facility's 132 patient rooms. The company's digital media wall displays be installed on all eight floors, along with a network of TVs. Through Aceso's Hospital Television Network "HTV" product, Spaulding notes that it will collaborate with Aceso to create a "Post-Acute Care TV Network" for patients, guests, and staff that will be viewable on common area TVs.
Interdisciplinary clinical teams at Spaulding reportedly worked with Aceso during the development to ensure the technology and presentation would accommodate the wide range of patient populations, including pediatric, stroke, and brain injury, that Spaulding serve. Spaulding adds that its new facility incorporates the latest in inclusive design elements and has been recognized with a LEED Silver certification.
John Campbell, chief information officer, Spaulding Rehabilitation Network, notes that the facility's primary goal centers on providing more adaptive and engaging experiences for patients, families, visitors, and staff. "It has been a very rewarding experience to find a partner like Acesco. … Together, we are building a new digital model for a hospital experience that engages patients, families, and staff, and is accessible to all communities we serve," Campbell says.
Geoff Fiedler, president, co-founder, Aceso, echoes Campbell's sentiment, adding that the company is thrilled to partner with Spaulding. "Along with Spaulding's clinical and professional leadership team, we will be breaking new ground with a first-ever multi-media patient engagement solution used throughout the entire continuum of care," Fielder says.
[Source: Spaulding Rehabilitation Hospital]