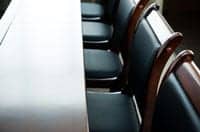 The members of the National Mobility Equipment Dealers Association (NMEDA) 2013 Board of Directors were recently announced in an NMEDA news release. The NMEDA notes that its board is intended to unite members in an effort to expand and improve transportation options for more than 18 million individuals with disabilities.
Dave Hubbard, executive director, CEO, NMEDA, notes that the 2013 board features "knowledgeable and experienced individuals who each bring unique insights to our industry. I look forward to working with this dedicated group, especially as we usher in our second year of National Mobility Awareness Month," Hubbard says.
The individuals chosen to comprise the 2013 Board of Directors include Andrew Bayer, manufacturer representative, Bruno Independent Living Aids, Oconomowoc, Wis; Southern representative James May, Freedom Mobility Aids, Clemmons, NC; and Nick Gutwein, manufacturer representative, The Braun Corporation, Winamac, Ind.
Ron Mohr, Northern representative, Clock Conversions, Grand Rapid, Mich, will also serve on the board along with Bob Lundin, Midwest representative, IMED Mobility, Tea, SD, and Raj Pagadala, associate representative, Georgia Vocational Rehabilitation Agency, Atlanta.
Sam Cook, Superior Van & Mobility, Louisville, Ky, is slated to serve as president, with Mark DiRosa, M.C. Mobility Systems, Mentor, Ohio, as vice president, and Richard May, of United Access, St Louis, serving as secretary. Bill Koeblitz, Mobility Works, Akron, Ohio, NMEDA notes, will serve as the board's treasurer, with David Hutchinson, Sparrow Hawk Industries, Ltd, Waterloo, Ontario, Canada, assuming the role of Canadian president, and Bill Siebert, Siebert Mobility Inc, Glenwood, Iowa, as past president.
[Source: NMEDA]