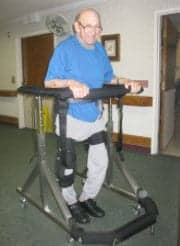 Second Step Inc markets a recently updated gait training system and harness, engineered to provide a safe, effective environment for standing and walking. According to the company, its new Gait Harness System II provides a variety of unique features to users.
The new system offers a double-wide forearm support top option, designed to provide greater forearm and trunk stability for clients who require additional support during the early ambulation stages. Users can also choose a standard width forearm support top, which the company says allows for more reciprocal arm movement.
The product also features new multidirectional casters designed to provide effortless mobility and move 360 degrees in any direction. The system can also be restricted to move in an inline, linear direction.
For more information, visit www.secondstepinc.com.
[Photo Credit: Second Step Inc]
[Source: Second Step Inc]