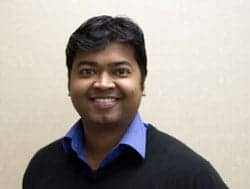 Rakesh Pilkar, PhD, Kessler Foundation, West Orange, NJ, has received a R03 grant from the National Institutes of Health (NIH) to study the response levels to functional electrical stimulation (FES) interventions in the rehabilitation of stroke patients, according to a news release from the Foundation.
Pilkar, a post-doctoral fellow in Human Performance and Engineering Research, received a total of $153,000 to fund the study thanks to the "Identification of Responders to the FES Interventions in Stroke Populations" grant. Pilkar notes that the study is geared toward improving researchers' knowledge of FES intervention and helping clinicians strategize rehabilitation interventions more effectively based on the responders' gait characteristics.
"Receiving this grant during my postdoctoral training provides me the valuable foundation and opportunity to establish myself as an independent researcher in the field of neurorehabilitation," Pilkar adds.
The release reports that the study will reportedly center on analyzing the walking patterns of patients with hemiplegic gait, characterized by weakness on the affected side, with full leg flexion and rotation in a semi-circle to accommodate for foot drop in the weakened leg. Pilkar will use a 3D Motion Capture System and Electromyogram (EMG) system to assess patients' response level to FES interventions.
Pilkar will also look for link between the responders' gait characteristics, including symmetry, while pinpointing proper intervention parameters. Researchers will then measure the effectiveness of FES and strategize rehabilitation techniques based upon the study's results.
For more information visit www.kesslerfoundation.org
Photo Credit: Kessler Foundation
Source: Kessler Foundation