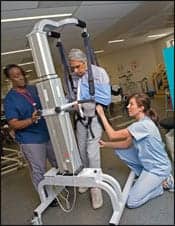 Physical therapist Kelly O'Donnell (kneeling), and an assistant, secure and prepare client Sadul Brar for ambulation therapy. Photography by Robin Miller
Stroke is the leading cause of adult disability in the United States, and, while most of the more than 700,000 people who have a stroke each year survive, the majority requires extensive rehabilitation. Key to successful rehabilitation is the initial assessment of the patient. With a collaborative interdisciplinary team that includes physical, occupational, and speech-language therapists who are focused on recovery, goals and expectations of both the patient and their family early on can lead to better outcomes.
A joint venture between Good Shepherd Rehabilitation Network in Allentown, Pa, and University of Penn Health System in Philadelphia, Good Shepherd Penn Partners (GSPP) opened its doors in Philadelphia more than 1 year ago. Among the golden rules at GSPP is the collaboration of various clinical disciplines from initial assessment throughout the rehabilitative process. It includes helping patients and their families set goals so they are dynamic and realistic. Further, the team works to refine the goals through the rehabilitation process based on improvement, physical condition, and recovery of the patients. Expectations are driven by the goals, which is why the two are inexorably linked.
Its Long-Term Acute Care Hospital (LTACH) and Inpatient Rehabilitation Facility (IRF) enable physicians to be part of the decision-making process about the optimum time to transfer a patient from one of Penn Medicine's three acute care hospitals to GSPP. Collaboration between sites is improving, and the number of consult doctors in specialty areas such as endocrinology is increasing.
Once patients are in GSPP team care, the team obtains a complete medical history of the patient, including identifying prior functional status and vocational and avocational interests. The assessments are detailed to the point of including whether they drove a car, used any assistive devices or equipment, or required any assistance prior to the stroke event. In addition, the team gains a thorough understanding about household structural barriers such as stairs as well as what kind of social support network the patient has.
At the conclusion of the initial workup, our collective and collaborative attention is turned to developing a personalized rehabilitation plan that includes exercise/treatment/therapy plans for each patient. We start with the functional impairments, link these to attainable goals, and then prioritize the process.
Rehabilitation is driven by a combination of factors including reacting to a patient's progress, pain, the patient's preferences, possible medical complications, and response to certain rehab techniques. It is for this reason that inpatient rehab follows an interdisciplinary as opposed to a multidisciplinary model. The key to this approach is that all members of the team from physicians through therapists, nursing staff, nutritionists, and, when possible, family members interact constantly throughout the day. Physicians have their own sets of goals for the patient and serve as team leaders, take input from each team member, and make the global decisions based on this input.
Whenever we develop a profile for both stroke and brain injury patients, we ask about the level of education and whether the patient has responsibilities that are cognitively demanding such as parenting or another demanding job outside of the home. We also ask questions about premorbid personality and whether the family has noticed any changes in behavior since the stroke. We may also ask about psychiatric history and monitor for depression. Depression is common in patients who have suffered a stroke as they come to terms with their new condition and realization that some results may become long-lasting.
In cases of traumatic brain injury (TBI), the family is an invaluable source of information because, in many instances, cognitive impairments make it difficult to get a complete history from the patient.
With a physical examination, we observe the patient in their attempts to do functional tasks such as sitting up in bed, or standing or walking, and we regularly observe patients while our therapists work with them. As a clinical team, we also try to project the goals of the treatment and discuss these with the patient and their family. The rehab prescription changes throughout the process as the patient progresses and demonstrates their abilities and their capacity to improve.
If a patient does not respond to a specific treatment intervention, team members discuss what is working for them and incorporate that into the PT sessions. For example, we had a patient who enjoyed playing basketball but wasn't interested in much else due to his agitated state from his brain injury. The OT used this task for counting, visual perceptual training, and attention. The PT used this task by having the patient stand and shoot baskets from varying distances to address balance and coordination. When treating persons with acquired brain injury, it is essential to identify what will motivate them to participate in therapy while providing interventions that will address their impairments and functional limitations.
The constant link throughout the rehab process is the involvement of the patient's family. From the identification of the patient's history to goal setting to being trained as caregivers, which enables them to assume that role once the patient is discharged, family members are integral members of the team. In addition, they provide the emotional support so vital in the rehab process.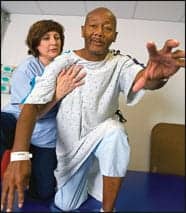 Carol Wamsley, PT (left), assists Moses Williams with a series of exercises that will help build the strength and coordination that are necessary to regain independence.
The interdisciplinary team rounds together every morning, with the physician, nurses, and one representative from either occupational therapy, physical therapy, or speech therapy to review a patient's progress against their goals. Each OT/PT and speech therapy team is assigned to the same patient case load, which provides for consistency and much interdisciplinary collaboration. On an ongoing basis, team members consult with each other when planning patient care to determine best transfer methods, family training techniques when appropriate, and strategies that are most efficient based on individual patient needs. In addition, we sometimes co-treat or co-assess a patient. We also meet weekly for a patient care conference where we discuss the patient's progress, plan for discharge, and any other issues. Throughout the day, team members constantly interact with one another to consult, coordinate goals, and sometimes co-treat or co-assess a patient.
Here are some examples where the collaboration serves up better results for the patient outcome:
A physician will accompany the neuropsychologist to evaluate a patient's cognitive functions such as attention, language, and memory. When it comes to TBI in patients, we prescribe use of certain medications to attempt to restore cognitive functioning.
A physician will perform a nerve block with a patient to enable physical therapists to perform serial casting to treat contracture and improve range of motion.
A speech therapist will assist a physician in communicating with a patient with speech impairment.
PTs and OTs will co-treat to help a very weak patient with sitting balance and transfers.
If the speech therapist describes an effective method to communicate with a patient or points out a cognitive impairment such as decreased attention, the PT will use that information when planning the treatment approach.
If the OT and speech therapist note that the patient has difficulty with topographical orientation, the PT may have the patient ambulate in the hallway while looking for their room, the therapy gym, and other locations on the unit. When appropriate, the PT may also take this patient outside the building (with permission from the physician) for topographical orientation training in the community.
When it comes to individualized regimens for patients, we employ whatever modality is needed to maximize their rehabilitation process, including:
Using the Wii™ during group sessions, which works on coordination, fine motor, attention, new learning, balance, and visual perceptual skills;
Using de-weighting devices for gait training with body weight support for some stroke patients, which has been shown to improve functional outcomes;
Use of a robotic arm device for upper extremity range of motion, strength, and visual perceptual training; and
Using functional electrical stimulation (FES) for shoulder subluxation for co-contraction of musculature at the shoulder.
Sessions typically have tests and measures for gait, gait speed, and balance to provide measurable outcomes. These test results are also helpful when describing deficits to family members and third-party payors.
Assuring the continuum of care occurs at the highest of standards; each team member is very involved with the rehab process from the day of admission to the day of discharge and beyond as collaboration extends to the discharge orders. As the team leader, the physician oversees every aspect of the rehab process and follows patients afterward as outpatients to ensure that they continue to receive the rehab they need at our outpatient facilities, at home, or in the community. In general, the team approach results in overall better rehabilitative outcomes for those with stroke or brain injury.
---
Miriam Segal, MD, is director of Brain Injury Services at Good Shepherd Penn Partners, Philadelphia, a joint venture between Good Shepherd Rehabilitation Network in Allentown and the University of Pennsylvania Health System. GSPP, which is the post-acute care provider for the entire UPHS network, represents one of the most comprehensive continuums of postacute medical care in eastern Pennsylvania.