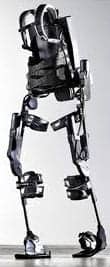 According to a news release from Good Shepherd Rehabilitation Network, headquartered in Allentown, Pa, soon it will be the first health care organization in North America receiving the new Variable Assist software for the Ekso bionic exoskeleton. The addition of Variable Assist to the wearable, bionic suit, is engineered to provide Good Shepherd's clinicians the ability to augment patients' strength by tuning the amount of power contributed to assist walking efforts for either leg.
Therapists have the option to assign a specific amount of power contribution based upon therapeutic goals to augment patients' efforts or allow the device to adjust to patients' needs in real time. The organization notes in a recent news release that the software is intended to add to Ekso's utility for patients with hemiparesis as a result of stroke, incomplete spinal cord injury (SCI), or other neurological injuries or conditions. The new Variable Assist software is slated to arrive at Good Shepherd July 30, and will serve as an upgrade to the organization's current Ekso rehabilitation technology.
Frank Hyland, vice president, rehabilitation, Good Shepherd Rehabilitation Network, emphasizes, "Our therapists in our Neurorehabilitation Department have seen great success with the Ekso for spinal cord patients, and now we are certain that this technology will help our stroke patients regain function and return to their lives."
Good Shepherd reports that in late August, it will receive a delivery of a second Ekso bionic exoskeleton with Variable Assist for inpatient use at Good Shepherd Rehabilitation Hospital. It was reportedly the third rehabilitation organization to receive the Ekso in the spring of 2012.
Source: Good Shepherd Rehabilitation Network