A team of Johns Hopkins neurosurgeons and biomedical engineers has received $13.48 million from the Defense Advanced Research Projects Agency (DARPA) to develop implantable ultrasound and other devices for patients who experience spinal cord injuries.
The electronic device is planned to be the size and flexibility of a small Band-Aid and will use high-resolution ultrasound technology to help doctors monitor and treat the changes in blood flow and prevent tissue death that occur immediately after a traumatic injury to the spinal cord.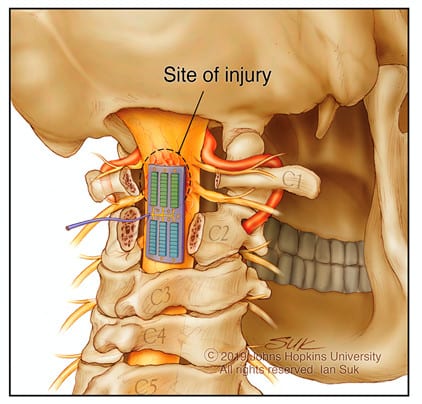 The research program is supported by DARPA's Bridging the Gap (BG+) program. Nicholas Theodore, MD, professor of Neurosurgery and Biomedical Engineering, and Amir Manbachi, PhD, assistant professor of Neurosurgery and Biomedical Engineering at the Johns Hopkins University School of Medicine, aim to bring the devices from concept to human use within 5 years, according to a media release from Johns Hopkins University.
Opportunity to Improve SCI Treatment
The project's strategy is to target the disruption in blood flow that occurs alongside injury to the spinal cord. By utilizing technology to image and stimulate the blood vessels and tissue at the site of spinal cord injury, as well as controlling spinal fluid dynamics, the delivery of oxygen and nutrients can be optimized. This approach could prevent additional damage to the spinal cord, which can lead to increased inflammation, pain and worsening paralysis.
"There are very few treatment options available to minimize the damage initially — for example, increasing the patient's blood pressure; however, we still need to understand, in real-time, how the body reacts to these treatments.

"When Dr Theodore described this challenge to me for the first time four years ago, as an acoustic engineer, I immediately thought to use ultrasound as a tool to monitor and stimulate these damaged tissues."

— Amir Manbachi, PhD
To accomplish this, the electronic devices will use ultrasound "pulse echoes"— similar to the radar submarines use to navigate — as well as electrical stimulation, to monitor and treat the previously unobservable tiny blood vessels and surrounding tissue at and around the spinal cord injury site.
"This will be a real engineering feat. Typical ultrasound transducers are bulky and designed to gather images of larger structures. We want to take this technology and shrink it for use on structures the size of a pinky finger, while still capturing clear ultrasound images of the spinal cord microvasculature." 

— Amir Manbachi, PhD
These images, say the researchers, will allow clinicians to observe how blood is flowing to the injury site. This can give them valuable information on how much oxygen, nutrients and medication are reaching the area. The data will allow physicians to respond to their patient's condition in real-time by administering medications or possibly electrical or ultrasound stimulation to improve blood flow, stop inflammation, offer pain relief and neuroprotective therapies to stop damage to the injured tissue.
The sound waves generated by these implantable devices can also be used to stimulate healing in the area. Similar to how the sun's rays can be focused by a magnifying glass, therapeutic sound waves from the device can, in theory, be focused to promote blood flow at the injury site to promote healing, the release explains.
The team expects the initial technologies to be used experimentally and clinically to treat acute spinal cord injury. The researchers' ultimate goal, however, is to develop more advanced versions applicable for patients suffering from chronic spinal cord injury, per the release.
[Source(s): Johns Hopkins University, Newswise]
---
Related Content:
Mental Health Disorders Among People with Spinal Cord Injury is Focus of New Guideline
Spinal Cord Injury Causes This, Per Researchers
Study Aims to Help Spinal Cord Injury Patients Via Artificial Intelligence