Paralyzed Veterans of America, in collaboration with the Consortium of SCI Medicine, has published a new Clinical Practice Guideline to guide health care providers in treating mental health disorders in adults with spinal cord injury and disease like MS and ALS.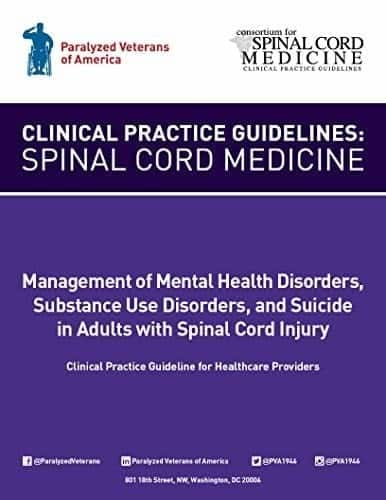 Suicide, depression, anxiety, post-traumatic stress disorder, and substance use are all significantly more prevalent in individuals with spinal cord injury than in individuals without SCI. However, these mental health disorders are often not recognized and addressed as they should be, perhaps because of the other more obvious physical health impairments caused by SCI and the stigma that surrounds mental health disorders.
"We strongly believe care for mental health and substance use disorders should be part of comprehensive SCI rehabilitation and treatment. We are grateful to the panel of experts who worked to put these guidelines together and hope the information will be shared widely so those with SCI can receive the quality care they deserve."

— David Zurfluh, national president of Paralyzed Veterans of America
Authored by national experts from the fields of nursing, physiatry, psychiatry, and psychology and written with the non-mental health specialist in mind, the CPG covers evidence-based screening and assessment tools, pharmacological and non-pharmacological treatments, and strategies all team members can use to support the recovery process across the lifespan of a patient.
It is the hope of PVA and its authors that this wide-ranging representation will translate into uniform quality practice and help rehabilitation professionals accurately diagnose and treat these disorders, according to the release.
"Mental health and substance use disorders affect a significant fraction of people with SCI. We hope that this CPG will be used to elevate the effectiveness and integration of mental health and substance abuse services within comprehensive SCI rehabilitation and treatment throughout the world."

— Charles Bombardier, PhD, Department of Rehabilitation Medicine at the University of Washington and Panel Chair for this CPG
[Source(s): Paralyzed Veterans of America, PR Newswire]
---
Related Content:
Could SCI Give People Mental Issues?
Paralyzed Veterans of America Launches PAVE Connect
Paralympians Join Mental Health Taskforce to Support Athletes and Coaches in 2020 Games