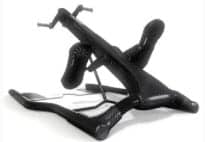 An exercise bike from Med-Fit Systems aims to provide versatility for users with mobility issues, and portability for physical therapists. The YouBike from Med-Fit Systems is a multipurpose cardiovascular exercise bike designed for patients with mobility issues as it is engineered to be floor mounted or used on a bed.
The bike can also be used with or without a wheelchair to exercise the arm and legs. The hand cranks are connected to the foot cranks via a direct drive belt, which enables the arms to exercise the legs in a cyclic manner.
Originally designed for patients with a spinal cord injury, the YouBike can also used for elderly patients and those with conditions such as stroke, Parkinson's, or obesity, as well as any individual who has been prescribed arm/leg exercises. The exercise bike is also ideal as a portable rehabilitation exerciser for physical therapists.
For more information about the YouBike, visit www.medfitsystems.com
[Source: Med-Fit Systems]