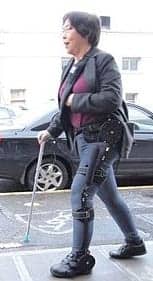 Cadence Biomedical, Seattle, has unveiled the newest version of its Kickstart walking system. The wearable device is engineered to assist individuals with weakened muscles or disabilities in regaining mobility and independence. The newest generation of the device offers users a diagnostic version intended to allow therapists to trial the device with a variety of patients.
Brian Glaister, president, CEO, rearticulates this point and emphasizes that the company created the adjustable version of the device to allow therapists the opportunity to see how Kickstart may benefit each patient, prior to the patient purchasing the device. The device is also intended to accommodate the patient populations of stroke, individuals with partial spinal cord injury (SCI), traumatic brain injury (TBI), multiple sclerosis (MS), and muscular dystrophy.
The device is designed to restrain muscles that may have atrophied and increase endurance during rehabilitation and physical therapy. To accomplish this, Cadence Biomedical notes, the device stores kinetic energy in the beginning of the step and then returns it at the end in order to guide and propel the legs. The company notes that it is currently conducting studies with partner academic institutions.
The studies are intended to quantify Kickstart's benefits, and the company is slated to begin reporting data yielding from these studies in late 2013.
For more information, click here.
[Source: Cadence Biomedical]