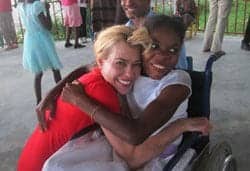 Four child advocates will be honored for their work in assisting children with disabilities during the 2013 World of Children Awards Ceremony on November 7. C. Mead Welles, Michaela Mycroft, Sarah Cronk, and Susie Krabacher reportedly work on the ground in countries worldwide to ensure disability does not bar a child from their full potential. Their programs are designed to provide urgent medical care, inclusive social and educational opportunities, and shelter from harm.
A news release from World of Children Award notes that Welles, co-founder of A Leg To Stand On is this year's recipient of the 2013 World of Children Health Award. The award recognizes Welles' work during the past decade in which he has provided prosthetic limbs for children in developing countries. The release notes that Welles will use funding from the World of Children Award to provide prosthetic limbs, orthopedic devices, and mobility aids for 500 children with limb disabilities in Asia, Africa, Latin America, and the Middle East. His organization provides free prosthetic limbs, orthotic devices, mobility aids, corrective surgery, and rehabilitative care to children in the developing world who have lost their limbs as a result of traumatic accidents or congenital disabilities. The organization currently operates 11 programs in 10 developing countries Welles designates stable health, including mobility, as the primary need for children in developing countries.
"With health and mobility, a child can walk to school, work, play, and even escape from danger," Welles explains.
"Chaeli" Mycroft, aged 19 years, is from Cape Town, South Africa. Mycroft is the co-founder of The Chaeli Campaign and was born with cerebral palsy (CP). When she was 9, Mycroft and her friends raised money to buy her a motorized wheelchair. The fundraiser's success gave way to The Chaeli Campaign; a non-profit designed to support the mobility and educational needs of children with disabilities in South Africa. Since its launch in 2004, the release reports, the campaign has assisted more than 10,000 children with disabilities in receiving equipment and physical therapy. Mycroft also speaks worldwide, serving as an "ability activist."
Cronk, aged 20 years, based in Bettendorf, Iowa, is the founder, president, and creative director of The Sparkle Effect Inc. The release notes that Cronk, whose older brother Charlie struggled to make friends as a result of disability, was inspired when she witnessed her brother's confidence rise once a popular swim captain invited him to sit at his lunch table and encouraged Charlie to join the swim team. In 2008, Cronk created and coached an inclusive cheerleading squad, designed to include students with disabilities at her high school. The Sparkle Effect was launched on year later. According to the release, Cronk has facilitated more than 100 inclusive cheerleading and dance teams in middle schools, high schools, and colleges nationwide that directly include more than 2,000 students.
Aspen, Colo-based Susie Krabacher (pictured above, right), is the co-founder and president of Mercy & Sharing. World of Children Award states that it will honor Krabacher this year with the 2013 Alumni Award in recognition of the work she and her organization have accomplished since 2006. Krabacher received a Humanitarian Award from World of Children Award in 2006 thanks to her determination to overcome the disasters in Haiti. The release notes that Krabacher has provided care and education to abandoned, orphaned, and disabled children in Haiti through Mercy & Sharing for nearly 20 years. Krabacher works to determine strategies to encourage independence in children, widows, women, and students. In spite of the 2010 earthquake, Krabacher's organization continued to develop programs and services during the devastating and difficult period.
World of Children Award is led by co-founders Harry Leibowitz and Kay Isaacson-Leibowitz. Since 1998, the release reports, World of Children Award has granted more than $5 million in cash grants and program support to 100 Honorees driving programs that serve children in more than 140 countries.
For a full list of 2013 honorees and to learn more about World of Children Award, click here
Photo Credit: World of Children Award
Source: World of Children Award