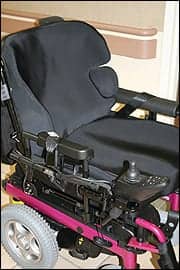 OrthoSEAT created a custom seat for Crystal that includes a custom tray, headrest, switch mounting, and adjustable angled lateral thoracic support.
Custom seating allows maximum function and comfort. A custom seating system is a personally tailored piece of equipment that receives daily use over many years. It must be functional, comfortable, and aesthetically pleasing and reflect personal preferences. In order to create the best design, a seating team needs to foster a relationship with the client through listening to the client and observing them in equipment trials and hands-on manipulation. This relationship continues as the seating system is used, and the team addresses postural or functional changes by making adjustments to accommodate continued function and safety. There are many options in custom seating materials and construction. The examples and case study in this article are taken from the OrthoSEAT program, a service within the Rehab Technology Center at Mary Free Bed Rehabilitation Hospital in Grand Rapids, Mich.
Custom wheelchair seating is a personal service and an end product. The right team enables a provider to efficiently and accurately meet the clients' needs. The OrthoSEAT staff at Mary Free Bed includes assistive technology professional (ATP) credentialed occupational and physical therapists, an occupational therapy assistant, a rehab engineer, seating technicians, upholstery technicians, and funding specialists. This group is assisted by local durable medical equipment (DME) companies that supply staff, demo equipment, and assist in the funding and maintenance of the equipment. Clients benefit from the team's diversity of skills.
Effective mobility evaluations include direct input from the client and primary care team. OrthoSEAT standards request that the care team/family attend the initial evaluation. The program also utilizes a mobile unit for home or school site services. The mobile unit is staffed by a therapist and a seating technician and can often provide both evaluation and construction services on the same day to various clients throughout West Michigan.
CONSTRUCTING A CUSTOM SEAT
After client and caregiver input, a team can create a custom seat. Clients with complex postural support needs require a system that simulates a therapist's hand placement and support force with seating components that provide similar alignment force. Contoured support pads attached with adjustable hardware allow correction force to be adjusted as tolerance is determined. Often standard seating components do not meet the shape or placement needed for complex support. It can be difficult to translate the exact size and location of a therapist's hand to a third party who hasn't seen the client's body.
During construction, a technician is feeling, measuring, and watching the client and then creating the seat in the shop next door. Right away, the client can try the seat, and the technician can make any adjustments. The availability of a workshop and experienced seating technicians enables our therapists to perform positioning trials with commercial seating products, as well as custom-made items.
To address pressure problems, a computerized pressure mapping system can provide data on the pressure forces between the client's skin and the sitting surface. These systems provide a real-time visual map to illustrate the importance of frequent pressure relief and postural changes for caregivers and clients. They can also help determine which cushion, foam combination, or posture best distributes or alleviates the pressure areas.
There are many products available to create a contoured/poured seating cushion, eg, molding systems, digitizing systems, and foam impressions. The OrthoSEAT team prefers contoured/poured seating, because it allows for hands-on positioning control throughout the shaping process and is able to be modified and upholstered on site in a timely manner. Thoracic support pads can be custom cut from the poured back and attached to adjustable hardware to accommodate winter coats or minor weight changes. The foam kit is cost-effective and allows for a new pour to quickly fix any mistakes. Like any construction technique, it requires staff training.
For more information about custom seating, search Rehab Management 's online archives.
Shaped plywood or plastic can be covered with varying thicknesses or densities of pressure relief foam allowing typically linear designed seating to incorporate contoured support components for more appropriate pressure distribution and support of complex musculoskeletal deformities. This process can create custom-shaped headrests and leg, arm, or thoracic supports.
Technicians can modify standard mounting hardware. For instance, a bracket designed to support an adjustable hip or thoracic pad can be used to mount a cell phone, camera, or seat function switch in a nontraditional location. This opens new opportunities for functional independence.
A custom seating professional can combine client input, creative construction, and appropriate materials to create a custom seat that allows a client increased independence and quality of life.
ORTHOSEAT: A CASE STUDY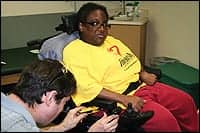 Above: Mike Bolton, ATC, left, mounts an egg switch at the end of Crystal's armrest for easier reach and operation of a tilt toggle switch for independent pressure relief. Below: A contoured, custom-shaped lap tray was mounted to the left armrest to avoid the right joystick, enabling Crystal closer reach for feeding and daily tasks.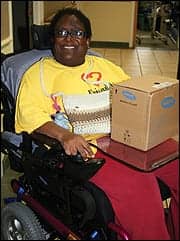 Crystal is a verbally engaging, 44-year-old woman with cerebral palsy, scoliosis, and a chronic right hip dislocation. She presents with long-term fixed deformities that include a pelvic obliquity, leg length discrepancy, collapsing scoliosis, and upper trunk kyphosis. Soon she will be moving to an accessible group home that will allow improved caregiver access and transportation to community activities. Crystal relies on her rear wheel drive power chair with a right hand joystick control and power tilt for all of her mobility and pressure relief needs.
Her current chair is in use 12 hours a day. The 8-year-old chair is experiencing motor, tilts actuator, and battery problems. Her contoured seating system was issued 4 years ago and has compressed, allowing Crystal to collapse toward her left side. This causes pain, requires frequent assistance for repositioning, and increases her risk for skin breakdown.
Crystal is able to feed herself once food is within reach. She is requesting a lap tray to allow closer reach for feeding and reading tasks, as her wrist range of motion is becoming limited. The tray needs to be custom shaped to allow the right side joystick to remain in place with the tray attached.
Crystal also has increasing difficulty in reaching her standard tilt toggle switch for independent pressure relief. She prefers that the tilt control be separate from her joystick, since the joystick is difficult to reach when fully tilted backward. This poses a challenge to find the right type of tilt control switch and the best way to mount it.
RECOMMENDATIONS
Crystal's old seating system with a contoured seat and back to accommodate her fixed orthopedic deformities worked well until wear caused foam compression. Previously, linear seating components have not supported her. Her spine is continuing to collapse toward her left side with the lower rib cage resting on her pelvis. She can tolerate increased pressure in an upward manner to lift the rib cage on the lower left side, and so the new seating system incorporated an angled, adjustable lateral support on the left. She required more stable yet contoured support on her right side and significant posterior contouring to accommodate the kyphosis. The seat contouring accommodated the pelvic obliquity, leg length discrepancy, and distributed sitting pressure.
Various trials with switches showed that an egg switch placed directly at the end of her armrest allowed consistent access for independent tilt. The standard single power function joystick was mounted close to the armrest within her reach. A swing-away quad link joystick mount was recommended for transfers. The lap tray was mounted to the left armrest and contoured to avoid the right side joystick. Crystal continued to prefer the rear wheel drive chair design even after trials with mid and front wheel models. As a result, she chose a tilt system on a short base.
Following the funding approval and new chair delivery, Crystal was scheduled at OrthoSEAT for two construction visits of two and one-half hours each. At the first visit, the new chair frame was set up for the poured mold of the seat and back. The foam was poured as a liquid into contained areas beneath and behind Crystal. Therapists supported her spine and legs in the desired position while the foam grew and firmed within 5 minutes. The technician then marked the areas to trim and determined the placement of adjustable pads. Headrest, arm, and foot supports were roughed in and Crystal chose her upholstery color. There was approximately 6 hours of additional construction time between the first visit and the final fitting.
At the final visit, the seating was mounted to the chair frame, and the components were fine-tuned for position and function. The specific features included a custom tray and headrest, switch mounting, and adjustable angled lateral thoracic support. The DME supplier was present to educate Crystal on the chair use, programming, battery charging, and transit tie-down. The final result was a comfortable, functional chair to help Crystal thrive in her new setting.
SUMMARY
Each custom seating referral is a puzzle. By gathering the various pieces of client and caregiver input, client assessment, and trial equipment, the seating professional can create an overall plan that successfully meets client needs. Using a combination of commercial seating products, custom seating products, and creative hardware combinations has proven to be a successful model of care for the OrthoSEAT program at Mary Free Bed Rehabilitation Hospital. Through communication, interaction, and construction, a seating professional can successfully match products and fabrication methods to each individual's need for function and comfort.
---
Karen Gora, MPA, OTR/L, ATP, is clinical manager for the Orthotics and Prosthetics Assistive Technology Program and OrthoSEAT Program at Mary Free Bed Rehabilitation Hospital, Grand Rapids, Mich. For more information on the program, go to www.maryfreebedoandp.com/seating.php.