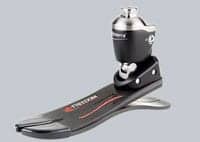 The Irvine, Calif-based company Freedom Innovations has announced the launch of its new foot and ankle system for amputees. The Kinterra Foot and Ankle System is engineered to blend hydraulics and carbon fiber to provide amputees with what the company calls "exceptionally normal" walking and movement regardless of surface or speed.
The product features an articulated movement, dorsi-assist spring, and smart controls. The Kinterra technology aims to offer users a symmetrical, energy-efficient gait to improve comfort, balance, and confidence.
The product also targets increased stability on slopes and level ground.
For more information visit www.freedom-innovations.com.
[Source: Freedom Innovations]