Craig Hospital follows a unique formula that results in a successful approach to spinal cord and brain injury rehabilitation.
Craig Hospital in Denver is a private, nonprofit, independent national rehabilitation hospital that specializes exclusively in the treatment and research of patients with two diagnoses: spinal cord injury (SCI) and traumatic brain injury (TBI). Founded in 1907, the hospital was originally a tuberculosis center, but in 1956 the attention shifted to the rehabilitation of adult and adolescent patients with catastrophic injury. Since then, more than 26,500 patients have been treated at Craig. In addition, the facility has treated more individuals with spinal cord injury than any other single hospital in the world. As one of the first rehabilitation hospitals in the country, it has been very influential in setting an industry standard for quality rehabilitation by maintaining its basic standards of excellence in an ever-changing health care delivery system.
Approximately 200 newly injured individuals with spinal cord injury, an estimated 100 newly injured persons with traumatic brain injury, and more than 1,600 outpatients and reevaluations are annually treated by Craig's staff of professionals. These patients hail from 48 states across the nation, as well as several foreign countries, for treatment at Craig (which recently was ranked among America's Top 10 Rehabilitation Hospitals by US News and World Report for the 19th consecutive year).
In addition, Craig works with more than 100 insurance carriers and case management companies from around the country, and has more than 45 contracts with carriers and state Medicaid programs. The campus has its own rehabilitation neurosurgical clinic, rehab engineering workshop, adaptive technology lab, and television studio, and offers dozens of subspecialty clinics and services for patients with SCI and TBI not found in general rehab programs. Accredited by the Joint Commission on the Accreditation of Healthcare Organizations, Craig is a Magnet-recognized hospital—the second rehabilitation hospital in the country to receive the prestigious award. Federally designated as a Model System Center by the National Institute on Disability Rehabilitation and Research (NIDRR) in both SCI and TBI, the hospital is NIDRR's National Statistical Data Center for all the TBI Model System Centers. In addition, the facility's Center for Spinal Cord Research for Basic Science Research is collaborating with the Karolinska Institute, Stockholm, Sweden, on stem cell research of spinal cord injury.
Craig Hospital is considered among the world's top spinal cord and traumatic brain injury programs because of the remarkable successes achieved by its graduates. Approximately 85% of Craig's patients return home after initial rehabilitation with high levels of functional independence with less need for attendant care. Forty percent return to work or school within 1 year after participating in rehabilitation. Craig patients exceed national averages on satisfaction with life after rehabilitation, social integration, and participation in life activities, regardless of level of disability. The facility's clients and their families frequently rate their experience at Craig as good to excellent.
ESTABLISHING A SYSTEM OF CARE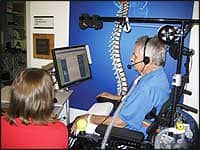 A Craig therapist (left) helps her client learn voice recognition software in the facility's Adaptive Technology Lab.
Craig's comprehensive system of care begins at the onset of injury, include consultations in acute care units, specialized initial rehabilitation including transitional suites, and a commitment to lifetime of follow-up care and services. Patients are admitted from local, regional, or national trauma units, from other rehabilitation programs, or from home on an average of 28 days post injury. The coordination of medical air transportation for nonlocal patients is routine. Early referral following injury is encouraged to avoid preventable medical complications. Unique sharing arrangements with local trauma centers and medical centers enable the rehabilitation center to offer a full range of clinical and support services. In addition, Craig is located on the same campus as the Swedish Medical Center (a level I trauma center), with a corridor on the lower level connecting the two hospitals. This was a pioneering joint venture created in 1970, aimed at sharing a number of services to provide a comprehensive system of care at the lowest possible cost. Although they are independent facilities, Craig Hospital uses some services offered at the Swedish Medical Center, including radiology, laboratory, surgical suites, and the emergency department, as needed.
FORMULA FOR SUCCESS
Over the decades, Craig Hospital's success is attributable to dozens of systems, philosophies, practices, and values that staff members respectfully call "the recipe." Major components of the recipe include: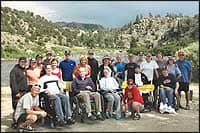 Craig's president, Daniel O'Malley (bottom, left) hospital board members, and therapeutic recreation staff accompany patients on such outings as river rafting trips, horseback riding, and hot-air ballooning to learn help them learn self-care skills.
Exclusive Specialized Focus on SCI and TBI—Peer Milieu. Despite periodic advice to diversify to serve other disability groups, the professionals at Craig have resisted the temptation to dilute its focus, and believe that rehabilitation programs "cannot be all things to all people. "We believe that there will always be a market for the highest quality providers with focused expertise. In addition, focusing on these two diagnoses enables Craig to maintain an average census of 55 patients with SCI and 25 with TBI at any given time, thereby creating a powerful peer culture and therapeutic community, which is critical to patients and families teaching and supporting one another. What patients and families learn from each other can be as important as what they learn from staff. This exclusive focus also enables Craig's staff to stay current on the latest literature, therapies, technologies, and equipment for their patients.
Nonprofit Status. The hospital's 501-C3 nonprofit status permits financial resources to stay in-house for continual facility and programmatic improvements, allowing us to provide important but non-revenue-producing specialty services and programs. Importantly, nonprofit status enables the Craig Hospital Foundation to fund raise on the hospital's behalf to fund services, equipment, and other patient needs and programs not covered by decreasing insurance benefits. With decreasing rehabilitation policy benefits in many health plans, the foundation is becoming more important to ensure the quality of patient experiences and outcomes at Craig.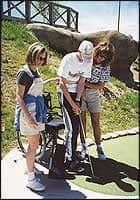 Therapists assist a TBI patient with interdisciplinary therapy on the putting range. Such functional integration therapy benefits physical, perceptual, cognitive, psychological, and social skills.
Independent System of Care. Craig Hospital will work with all the health care systems, trauma centers, and payors and has strategically remained freestanding and independent.
Single Physician Management. The CNS Medical Group PC consists of nine full-time physiatrists who have the sole admitting privileges at Craig, and manage its interdisciplinary teams. They direct individual patient programs and are the primary physician contact for patients and families; their offices are housed within Craig for easy access by patients, families, and staff. The nine CNS physicians average 18 years at Craig Hospital. The doctors lead team rounds and participate in hospital staff leadership meetings and interdisciplinary team retreats. Craig physicians can access any one of approximately 250 consultants in the area for their patients, but coordinate communication and medical treatment. John Young, MD, initiated the single physician management in the 1950s with a borrowed slogan from the historic Texas Rangers: One riot, one ranger. Craig has never adopted a programmatic model, and still sports department directors in all the various therapeutic disciplines. The staff at the facility have found this to be a superior and functional model for its approach.
Interdisciplinary Team Approach. Patients and their families are assigned to a physician and treatment team upon admission, and remain with that team throughout their inpatient rehabilitation. Collaborative communication and respect between team members are crucial and expected.All work toward common goal(s) of patient/family rehabilitation. No one discipline is more important than another. All departments contribute to the environment, culture, attitude, and experience patients and families receive.All employees see every Craig patient as their patient. Teams meet weekly in team rounds, facilitate monthly patient-family- insurance conferences, and have periodic retreats to improve their communication and performance.
Patient-Centered Decisions/Autonomy/Self- Determination. The patient and family are at the core of the interdisciplinary team and are included in goal-setting and decision- making. A major tenet of Craig's culture is that "the patient comes first." It is also a firmly held belief by the professionals at Craig that rehabilitation is different from the traditional medical model, that "you are injured, you are not sick, "and that its role is to empower patients with the skills to take control of their lives again, to the furthest extent they can. Staff members understand that psychological adjustment is critical along with physical skills for patients to achieve their dreams. As such, Craig is heavily staffed in the psychosocial and education areas, offering the services of six full-time psychologists and neuropsychologists, 10 inpatient counselors, six outpatient counselors, FTE chaplain, nurse educators, and others.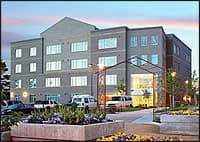 Craig Hospital provides on-site housing for families of new patients for 30 days at no charge.
Family Inclusion, Housing, Education, and Support. Craig's staff believes that when an individual has an injury, the entire family is injured and requires rehabilitation also. Therefore, Craig has a family philosophy and practice of inclusion— there are no visiting hours; families are welcome anytime, and are encouraged to attend classes, therapy, conferences, and training sessions, and participate in patient outings, etc. In fact, staff members have high expectations for families to become educated not only through face-to-face meetings, but also through books and DVDs presented on a closed-circuit television network, participation in outings, and so on. There is also an on-campus family housing facility where family members can stay at no cost for 30 days. It is a Craig philosophy that support and education of the family are crucial to success once back at home. In addition, there are "transitional suites" where families can live together with patients in preparation for home.This is an innovative model (possibly the only units of their kind in the country).
Culture. Perhaps the most valuable and powerful component in the rebuilding of interrupted lives is the culture of Craig. Culture is comprised of a diverse set of values, policies, practices, traditions, and rituals. It is a warm and caring feeling that is palpable and pervasive when one walks through the front door of the facility. Staff members at Craig often consider working at the center a calling, or a passion for assisting others to get back to living as independently and as productively as they can. Many staff have been patients at Craig or have had family members or friends as patients—a fact that keeps staff members ever sensitive to the reality that everyone is just an accident away from being a patient at Craig Hospital.
For years, the staff have analyzed this culture in an attempt to codify and articulate what makes the Craig culture so special and so powerful. It involves staff pursuit of excellence, staff understand-ing of Craig's history and traditions, the ability to listen and have empathy and respect for others, and the ability to share in others' pain and hope. It involves maintaining an upbeat, positive atmosphere where humor and laughter are encouraged as therapeutic.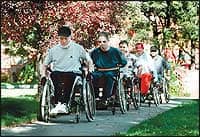 Established as a rehab center in the mid 1950s, Craig Hospital is designated by the National Institute on Disability Rehabilitation and Research (NIDRR) as a Model System Center for both spinal cord injury and traumatic brain injury. It is also the NIDRR National Model Systems Statistical Database for traumatic brain injury.
According to Craig Hospital's president, Denny O'Malley, the architect of the modern culture, "People work best in the absence of fear. "That is true of patients, families, and staff. Service to patients and families is more important than efficiency. Craig staff routinely go above and beyond to serve patients and families; the culture supports random acts of kindness and the golden rule. Nonclinical staff (administration, engineering, health information management, business office) rotate through a "Grub Buddies"program several times per year, and help feed patients lunch so nonclinicians can not only get to know them, but stay close to the facility's mission.
Functional Approach. The staff take a practical day-to-day approach to the present and help train patients and families about their bodies, how to take care of themselves, how to function at home and in the community, and how to have good lives. In helping patients learn the foundation to give them the best possible start for the rest of their lives, the rehab curriculum is functionally based and individualized for each patient, with a wide array of dynamic individual and group therapies, classroom work, therapeutic outings, and community reentry classes for skill development. Craig "graduates" teach many of the reentry classes. This month we dedicated and opened the Mike Utley Terrain Park on the campus so patients can learn to navigate a variety of wheelchair obstacles in one location— the first wheelchair terrain park of its kind in the world.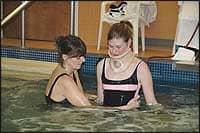 Craig Hospital's on-site 94° therapeutic swimming pool is staffed by certified therapists.
Information, Technology, and Research. For 3 decades or so, Craig has been highly visible on the national scene with information, research, literature, and lectures about spinal cord injury and traumatic brain injury. Staff are continually attending conferences, conducting research, investigating what therapies, procedures, and equipment will make a functional difference in the lives of the people we serve. As a NIDRR Model System Center in SCI continuously since 1974 and in TBI since 1998, it has made significant contributions to the rehabilitation field, particularly in the areas of aging with SCI, ventilator-dependent tetraplegia, the CHART scale, and others. The close relationship between the facility's clinicians and researchers ensures that research projects have validity, relevance, and heuristic value. (Many of Craig's staff and physicians have received the highest awards given by the field, by such groups as ASIA, NSCIA, ACRM, AMRPA, NHA, and others.)
Craig's terrain park gives patients in wheelchairs or those with other disabilities the opportunity to conquer several outdoor surfaces, including stairs, curbs, and cobblestone paths.
Adequate Lengths of Treatment and Long-Term View. A strongly held philosophy at Craig Hospital is that rehabilitation is a foundation for lifetime success and cannot be rushed. Rehabilitation is a process, not a race to home. Inadequate lengths of stay created by the managed care marketplace result in suboptimal patient outcomes and greater costs shifted to the taxpayers. Lengths of stay at Craig are higher than national averages, but its important patient outcomes (return home, less attendant care, return to work or school) greatly exceed the national averages and justify our lengths of stay. Subprime health plan coverages purchased by employers and sold by carriers have resulted in subprime patient outcomes—which is not only shortsighted, but, in the end, more costly.
Craig Hospital makes a commitment to patients and families for a lifetime of follow-up services if they wish. Craig maintains a full follow-up services department and recommends regular reevaluations for patients with SCI. (On average, 735 reevaluation patients are seen per year.) In addition, reevaluations and follow-up visits are also cost-saving services for patients and insurance carriers.
Management Style and Staff Longevity. Craig's leadership and management understand that the facility's success is due almost entirely to its talented and dedicated staff. As a result, great care is taken in the recruitment, hiring, training, and retention of staff (there are 525 full-time equivalent positions and another 200 part-time and on-call positions, for 80 inpatients and 50 to 60 outpatients at any given time). Salaries and benefits are competitive, the staff to patient ratios are high, and employees seem to love their jobs, which is exemplified by the average years of employee service: physicians, 18 years; directors, 19 years; therapists, 14 years; and nurses, 9 years.
Not only are the combined years of total expertise at the facility unparalleled in the field, but staff longevity gives cultural and financial stability, enabling staff members to maintain a single focus: to continually improve services and outcomes for patients, families, insurance carriers, and case managers.
Response to Managed Care. Throughout the dynamics associated with managed care over the past 25 years, Craig has maintained a continued commitment as a freestanding center of excellence. Although the facility continues to strive for greater efficiencies in service delivery models, its decision-makers refuse to compromise quality for short-term savings or profit, maintaining that comprehensive and cost-effective rehabilitation is a process toward independence. It is understood that, through decades of work, early and comprehensive specialized rehabilitation with adequate lengths of stay is the best way to prepare patients and families for independence, while reducing costly medical complications.
We know that when we assist patients to become as independent and productive as possible, it is in the best interest of the patient, their family, employer, insurance company, taxpayers, and society as a whole.These values have been supported by our patients, referring physicians, and the insurance industry, as demonstrated by our consistently strong census over the past 30 years.
WHAT LIES IN THE FUTURE
The health care delivery system and reimbursement systems in this country will continue to change in the years ahead, as the marketplace and government attempt to balance access and quality with cost. Progress in cellular therapy research may affect how rehabilitation is delivered in the future.
Professionals in the industry will continue to respond to these changes and to provide leadership in these matters as they apply to the rehabilitation of persons with catastrophic injuries. However, some things will not change. Craig Hospital will maintain its exclusive dedication to patients with spinal cord injury and brain injury, and will continue to set the standard for value and excellence in the field and remain focused on helping patients get on with the business of living
---
Kenny Hosack, MA, is the director of provider relations for Craig Hospital in Denver, Colo. Hosack has worked in the SCI and TBI field for 30 years. For more information, call (303) 789-8000, or go to www.craighospital.org.
A Centennial of Care at Craig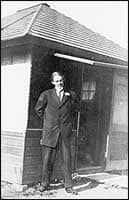 Frank Craig in front of a tent used to house patients.
CRAIG HOSPITAL MOVES INTO ITS SECOND 100 YEARS, PROVIDING SPECIALIZED REHABILITATION AND RESEARCH FOR PATIENTS WITH SPINAL CORD INJURY AND TRAUMATIC BRAIN INJURY.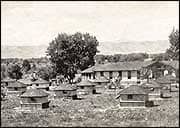 Criag Colony, formerly the Brotherly Relief Colony, circa 1910.
In 1907, the Craig Colony offered refuge to sick and indigent men with tuberculosis.Frank Myron Craig, founder and namesake of the hospital, formed the core from which the century- old institution Craig Hospital has grown and given hope to tens of thousands of patients and families.
1907 TO 1947 — A TRADITION OF CARING
At the turn of the 20th century, Frank Craig started the Brotherly Relief Colony. Fifty tents were erected for destitute, homeless men suffering from tuberculosis (TB) in Lakewood, Colo. By 1910, simple wooden structures replaced the tents.The name was later changed to Craig Colony. By 1955, the Colony had cared for more than 2,000 TB patients.
1947 TO 1967 — THE MISSION EVOLVES
As antibiotics brought the TB epidemic under control,the Craig Colony faced declining numbers of patients.Following a community-wide study,a new mission was defined—rehabilitation for indigent men with a range of physical disabilities.Facilities were remodeled, women were first admitted in 1956, and in 1959, the name officially became Craig Rehabilitation Center. Craig's focus on rehabilitation for people with spinal cord and traumatic brain injuries began.
1967 TO PRESENT — CRAIG HOSPITAL, ITS REACH AND REPUTATION EXPAND
Today, Craig Hospital has emerged as a center of excellence for its contributions in the field of rehabilitation and research.Each year, more than 2,000 people with spinal cord and traumatic brain injuries come from throughout the United States and abroad to receive physical rehabilitation and medical care.Craig Hospital's continuum of care has earned a ranking among the top 10 rehabilitation programs in the nation
Left, A group of patients at the Colony, circa 1914. Middle, Dr Wright, a Craig physician, treats a TB patient, circa 1913. Right, Frank Myron Craig.