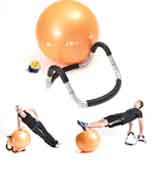 In a recent news release, Merrithew Health & Fitness announced that it has been appointed as the exclusive global distributor of the Halo Trainer, a product developed by Halo Rehab & Fitness, LLC. The release reports that Merrithew Health & Fitness is slated to provide global sales and marketing support for the Halo Trainer. The product is an ergonomic handlebar and Stability Ball combination that targets core and strength work, flexibility training, overall condition, and is suitable for physical and occupational therapy applications.
According to Lindsay G. Merrithew, president and CEO, Merrithew Health & Fitness, the addition of the Halo Trainer expands, "our offering of high-quality, innovative equipment with multi-disciplinary appeal. We are excited to share it with our worldwide community of fitness professionals and enthusiasts, as well as those in the rehabilitation field," Merrithew says.
The Halo Trainer's ergonomic design is engineered to assist in altering the angle of inclination to provide the user with a stable platform and control stability challenges, the release notes. The product can be used alone as a support for the hands to ensure optimal wrist strength and positioning, and as a stability tool for both the upper and lower body.
The Stability Ball can be integrated to increase programming options 10-fold by securing and immobilizing the ball, the company adds. Bryce Taylor, MS, PT, inventor of the Halo Trainer, notes that product aims to optimize progressive core strengthening and general spinal health. "By fusing rehabilitation techniques and Pilates with rapidly growing functional fitness training programs, the body can function at optimal levels. Halo Training bridges the gap between fitness and rehab," Taylor says.
Source: Merrithew Health & Fitness