According to Rehab Management's survey results, rehab facilities are carefully budgeting to get the most value out of their equipment purchasing in 2023.
By Melanie Hamilton-Basich
As baby boomers, Gen Xers, and millennials continue to get older, the rising geriatric population and the increasing prevalence of various chronic conditions will continue to create a high demand for rehabilitation services. Despite widespread economic uncertainty, to keep up with that demand and meet clients' needs, rehab facilities must regularly buy equipment, including big-ticket items. To better understand the current state of rehabilitation facilities' bottom lines and equipment purchasing trends, Rehab Management recently conducted a survey about their plans for facility-based equipment purchasing (valued at $500 or more) in 2023.
The data collected reveals how facilities are budgeting for expenses and on what types of equipment they are focusing their purchasing.
Budgeting to Buy
A whopping 98% of those who answered the survey had budgeted for facility-based equipment purchasing in 2023, and of those, 96% got their requested budgets approved. This suggests that while not everyone had an extremely large budget, the majority of rehab facilities were in a good enough financial position to spend money on significant purchases to invest in their businesses.
Related: Purchasing Advice for Your Facility
Almost three-quarters of respondents (71%) reported having an annual budget between $2,500 and $9,999 for 2023, which is very similar to the exactly 75% of respondents falling within this budget range for 2022, according to last year's survey. This year, the sizes of the smaller groups within that range did shift a bit, with the number of respondents reporting budgets between $2,500 and $4,999 decreasing from 43% to 36% and those with higher budgets of $5,000 to $9,999 increasing ever so slightly from 32% to 35%.
Related: Capital Equipment: Cautiously Optimistic
On opposite sides of the spectrum, only 15% reported a budget of less than $2,500 and only 14% reported a budget of $10,000 or more, compared to 9% and 16%, respectively, in 2022. Based on these numbers, there are more rehab facilities with budgets on the lower end and fewer with budgets on the higher end.
Popular Purchases
According to the survey, more rehab facilities are focusing on putting their budget toward replacing equipment they already have in 2023, at 42%. Not as many facilities are prioritizing first-time purchases (31%) and upgrades (27%) as they did last year. That could be because they already made those improvements in 2022. But for many facilities, this is probably due to rising costs and lower reimbursement rates leading to economic uncertainty and a diminished budget. As one reader shared, "As reimbursement rates have dropped for rehabilitation, one of the first things to go is new equipment."
However, the fact that almost a third of those who took the survey were able and willing to focus their purchases on new equipment is a good sign. And the percentage of upgrades isn't that far behind. In fact, when asked elsewhere in the survey what influenced their purchasing decisions, 48% answered "updated technology." Also, the numbers merely reflect an emphasis on replacements for many, with some of those same facilities also likely putting money toward upgrades and first-time purchases this year. The overall data suggests that businesses are being more careful about their spending right now, but not stingy.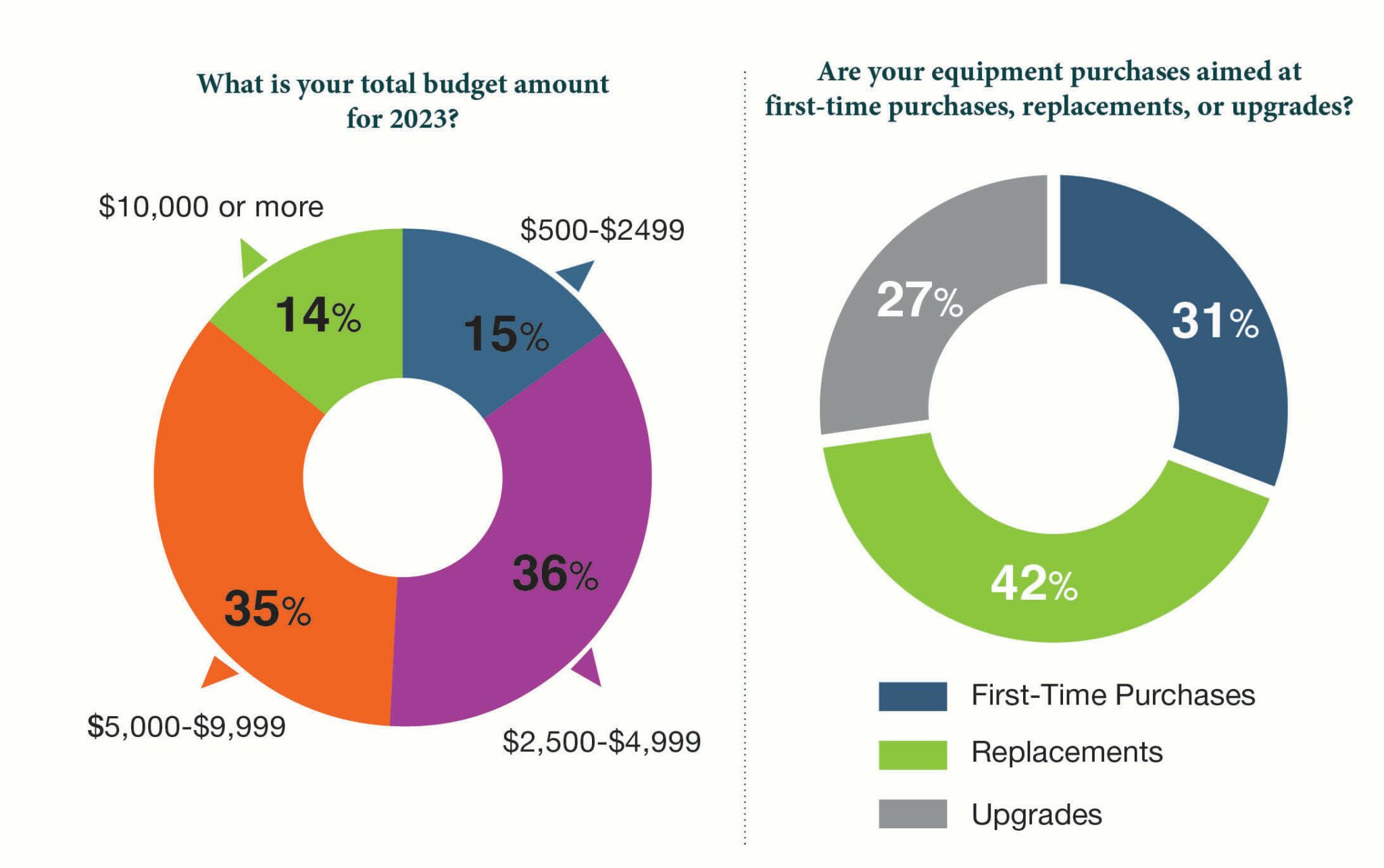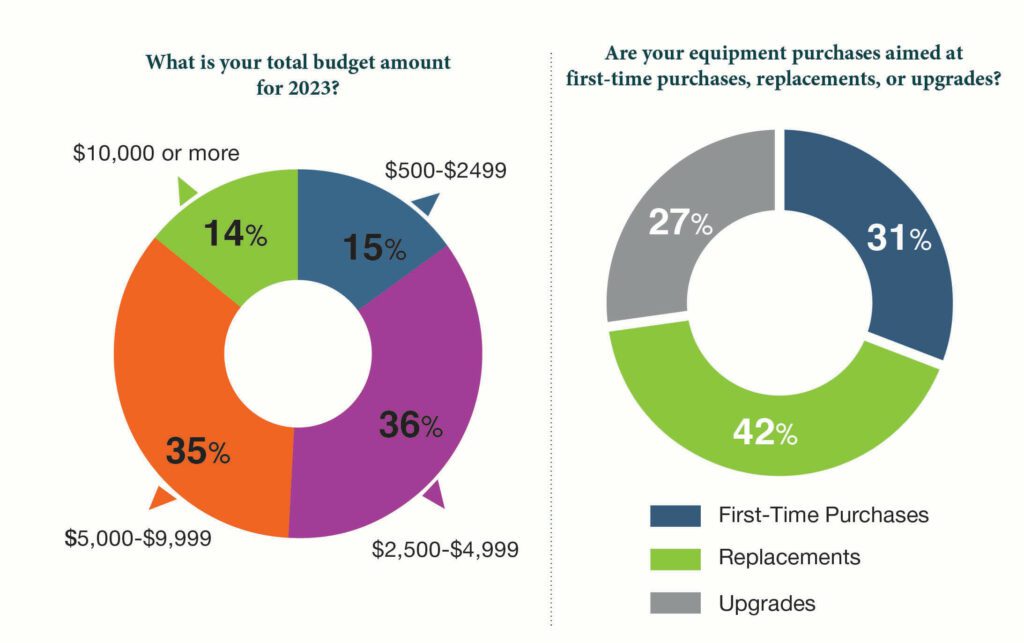 When it comes to what products rehab facilities are budgeting for, the top answer by far was rehab equipment, with just under half of respondents spending money on this category for 2023, followed by pain management modalities at 40%.
Other popular purchasing categories for 2023 include gait and balance (34%), pressure mapping (32%), resistance equipment (30%), safe patient handling equipment (30%), and aquatic therapy (28%). Many respondents also reported purchasing software (19%) and treatment tables (18%).
These results are pretty similar to those reported for 2022 in last year's survey. However, there was a significant jump in those who purchased virtual reality technology this time, doubling from 6% in 2022 to 12% 2023. Quite a few respondents also cited virtual reality as being on their wish list, which indicates a growing trend. One commented saying, "There's a lot on my wish list, VR and so much more."
Another respondent also still has a long wish list of items that didn't fit in the budget this year, including a "wall tensioner, muscle strength training equipment, forearm rotary trainer, pulley ring, electric standing bed, power cart, treatment bed (including mesh frame), and a continuous joint passive trainer (CPM)."
Resistance equipment, software, and treatment tables were also mentioned often as wish list items, signaling that these might be stronger categories next year.
Key Decision Influences
When asked in the survey what influenced their equipment purchasing decisions, respondents put safety and durability at the top of their list. This makes sense, since you'll want something you invest in to last a long while and provide a lasting value—especially if you need to make your budget stretch farther. In fact, rehab professionals who took the survey cited considerations like "maximizing value," a "reasonable price," and "low maintenance costs" as top priorities when making purchasing decisions this year.
But that's not all they had on their facility-based equipment checklist. More than half of those who took the survey (53%) factored in treatment trends when planning their 2023 purchases, and almost as many (48%) were looking for equipment featuring updated technology. A full 38% weighed whether equipment was eco-friendly, while fewer reported considering additional features or warranty and service offers before making purchases.
Another consideration is what equipment has traditionally provided the most return on investment (ROI). When asked about this, the most popular answers were rehab equipment, safe patient handling, virtual reality technology, various types of tables, aquatic therapy, and pain management modalities. Respondents also cited software, pressure mapping, and biofeedback including FES as worthwhile investments for their rehab facilities.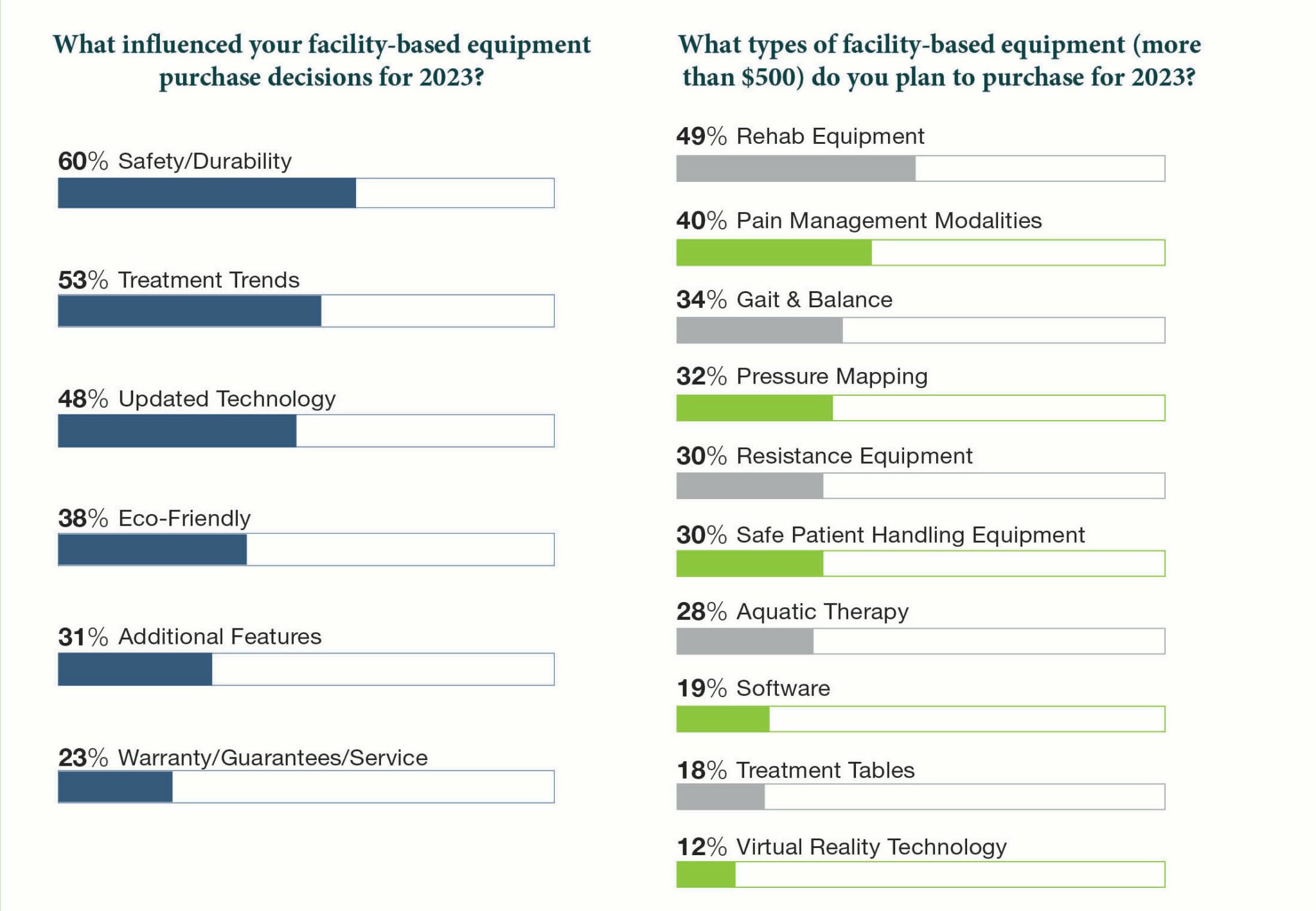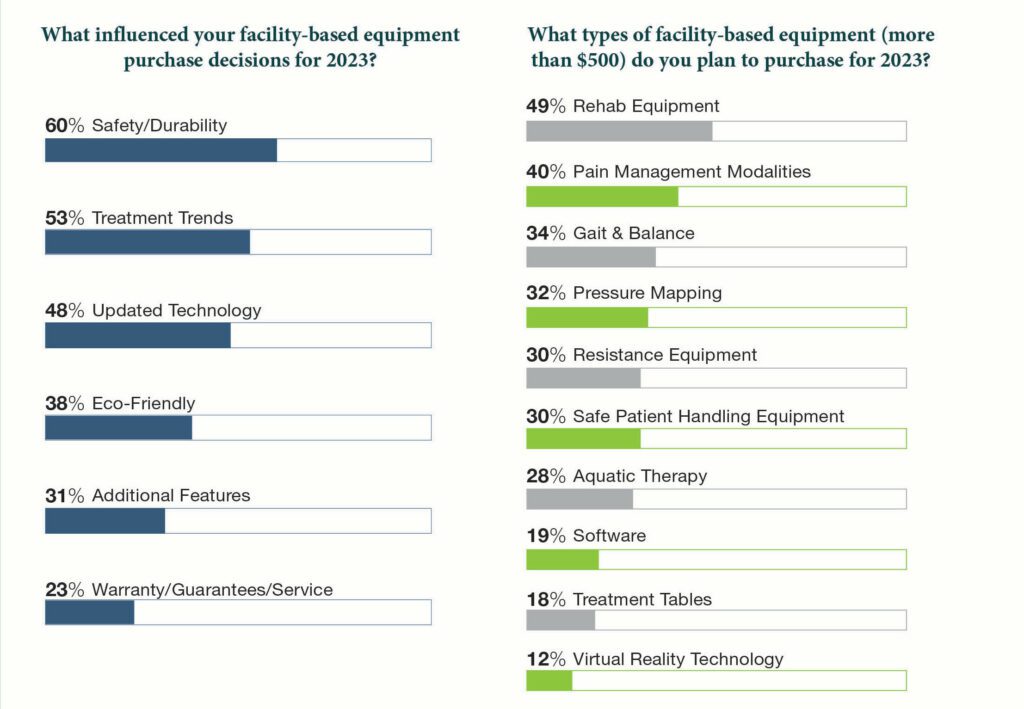 One respondent sharing decision-making influences commented, "Equipment purchased must be of good quality; price is not a problem," but they were in the minority. A sentiment much more common among survey respondents was, "I hope the equipment can meet our expectations, and I hope it's worth it."
Quite a few offered advice, hoping to influence others' purchasing decisions. These included suggestions to be conscious of cost and value, such as "Control your budget" and "Choose something economical and useful," reflecting a need to make the most of available resources. Along the same lines, another survey taker offered the suggestion that, "Buying a high-quality refurbished device can save money."
But being concerned with value can also include an emphasis on making needed improvements, such as one reader's call to "Invest more resources." Others echoed this idea, sharing that their goal for purchasing new facility-based equipment was to provide "more effective treatment for patients" and for one facility, "In 2023, a comprehensive replacement upgrade will be carried out to achieve better rehabilitation training results." Quite a few rehab professionals shared their enthusiasm for upgrading to improve their business to benefit staff and clients, including one who is replacing old monitors, computer systems, and software to "streamline the workflow of our staff and enable us to perform our duties more efficiently."
All in all, this survey shows that rehab facilities are doing their best to balance their interest in providing the best equipment for their patients and staff with the need to balance their budget. It's an age-old issue made more difficult by multiple economic factors, but nevertheless a worthwhile goal.
Melanie Hamilton-Basich is chief editor of Rehab Management. For more information, email [email protected].