During the past 3 decades, continuous passive motion (CPM) devices have become a generally accepted part of postsurgical treatment to promote healing and regeneration of joint cartilage. In 1970, Robert B. Salter, MD, PhD, a Toronto orthopedic surgeon, along with a succession of research fellows, first investigated the biological effects of CPM on healing and regeneration of articular tissues in rabbits.1 Later, Salter and his colleagues began applying this basic research to human patients. They found that nine selected patients "have been relatively free of pain, have maintained the increased motion gained at operation, and have accepted the application of CPM well."
As described by O'Driscoll and Giori, Salter's basic premise is that "because immobilization is obviously unhealthy for joints, and if intermittent movement is healthier for both normal and injured joints, then perhaps continuous motion would be even better." However, because patients could not be expected to move their injured joints continuously for hours at a time, the movement would, of necessity, be passive. "He also believed that CPM would have an added advantage, namely that if the movement was reasonably slow, it should be possible to apply it immediately after injury or operation without causing the patient undue pain."2
In many respects, it appears that Salter's views have been borne out. According to Hammesfahr and Serafino, CPM "is one of the primary methods for decreasing the deleterious effects of immobilization and can deliver orthopedic, neurological, and even circulatory benefits to the patient. Immobilization, in turn, can create deleterious sequelae of physiological and functional impairments."3
Through the years, CPM devices have been created for most of the major joints of the upper and lower extremities, but they appear to be most frequently prescribed for postsurgical use in injuries of the knee or shoulder. CPM is generally provided through devices mechanically designed to bend and flex joints at a given rate for several hours.
In interviews published in Orthopedic Technology Review,4 orthopedic surgeons and PTs described the benefits and drawbacks of CPM therapy. Contacted recently, along with several additional PTs, many expanded on their earlier comments, stressing their support for CPM in conjunction with traditional "hands-on" physical therapy.
STIMULATING CARTILAGE CELL GROWTH
Kevin Stone, MD, orthopedic surgeon, founder of The Stone Clinic in San Francisco, and founder and chairman of the Stone Foundation for Sports Medicine and Arthritis Research, specializes in sports injuries, particularly those of the knee and shoulder. An internationally recognized authority on cartilage growth, replacement, and repair, Stone says CPM is part of the prescribed protocols following articular cartilage paste-grafting surgery, a method of cartilage transplantation for arthritis sufferers. In this procedure, articular cartilage is regenerated inside the knee using a single outpatient arthroscopic procedure. Postoperatively, CPM is used for 4 weeks for 6 hours a day in order to help stimulate growth in the articular cartilage cells, Stone says. He and others recently published the 12-year data on 125 patients who had undergone the procedure.5
"We've been doing that since 1989 and have found that the patients who use CPM appear to get a better repaired surface than those who don't," he says.
Stone also recommends CPM before and after an acute ACL reconstruction to help diminish swelling in patients' knees. "We find it's useful for getting the swelling down or to help the patient prepare for surgery after an acute injury," he says. The clinic also uses CPM following fracture repairs around the knee and ankle in order to diminish scar tissue and promote better healing, and to improve range of motion in frozen shoulders or stiff knees and ankles.
There are certain operations for which Stone does not recommend CPM. Among these are meniscal repair or meniscal transplantation, as well as post joint replacement. "We find that our patients regain their range of motion very quickly with or without CPM after any kind of joint replacement," he says.
KEEP IT MOVING
Maureen Madden, PT, CSCF, formerly a physical therapist at The Stone Clinic, opened her own clinic, PT Pro, a year ago in Redmond, Wash. In an earlier interview, Madden called CPM a valuable but small part of postoperative therapy for a number of injuries and conditions. The major reason for employing it is to prevent adhesion formation of the soft tissues that can result in stiffness and loss of motion.
"We want that shoulder or knee to keep lubricated and not to get locked down," says Madden. "There's such a positive benefit to movement for all kinds of reasons—for pain, swelling, and range of motion."
The length of the CPM process—often 6 hours or more—is important, she adds. Many patients object to the therapy, find it a "pain in the neck" to be strapped into a device for 6 hours, and have difficulty sleeping while using it, she says. (In this case, she, like other therapists, may break up the CPM process into 2- or 3-hour increments.) Other patients really take to the CPM machines. "They feel like it's a relief because they get in there and it helps with their pain," Madden says.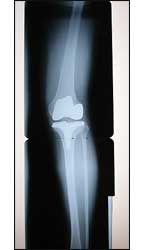 Using CPM following fracture repairs can promote better healing.
Jeff Ehlenberger, MPT, a physical therapist working for the past 6 years in acute inpatient care at Simi Valley Hospital in Simi Valley, Calif, says that almost all the patients he sees for CPM have had either total knee replacement or unicompartmental knee replacement. He provides treatment immediately after surgery for 3 to 4 days, after which they go either to an acute rehab facility or home for further recovery.
In the early treatment phase, "CPM is a vital piece of equipment not only for the patient but for the therapist too," Ehlenberger says. In addition to articular cartilage healing, it helps in keeping the muscles of the knee lengthened, he says. There is a distinct advantage to CPM for the therapist who cannot spend 15 minutes of a half-hour therapy session doing manual range of motion exercises with the patient. "What I prefer most about CPM is that it gives my patients the ability to become part of the rehab process themselves," Ehlenberger says.
Most of his patients like having the controls, although the machines can be "big and bulky" and "a little painful" for some patients in the beginning. Some express distaste at having the machines, which may extend from heel to mid-buttocks, in their beds because the devices do take up quite a bit of space and sometimes make the patients feel confined, particularly if they use them for 6 hours at a time.
Ehlenberger agrees with Madden that the best way to overcome the time constraint is to break up a CPT treatment into several sessions. When he does this, the therapist says, "compliance goes up big time." Few patients are unwilling to use the machines, he adds. But whether they like them or not, says Madden, most patients recognize the ultimate benefits of CPM and realize they need tolerate it for only a limited period of time.
COSTS, BENEFITS, AND CONTROVERSY
Rick Hammesfahr, MD, an orthopedic surgeon and codirector of the Center for Orthopaedics & Sports Medicine in Marietta, Ga, says that not much has changed in the world of CPM in the past few years, except that it is "more readily accepted by insurance companies." Hammesfahr recalls that in the late 1990s he would routinely write letters of appeal to insurers regarding the usefulness and cost-saving benefits of CPM machines. "That has really tapered off. We rarely have to appeal a decision where they wouldn't authorize it," he says. "The insurance companies have pretty much come around on that point."
The cost and length of supervised therapy are generally less when CPM is used, he says. Few surgeons recommend a strict postop regimen of CPM, but Hammesfahr believes there are some cost-saving benefits of using the devices when appropriate.
"Typically, patients who are on CPM devices require less pain medication than those who aren't. The overall cost of recovery from the injury changes," he says. "There's an up-front cost of the CPM device that is more than offset by the decreased time in rehabilitation, because patients [regain] their motion much, much earlier."
He offers an example of a patient who undergoes an ACL reconstruction and uses the CPM device. The return to normal motion is about 10 to 14 days, he estimates, compared to a patient who goes through traditional physical therapy and does not use CPM. For the latter, recovery is about 4 to 6 weeks.
"In either case, the patient may require 6 weeks of physical therapy, but in the first case the patient has much better motion and much greater strength and has been more ambulatory and more mobile than in the second case," Hammesfahr says. "Without motion, you can't get strength back," he says.
Hammesfahr routinely recommends CPM devices for total replacements of the knee and shoulder, tibial plateau fractures, different kinds of patella fractures, ligament reconstructions, and rotator cuff surgery and repairs.
"Basically, we tend to use CPM in operations around the joints where there has been significant trauma to the joint and the risk of stiffness is high," he says.
Ruth Stroud is a contributing writer for Rehab Management.
REFERENCES
Salter RB, Hamilton HW, Wedge JH, et al. Clinical application of basic research on continuous passive motion for disorders and injuries of synovial joints: a preliminary report of a feasibility study. J Orthop Res. 1984;1:325-42.
O'Driscoll SW, Giori NJ. Continuous passive motion (CPM): theory and principles of clinical application. J Rehabil Res Dev. 2000:37;179-188.
Hammesfahr R, Serafino MT. CPM: The key to successful rehabilitation. Orthopedic Technology Review. 2002;3(2).
Stroud R. [removed]CPM: Healing in motion[/removed]. Orthopedic Technology Review. 2003;5(4).
Stone KR, Walgenbach AW, Freyer A, Turek TJ, Speer DP. Articular cartilage paste grafting to full-thickness articular cartilage knee joint lesions: a 2- to 12-year follow-up. Arthroscopy. 2006;22:291-99.