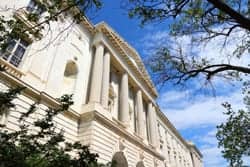 Eric Shinseki, secretary of Veterans Affairs, has released a statement urging the Senate to approve the Disabilities Treaty this year. In the statement, Shinseki notes that the ratification of the Disabilities is key to the nation's 5.5 million disabled veterans. Shinseki also notes that the treaty does not hinge on the changing of America, but rather on America's assistance in raising accessibility standards worldwide to the standards set by the US Americans with Disabilities Act (ADA).
Shinseki maintains that ratification of the Disabilities Treaty will position America to advance disability rights worldwide and help the 5.5 million veterans with disabilities and the 50 million Americans with disabilities study and work and pursue greater opportunities abroad with the same access they enjoy at home. In the statement, Shinseki also goes on to describe his 10 years of service in Europe as a disabled soldier following his tours in Vietnam.
"During that time, I had to learn to walk and run again. I had to convince the Army that I could continue to serve, and learn to adjust to a new reality," Shinseki says.
He also recalls the absence of aids for individuals with disabilities in the places he served, such as ramps, lifts, automatic door openers, and other devices commonly available in the US.
"Our disabled veterans and service members have put their trust in our country. Now, it's time for our country to put its trust in them…I urge the Senate to approve the Treaty this year," Shinseki emphasizes in the statement's conclusion.
Source: US Department of Veterans Affairs