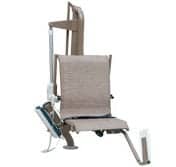 In response to the Americans with Disabilities Act (ADA) mandate, the Lift Store USA, headquartered in Port St. Lucie, Fla, has announced the availability of ADA Compliant Harmar Pool Lifts. The Lift Store reports that since January 1 it has begun providing a line of pool lifts from Harmar, each designed to meet and exceed ADA regulations for providing accessible entry and exit of public pools and spas in hotels and motels, health clubs, recreation centers, public country clubs, rental apartments and condo buildings, as well as other public facilities.
The Harmar pool lift features a weight capacity of 350 pounds to 400 pounds, dependent upon the model. The Lift Store notes that three models of lift will be available and include the P300, P350, and P400. The company notes that each Harmar lift is comprised of stainless steel and a weatherproof, power-coated frame, and exceeds ADA regulations by providing a lowering depth of 26 inches.
For more information, visit www.theliftstoreusa.com.
[Source: The Lift Store USA]