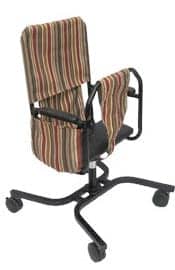 A seated-rolling walker solution is now available through Rehabmart.com, an online e-commerce company, thanks to its distribution collaboration with the Merry Walker Corporation, Mundelein, Ill. The Merry Motivator Rolling Walker is designed to replace the need for "geriatric" chairs and recliners by allowing the user to foot pedal across the floor.
The product is intended to help rebuild lower leg muscles while also pulling against the front cross arm and enhancing upper body strength. The Merry Walker features a U-shaped, non-tip base that is connected to the frame top chair, offering users the ability to adjust the product's height with a non-rotating pneumatic lift. The product also provides four rotating twin wheel casters and two lock and two non-lock casters to provide additional stability while the walker is stationary.
For more information, click here.
[Source: Rehabmart.com]