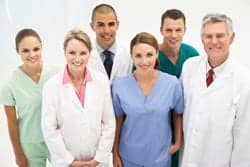 Special Tree Rehabilitation System, an organization that specializes in brain injury and spinal cord rehabilitation, has been ranked among Michigan's best places to work by the Detroit Free Press on its annual Top Workplaces list.
A news release from Special Tree notes that the Top Workplaces list appeared November 17 in the Detroit Free Press. The list is designed to spotlight the top 100 Michigan companies and is based on how employees feel about their workplace.
Special Tree employees reportedly took an independent survey conducted by the Detroit Free Press and their survey partner Workplace Dynamics to rate their company's performance on direction, execution, career, conditions, managers, pay, and benefits. The survey results revealed employees' praise for Special Tree's leadership, work environment, staff training program, and teamwork.
Joe Richert, CEO, extends his special thanks to Special Tree's employees for, "their hard work and dedication, but also for sharing their positive workplace experiences. Equally important is our employees' understanding and strong commitment to our mission to help our clients achieve the most independent and meaningful life possible."
Special Tree provides a wide range of care for children and adults including inpatient, outpatient, residential, home, and community services at more than 25 locations throughout Southeastern Michigan.
Source: Special Tree Rehabilitation System